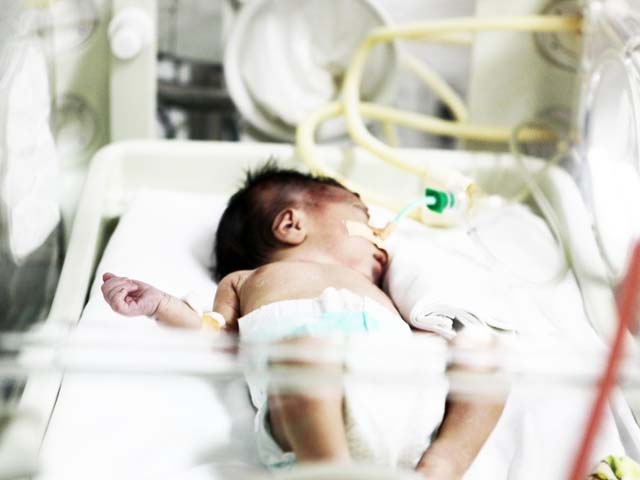 ---
The infant girl no one in Pakistan fought for
If the outcome of a night spent by an ailing infant is a Facebook video, then we need to set our priorities straight.
---
Her ragged breathing must have echoed eerily all over the ward or it could have been muffled by the loud beeping of all the equipment. It is almost a mercy that she was an infant and had no way to comprehend how she had been discarded by everyone in this world. This baby, according to this Facebook post, had been inside an incubator ever since her birth and could not breathe on her own.

[embed width="620"]]

She was in the hospital overnight with the medical staff and the doctor on the nightshift while her parents could not be reached. The doctor in this video desperately calls out to the world to witness the debacle of an infant struggling to breathe while her parents left her there. The hospital staff tried to reach the parents countless times during the night but the doctor is reported to have been told by family attendants later on that they did not desire ventilator support for their daughter.

After a series of daughters, they wished for a male child. Why? Were they a royal family of monarchs who had to crown their male heir in order to save their empire? Were they so destitute that they could not support yet another girl? If they knew they couldn't have supported another child why did they plan to have one? Why don't our medical systems permit healthcare for such infants?

The doctor while he did everything in his power to contact the parents, besieging them to do something for their own baby, was not in a position to save the baby's life. While he stood there making a video, many people are validly questioning why he couldn't contact the authorities or anyone in-charge to mobilise medical administration to save a life. He cannot be blamed entirely for this gaping hole in our system though. The system that we have set in place to facilitate humanity became an obstacle in the way of saving an innocent life. If saving a life at all costs is not the priority of a doctor, his staff, and the hospital, then what is?

If the outcome of a night spent at the bedside of an ailing infant is merely a morose Facebook video, then we need to set our priorities straight. It is true that one individual doctor cannot be held responsible when the parents decide to forsake their own child but then again, we are all responsible. Everyone is responsible.

The parents who decided to keep having daughters until they won the lottery (and had a baby boy), the doctors who should attempt to amend their flawed system by trying to save an innocent life rather than waiting for the parents' signatures, the system that restricts the doctors from making a choice to save a life above all other choices, the society that pressures parents into believing that they should have sons only and all of us who will gasp and groan at this incident and move on with our lives.

She latched on to dear life as long as she could in her own minuscule existence and then she failed. But it was not her, who failed. It is us, who failed her and abysmally so.

[poll id="736"]
Facebook Conversations
COMMENTS (4)
Comments are moderated and generally will be posted if they are on-topic and not abusive.
For more information, please see our Comments FAQ