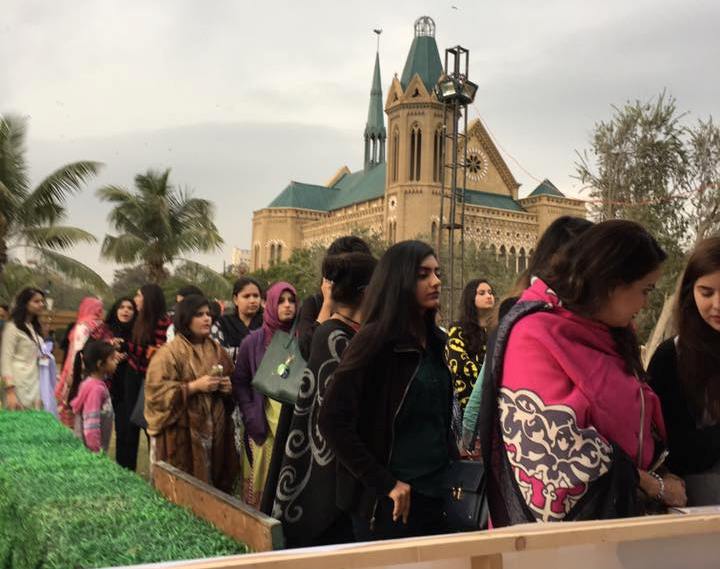 ---
As a man, I stand by Karachi EAT festival's "no stags" policy
Our men aren't mature or civilised enough to be allowed into events with a mixed crowd setting. And it's our fault.
---
Recently the management of the Karachi EAT food festival came under a lot of criticism over their 'families only' rule. Memes and jokes were made and circulated on social media and a lot of online activity was witnessed where young boys who prefer to move in groups and often dubbed as 'munchalay' were planning a crusade against the above mentioned rule.

This sparked a debate between the men and women of the country as they argued over whether they are justified or not, and how discriminatory the rule is.


Don't see any twitter feminist Jihadis complaining how a guy needs to enter KarachiEat with fam but no such rule for girls,discrimination!

— Osama. (@ashaqeens) January 13, 2017


[fbpost link=]

Being a man myself, I disagree with the way men are reacting to the strict 'no stags' policy. The policy has been established for pressing reasons. In Pakistan, where large scale events like these are concerned, in order for them to be executed smoothly, such policies are necessary. Our men aren't mature and civilised enough to be allowed into events with a mixed crowd setting. We continue to witness what happens at Pakistan Tehreek-e-Insaaf (PTI) political gatherings where groping and shoving are a regular feature and often the security staff has to use batons to disperse the crowd of rowdy men.

Similar cases were reported at the recently held concert at Moin Khan Academy in Karachi. Singer Atif Aslam also had to briefly pause his performance and rescue a poor girl from the front row who was being subjected to physical abuse by a boy from within the audience. He is noted to have said,

"Insaan ka bacha banja ya mai bana dunga"

(Behave yourself or I'll make sure you do.)

This is what one of the attendees said about what transpired that night:


Mad respect for Atif Aslam last night, stopped in middle of a song & scolded guys who were harassing the girls in the front row.

— Osama. (@ashaqeens) January 15, 2017
I admit i was wrong about Karachi eats only family policy,some men really are dogs & can't behave in public. Should be kept in cages.

— Osama. (@ashaqeens) January 15, 2017


Other men, too, recoiled in disgust:

[fbpost link=https://www.facebook.com/Shehzadgs/posts/1226225727456625][/fbpost]

Concerts and festivals take place everywhere around the world – be it Metallica, Coldplay or Justin Bieber. They all host huge crowds and even these audiences are full of single men and women.

But what makes those men different from the ones we find here?

Those men behave themselves. They attend the concert because they wanted to ATTEND the concert and enjoy the music. Those men contain themselves with dignity, especially when they are sharing the venue with women, because they respect and acknowledge that those women are also people who have come out to enjoy their night.

Why is it different in our part of the world?

Why does having a good time come at the cost of acting frivolously uncouth?

In Pakistan, single men consider it their national responsibility to stare at women and, if given a chance, go to objectionable lengths to satisfy their lust and curiosities.

I blame our cultural taboos, social limitations, narrow mindedness toward co-ed schools and the unnecessary exposure to cheap Indian movies and serials. Women are objectified by almost all major brands in electronic and print advertisements. The media has so overtly sexualised the ordinary woman that it's aggravated the sexual frustration prevalent amongst our youth. And without much access to healthy physical or recreational activities, these men spend their leisure time visiting malls or public parks in the hopes of ogling at women or surfing the internet where they look at sexually explicit content or harass women over Facebook by sending them friend requests and messaging them. Such men, when exposed to events with mixed gatherings, are able to act upon their impulses without the barrier of a laptop or mobile screen to stop them from going any further. They behave awkwardly and try to 'make the most' of their time by venting out their frustrations by touching and feeling women.

Karachi is a homogenous and multicultural city where illiterate young men from K-P, interior Sindh, Punjab and Balochistan are plenty in numbers. There is also an active presence of young men from tribal agencies who have an entirely different approach towards life. When these men find themselves exposed to a culture where men and women aren't segregated, they don't know how to behave because they were brought up in a strictly orthodox environment.

All of these men respond to their impulses when they find themselves in close proximity to women. Perhaps it is our fault as a country for not integrating a certain segment of society with the other well enough for them to cope, perhaps it is their own fault for fighting the inevitable progression of humanity. No matter what the reasons may be, there is no excuse.

It is every human being's fundamental right to be treated with respect. But in our country if men don't have the moral compass to realise this themselves, then there is a need to formally impose such a policy. I believe the organisers of the Karachi EAT food Festival are justified in imposing the 'families only' rule, and you'll thank them for it when everyone ends up enjoying the event without having any fear of facing discomfort.