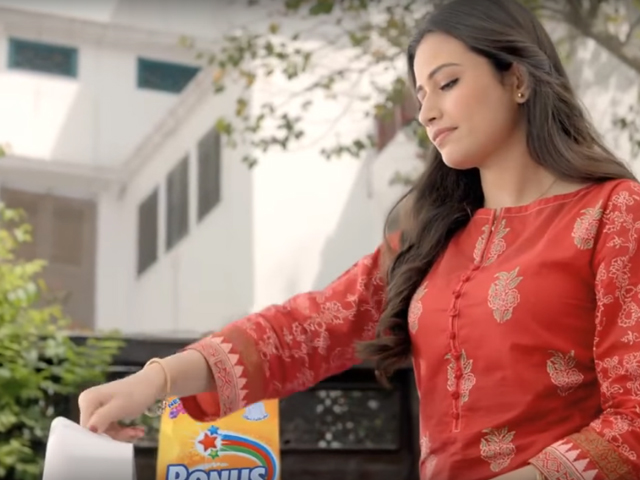 ---
Why are our advertisements advertising stereotypes and not the product?
The truth is that patriarchy has won. It succeeded in making women believe they are only good for household chores.
---
Just recently, whilst watching a talk show on a news channel, I came across something horrific. Don't worry, I am not delivering horrible news, we have plenty of news channels to do that already. It was just an advertisement for washing powder. What was wrong with it, you ask? Take a look and you'll see what I'm talking about.


So the advertisement, like all ads, aims to sell a product. However, the way they're trying to sell it isn't all that ordinary. It starts off with two women chatting:

"Aray aaj kal ki larkian karti hi kya hain… yeh machine chalati hain?"

(Oh, what do women these days do anyway... they just work the machine.)

This script refers to the fact that women these days use machines to make their routine home tasks easier. The other woman then says:

"Hum to salan or keechar k dagh sabun se ragar ragar k dhotay thay, or ye dhulai k liye powder lati hain."

(We clean curry and mud stains by hand-washing them using soap, these women buy some powder for cleaning.)

Unfortunately, this is not the only advertisement that reinforces stereotypes. There are many others. Sometimes, it seems as though their aim is to advertise and alleviate stereotypes inherent in Pakistani society instead of their product. Bonus is not the only company that does this. I could list down hundreds of such ads. So why am I making such a big deal out of this? Here is why:


To quote Malcom X;

"The media is the most powerful entity on earth… Because they control the minds of the masses."

This quote is proven right, since every now and then we come across the youth impersonating Bollywood actors or children trying to be Ben Ten. They even speak the same language. The media does influence each and every one of us. The media produces material, and we – the viewers – blindly adopt its narrative. It's a game that does not die, and we are the puppets who keep on playing.

The problem is simple. Pakistan already ranks 143 out of 144 in the gender inequality index according to the World Economic Forum. The number has declined according to a Thomson Reuters Report in 2011 that said that Pakistan was ranked as the third worst country for women. When the media wields such power, why can't it be used to promote women? Instead, it is only promoting women in stereotypical roles.

Quite often, I have seen life insurance ads where money is being saved for a girl's marriage and not her career. All these ads reinforce the notion that a woman's path in life only leads to marriage – that a woman's sole purpose is to groom herself to be a living breathing Angel in the House. And after marriage comes household work, for which they are not paid for and never will be paid for, despite the fact that it constitutes as 16% of the total GDP globally. The care-work women do, globally, is worth $12 trillion a year according to the McKinsey Global Institute report in 2015.

We all know how our patriarchal society reeks of misogyny. Unfortunately, this misogyny and patriarchy is so deeply rooted that some women consider themselves second rate when compared to men. I remember when I was 15– years– old, girls in my class would say that boys are the only ones who can make their parents proud. Today, this makes me so sad. We are living in a male-centric society and we are forever bound to the men around us, be it through family, marriage, a career – everywhere. We cannot escape the male-shackles. This reminds me of Ismat Chughtai, a prominent feminist Urdu writer. She quotes her mother in her book, Dust of the Caravan,

"This is a man's world, made and distorted by man. A woman is a tiny part of this world and man has made her the object of his own love and hatred."

According to a survey conducted by BBC Urdu in 2014, 43% of women consider themselves inferior to men and it is justified for men to hit them, if they disobey men. Similarly, Pakistan Demographic and Health Survey revealed that 34% women justified that women must be beaten by husbands if they argue back.

The truth is that patriarchy has won. It succeeded in making women believe that they are only good for household chores. It succeeded in manipulating their minds through the media. Noam Chomsky rightly said,

"Hundreds of billions of dollars are spent every year to control the public mind."

Sad to say, our advertisements and dramas are further exacerbating the situation. Pakistan has many strong and bold women. We had the first female Muslim Prime Minister –Benazir Bhutto. We have a woman who has won two Oscars – Sharmeen Obaid Chinoy. We have the youngest girl to have won a Nobel Prize – Malala Yosafzai. We have the youngest Microsoft Certified Professional – Arfa Karim. We have the fastest woman in South Asia – Naseem Hamid. We have Samina Baig, the only woman and the third Pakistani who climbed Mount Everest. We have female cyclists, female pilots, female scientists, human rights activists, authors, strategists and many more.

It is high time the media starts promoting women in their advertisements and dramas. We all know that the media has the power to instill change in the minds of the masses.