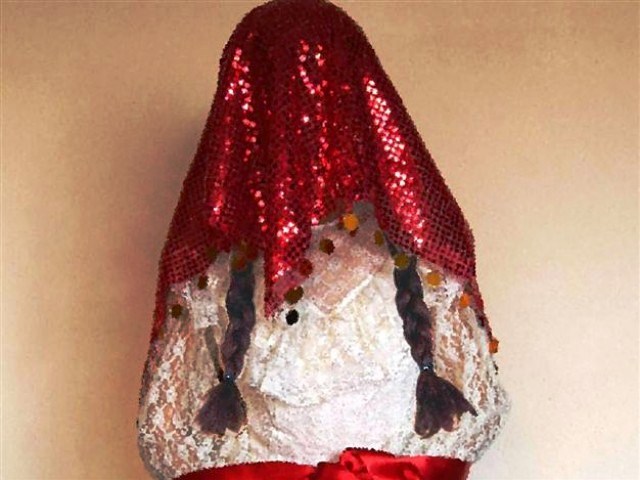 ---
From jahaiz to chuchak: The burden of having a daughter in the Subcontinent
In our family the girls' parents bring everything for the baby this is called chuchak; the baby's dowry.
---
"A female was burnt for not bringing adequate dowry."

"My three sisters and I are still unmarried because our father cannot afford to provide us sufficient dowry."

"My father died of a heart attack because my sister's in-laws broke off a three-year engagement when my parents could not fulfil their dowry demands."

Dowry, jahaiz in Urdu, is a tradition in Pakistan and India that has ruined numerous relationships and marriages. Parents borrow staggering amounts of loans just to satisfy the greed of their daughter's in-laws and to ensure that she is not taunted after marriage. As evil as this tradition may be, almost all families, irrespective of their place on the social ladder, follow it.

Sadly, these warped expectations from a girl's parents do not end here. Recently, one of my friends asked me if I had ever heard of a tradition called chuchak. She told me she was making a shopping list for her upcoming baby and her mother-in-law remarked,

"What do you need this list for?  In our family the girls' parents bring everything for the first baby. This is called chuchak; it is the baby's dowry."

Since that day her mother-in-law was always saying things like,

"I gave this and that to my daughter in chuchak."

Similar to jahaiz, the girl's parents give the in-laws all the belongings needed for a new born child and the husband (along with his parents) do not bear the expenses at all.

She and her husband both earn well, so she refused to ask her parents. She said her dowry was enough for her in-laws to not expect a dowry for the baby as well.

I found the callousness of the mother-in-law to be appalling. Parents support their daughters to the best of their abilities. They provide them with an education, which is not a cakewalk considering the high fees of universities and schools these days. They marry them off and gift them a dowry that is within their means, which includes each and everything in the household; furniture, crockery, electronic appliances and gold –which costs a fortune, altogether. Now the in-laws expect the parents to furnish a dowry for the baby as well?

This isn't just unethical, it's downright greedy.

Apparently this custom doesn't end at buying everything for the baby's nursery. After discussing this matter further with my friends, we discovered that in many families, the daughter's parents even pay for the hospital bills of the first baby and the 'mini jahaiz' for the baby includes lots of clothes, a cot, stroller, bouncer, bath chair, jhoola etc – all in the name of tradition.

This absolves the son of all responsibilities regarding the baby. The upcoming baby is his, just as much as it is hers. In fact, by Pakistani standards the child carries the name and lineage of the paternal family forward, so this extra burden on the maternal family is totally unjustified. These silly traditions may not affect the already privileged parents who may even opt to buy everything out of their own love for their grandchild. But to force all parents to do the same in the name of tradition is totally inexcusable.

We need to put an end to this. Sadly, in Pakistan and India, such measures are easier to proclaim than to achieve. Girls born and raised in the Subcontinent are familiarised with the words compromise and sacrifice since the day they are born. Our society makes it almost impossible for a girl to stand up to her in-laws for such 'trivial' (in their eyes) issues. It's understandable that a girl wouldn't want to invite more stress in her life, considering the pressures of pregnancy – but girls, speak up. Raise your voices. Don't be silenced anymore. Tell your husband and in-laws that the baby is a joint responsibility.

Women are afraid to speak because they are financially dependent on men. On the other hand, if you are a girl who earns for herself and do not depend on your husband, you can buy everything for the baby yourself. Do not underestimate yourself. Ignore your in-laws taunts and try to stop this unethical tradition.

A baby is supposed to bring happiness into your lives, not add financial pressure. After watching your parents arrange for a dowry and then a chuchak, there's no going back. Maybe you'll be the girl sitting at the hospital, looking at your daughter in your arms, and wondering why she ever came into your life. Don't let yourself be that girl. Fight the tradition, and break the silence.