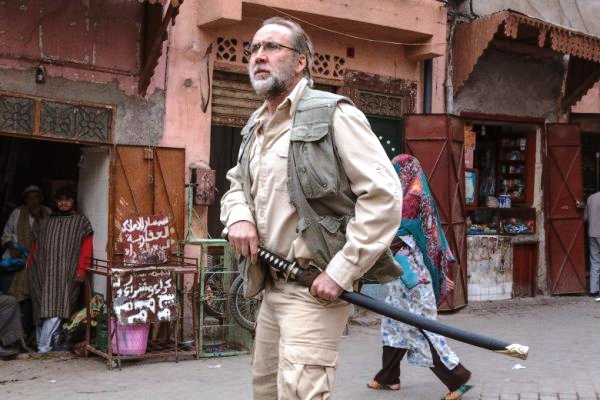 ---
Army of One is so ridiculously offensive that it's funny
These stupid visuals are only intended for humour. So keep your patriotism in check while watching this film.
---
When I saw the trailer on YouTube a month ago, I pitied Nicholas Cage; this man has not done a good movie in a long time and nowadays we only get to see him in memes and comics on 9GAG. So, thinking of good old movies (like Face/Off, Con Air and Leaving Las Vegas) has helped retain his credibility in my mind while watching any more of his stupid movies. Nonetheless, I watched it because I had nothing better to do at the time yesterday. So let's come straight to the movie.


The movie is more emotional and humorous than political. It covers the life of an American citizen named Gary Faulkner (played by Nicholas Cage) who receives a vision from God, mainly because of hallucinations caused by delay in his weekly dialysis. God (played by a very profane Russell Brand) commands him to go to Pakistan and capture Osama Bin Laden (OBL). Pumped up by American patriotism, Gary resolves to do so and even lies to his doctor to give him money to buy a boat. What happens next is a tale full of laughter and sudden emotional backdrops.




Nicholas Cage has done a marvellous job at portraying a lone handyman who needs to be taken care of and always crashes at his friends' houses to spend the night. He is emotionally starved, thus he shows so much love and affection when he meets his childhood crush, Marci Mitchell (Wendi McLendon-Covey), now a single mother of a physically challenged daughter, Lizzie. Her acting is fair throughout the movie, while she persuades Gary to live with them and become a fatherly figure for Lizzie.




Will Sasso (Curly from The Three Stooges) and Paul Scheer also have short roles as Gary's friends – and they are just right for it; not very sober, not overly attached.

We have Denis O'Hare and Rainn Wilson that play CIA operatives based in Pakistan who are trying their best to keep Gary off OBL's hideout (yes! They are apparently aware of the location).

Our fellow countrymen are mainly disgusted by the manner in which Pakistan is portrayed in the movie; Gary is seen riding a donkey in the streets, all houses are either shabby or made of red bricks, all men are wearing turbans and sporting a beard and all women are in a burqa (even while taking dancing classes). All the aforementioned stupid visuals are meant for humouristic purposes to keep the audience amused. I am not trying to be apologetic but that's what Larry Charles does. He made Borat and exhibited Kazakhstan in a hilarious manner that is far from reality. He made The Dictator and portrayed US's very own CIA as a bunch of conspirators controlling democracies all over the world. It's just what he does.




So keep your patriotism in check while watching this film and, I assure you, the ridiculousness of the content will make the time spent with your buddies even better.
Facebook Conversations
COMMENTS (2)
Comments are moderated and generally will be posted if they are on-topic and not abusive.
For more information, please see our Comments FAQ