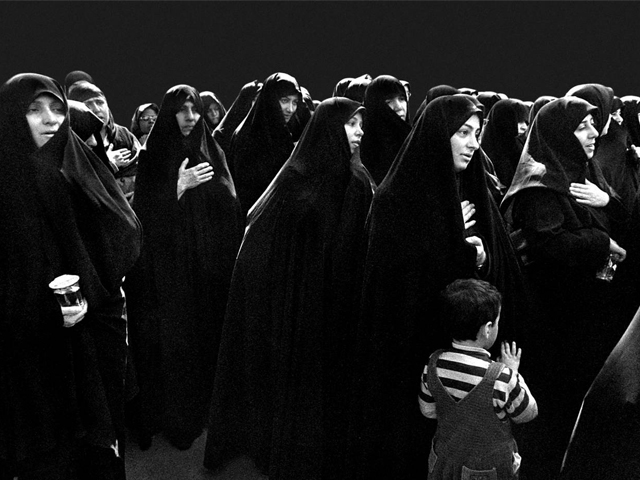 ---
Karbala and the importance of women in Islam
Imam Hussain (RA)'s message would have been lost in the heat of Karbala, if his sister had not spread it far and wide
---
It was dusk when the dust finally settled. Desert sand glistened with blood and sweat. In the distance, a small group of women and children huddled together next to the smouldering wreckage of burnt tents. Breathless, she counted the women and children. Her heart sank as she noticed the absence of Sakina (AS). Her brother had entrusted his four-year-old daughter in her care and she was nowhere to be found.

The events of the day spiralled in front of her eyes and the impact made her stumble. Pulling herself together, she realised her responsibility. Glancing back at the dejected group of women without their veils, Bibi Zainab (AS) told herself,

"They are looking up to me now. They are counting on me."

She called out for Sakina (AS) who still eluded her. She was so engrossed in her search that she did not realise she had stumbled into the battlefield full of battered dead bodies. Her feet refused to go on. She might find herself staring at the bodies of her sons. Quietening the mother inside her, she aroused in herself, the sister of Hussain (RA). At last she found Sakina (AS). The little girl was curled up next to the body of her father, fast asleep.

"She sleeps on his chest every day..."

The heart-wrenching thought brought tears to her eyes. Scooping her up gently into her arms, Bibi Zainab (AS) attempted to walk back. It took every ounce of courage and patience in her to ignore the precious bodies of the men of her family, her sons, her brothers, her nephews – all had been martyred brutally. It was the walk of courage that the world had never seen and will never do, till the dawn of doomsday.

Giving Sakina (AS) to her sister, the commander of this lost and scattered battalion of frightened women and children took first watch. She stood guard over them as the night darkened, brandishing the broken piece of wood as a weapon. And thus, Zainab (AS) stood and she stood upright. She stayed steadfast through the horrors that awaited her. The whiplashes, the imprisonment, the absence of her veil, the torture that her little group endured, through all of this, Zainab (AS) endured.

We hear about the biggest sacrifice that Imam Hussain (RA) made for upholding the dignity of Islam. But little do we know that his message would have been lost in the scorching heat of Karbala, if his sister had not spread it far and wide. She is normally called, "Saaniye Zahra" (the second Zahra or Bibi Fatima RA). But after Karbala, she should be called, "Hussain-e-Saani" as his great sacrifice is alive today because of her relentless courage.

Karbala teaches us numerous life lessons. An extremely significant one is the role that women play in our lives. Lost under the dust of antiquated values and male chauvinism, our society has limited the role of women, deriving false interpretations from religion itself. It has led to moral decay of our social fabric which can be remedied by following the example of Karbala. The spirit of absolute sacrifice, putting others before your own interests and giving up everything dear to us when our Creator beckons, is what the glorious grandson of the Holy Prophet (PBUH) managed to do. He gave up his life, his sons, his brothers and his companions. He even sacrificed his six-month-old Asghar (RA) in Karbala so that till the end of times, nobody could point a finger and wonder if he saved something for himself.

He brought his women with him to teach the world that they aren't any less capable than men. The mothers who participated in Karbala were no ordinary mothers. Their valour is unparalleled. When a mother decides to give up her son, she is not merely giving up her offspring rather she is giving away a piece of her heart, her soul, her being. It is a sacrifice superior to all that men have seen. But in Karbala, women hurried forward to present their sons for battle.

The sole example of Bibi Zainab (AS) stands out from the rest. She brought her two young sons to battle and gave them up for Islam. After that, she refused to even touch their bodies as they were brought to her tent.

"Main Zainab, jab Allah ki rahh mein kuch sadqa kar deti hun tou dobara murr kar uski taraf nahi dekhti!!"

(When I sacrifice something for Allah then I do not look back and worry about it.)

Her words ring through history, making it incomprehensible for us to fathom. How can a mother be this nonchalant or indifferent towards her own children? The answer lies in patience, in faith and in believing that it is for Allah Almighty that we are giving up what is most precious to us.

This is how a sister and a bereaved mother has taught all of mankind, a lesson through her example, that Islam is not about merely reciting a Kalma. Islam is about comprehending the meaning of those words and to submit one's self to the absolute authority of the One, who is our Creator, the most Benevolent, the most Merciful.