---
'How I Met Your Mother' comes to an end but was it legendary?
Even though the finale was unexpected, the show comes to an end and with it everything legen...wait for it...dary!
---
On Monday, March 31 'How I Met Your Mother (HIMYM)' aired its series finale, and boy was it an emotional moment for all of us.

This means that no more of Lily, Marshall, Barney, Robin and Ted having a drink at MacLaren's Pub, no more of Barney's flirt spree, no more of Ted's sometimes exciting, sometimes painfully boring quest for true love and no more of anything legen…wait for it…dary.

Unfortunately, the finale didn't pan out as per my expectations. It was an 'okay-ish' end to what truly was a great show. It didn't quite feel like 'How I Met Your Mother' but rather (spoiler alert) 'How My Kids Helped Me Get Back With Robin'.

But all that aside, let's just talk about the show's theme, the gusto and the magical affect HIMYM had over so many people for so many years. For me, like a lot of other people, the show holds sentimental value.

I have been an avid follower of Lost, Two and a Half Men, The Big Bang Theory, House of Cards, Homeland, Boardwalk Empire, Mad Men and many more. But when HIMYM aired its final episode, it was a sad and hard goodbye.

Here are the top nine moments from the show that I will remember forever:

1) Ted and Robin Break-up:

You may call me a romantic of sorts, but all of us thought Robin was going to be the one to stand with Ted on the aisle, but I guess it was just not meant to be. In a way, it's what kept the series interesting – will they get back together or will they not, was a question each of pondered over endlessly.




They just couldn't ignore their feelings for each other throughout the rest of the series, even when Ted was moving to Chicago or during Barney and Robin's wedding week. And even after showing that Ted had finally found the mother, they came back to Robin being the one in the end. In a way, they showed that even though the mother was someone else, Ted's true love had always been Robin.

2) The legendary 'slap bet':

As we all know, the slap bet started when Robin refused to go to the mall and upon assumption, Marshall thought it was because Robin got married in a mall in Canada whereas Barney is of the view that Robin did pornography in past.

Later, Robin reveals to Ted that she indeed did get married, which Ted tells the gang. Hence, Barney lost the bet and Marshall was then allowed to slap Barney. But then, Marshall goes to a law library, finds out Robin never got married, tells Lily about the findings who obviously tells the gang since she can't keep a secret, he gets slapped thrice by Barney as punishment. The whole scenario is hilarious.

This particular episode introduced us to Robin's history of being 'Robin Sparkles', the 80s teenage pop-sensation of Canada.




Soon enough, Barney finds a video of Robin, believing he's found the Holy Grail, that he believed to be pornography starring Robin, he slaps Marshall claiming to be the winner of the bet. Later when Robin finds out about the bet and corrects the gang that it is not, in fact, porn but a music video of her song 'Let's Go To the Mall' from the time she was a pop singer, the Slap Bet Commissioner, Lily, rewards Marshall five slaps to be delivered over eternity to Barney as he did not win the bet and slapped Marshall prematurely.




Anyone who is a big HIMYM fan would agree that the episodes where Barney gets slapped by Marshall are the most entertaining episodes of the series. The unexpected slap keeps Barney anxious throughout – the delivery is just pure entertainment.

3) Girls versus Suits:

This was probably the most legendary episode of HIMYM.

We heard terms like 'suit up' from Barney time and again but never knew how much he actually loved suits. Well, this episode clearly showed us that he adored them and would do anything for them.

The plot revolves around Barney trying to impress a girl who hates men in suits. And since Barney loves a challenge, he decided to give up his suits for this bartender-girl. Unfortunately, he realises that he can't live without his precious suits. She finds his closet full of suits and asks him to choose between her or the suits. Obviously, Barney chose the suits.

Barney and the rest of the gang break into a song, all wearing suits, towards the end of the episode called 'Nothing Suits Me Like A Suit'.



4) Interventions:

Whenever the gang saw one of their friends in need of help or advice, they would hold an intervention.

It was first introduced in the episode 'Intervention' where they held it to call their friend Stuart out on his drinking problem.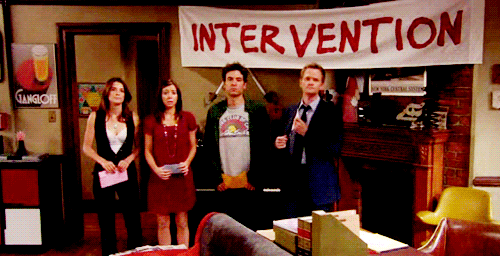 The most epic interventions were held when Ted was madly in love with a married woman and the other, when he wanted to marry Stella, who left him at the altar. When Barney was moving in with Quinn too soon in their relationship and when Robin was developing feelings for Barney while he was in a relationship with Quinn, which was called the 'Quin-tervention'.

5) Doppelgangers:

The 'doppelgangers' were the look-alikes that the gang came across during the show. They included lesbian Robin, moustache Marshall, stripper Lily, Mexican wrestler Ted and last to be found, fertility doctor Barney.

My favourite was stripper Lily!




The doppelgangers played an important role in the show. Marshall and Lily decided that they would only consider having a baby if they found Barney's doppelganger, which they clearly did, much to their surprise and hilarity.

6) The Playbook:

How does Barney do it?

How can a man have such an impressive record?

Well, this was a mystery to all HIMYM fans until 'The Playbook' was finally revealed in season five, which was probably the greatest episode ever.




It provided detailed information on the tricks and trades of hitting on girls. In later episodes, this Holy Grail remained a critical aspect of Barney's life and protecting its sanctity was important for him.

(Spoiler alert) In the finale, it is revealed that Barney re-writes the playbook after his divorce from Robin and continues being a womaniser.

7) The Final Page:

The way the entire episode revolved around Barney's final act of 'The Playbook' called 'The Robin' was truly a jaw-dropping yet awe moment.




This episode showed that Ted had moved on and had given Barney his blessing to propose to Robin. And the way Barney carried out his proposal was just as awesome as he was.

Barney knew that after the way things ended previously between him and Robin, he had to put in a lot of effort to persuade Robin to marry him, and that is exactly what he did. It sealed Robin and Barney's fate. For a while at least.

8) The mother revealed:

When the fans started becoming impatient about who the mother was going to be, and all the crazy theories started to erupt about the mother, they finally revealed who the mother is.

She came in towards the end of season eight with the words,

"Two tickets to Far Hampton please"

In my opinion, Tracy, played by the actress Cristin Milioti, seemed a little young to be dating and eventually marrying Ted. Regardless of that, this was probably the most important moment of the show. I mean after all, isn't that what the show revolved around?




Later, in the finale Ted and Tracy date for a really long time, taking it slow until they finally tie the knot.




(Spoiler alert) Soon after, it is revealed that the mother had died six years ago from the time Ted started telling the story to his kids about, wait for it, how he met their mother.

9) Their friendship:

Yes it was about finding the mother, but it was a lot more than just that. Their friendship and the bond shown between the gang influenced our lives immensely. We were able to relate to this show like no other. This bunch taught us how to party and how to help a friend in distress.




How I Met Your Mother was truly legen… wait for it… and I hope you're not lactose intolerant because the second half of the word is… dairy! Legendary!

Ted, Robin, Barney, Marshall and Lily deserve our applause and salute. You will all truly be missed.
Facebook Conversations
COMMENTS (15)
Comments are moderated and generally will be posted if they are on-topic and not abusive.
For more information, please see our Comments FAQ