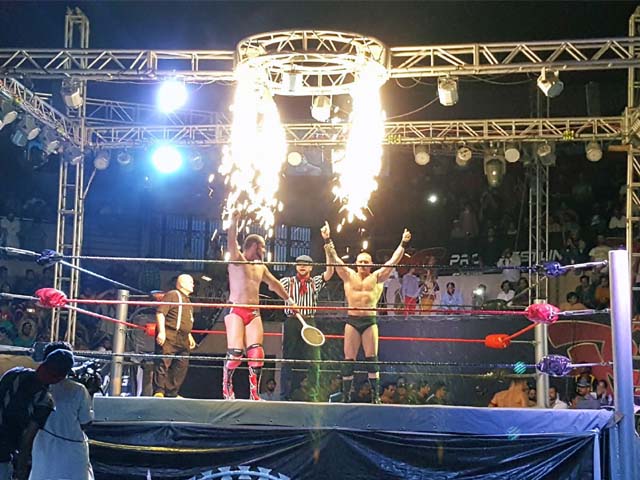 ---
Pakistan's first ever pro-wrestling event was a success, but does it have a future here?
For someone who has been following wrestling for years, my main concern was will the crowd understand pro-wrestling?
---
It was back in the 80s when the New Japan Pro-Wrestling (NJPW) visited Pakistan and conducted three shows at the Liaquat Gymnasium in Islamabad. This was the first ever contact pro-wrestling match with a Pakistani audience.

Unfortunately, due to the political and security situation of our country, we were cut off from wrestling tours in the future. We then began to rely on World Wrestling Entertainment (WWE) for our dose of wrestling. Sure, legendary Antonio Inoki and his crew visited Pakistan back in 2012 and conducted a show under the banner of the Punjab Youth Festival but that was, let's face it, more of a political gathering as I witnessed it while I was in the crowd.

When Pro-Wrestling Entertainment (PWE) declared that they were going to hit Pakistan, bringing international wrestlers, announcers and entertainment, I was beyond excited since I am an avid wrestling fan. I was left mesmerised when I attended their show in Lahore.

For someone who has been following wrestling for years now, my main concern was will the crowd understand pro-wrestling? Do they know what to chant and when? Heels versus Faces?

To my surprise, not only did many Pakistanis know the answers to these questions, they even knew which performer belongs to what promotion. Melissa Santos, who was doing the ring announcer duties, works for Lucha Underground and this massively energetic Pakistani crowd knew that and they chanted "Lucha! Lucha!" like crazy, whenever she came in the ring. The same goes for booing and cheering whenever it was required. It was so satisfying to see this crowd giving respect (or disrespect to Heels) whenever the performers were out there.


With these mostly middle card European males and females, the event provided great wrestling and it kept the crowd well entertained. I wouldn't say it blew my mind away, but for a debut show with performers who were doing moves on a fly, it was pretty decent. Even though the storytelling was kept to basic Heels versus Faces, it was well narrated. The suicide dive on Omen in the second to last match by Baadshah Pehalwan Khan received the loudest applause from the crowd.

Speaking of Khan, we have our very first official top name of the company using the most baby face trick to get to the very top of the game. Not that I am complaining, but if Hulk Hogan or John Cena can sell the US in order to remain at the top in their respective eras, Khan can surely sell Pakistan. He came out dressed in green and white carrying Pakistan's flag and received a lot of applause for that. Khan deserves all the appreciation for his efforts in making this possible. He was the one promoting these events and he was also the one who convinced many others to come to Pakistan. For that I want to say, thank you Khan!






The story that was being told included WWE veteran Carlos Colon (Carlito)  playing rival to Khan. Carlito was the real star here and he also received the loudest reaction; he continued to play the role of Heel and put over Khan pretty well.


Overall, it was a great event and the active participation of the crowd made it a far better experience. There were a few problems that PWE should keep in mind the next time around. The show lacked time management and a few stars that were advertised, such as Stu Bennett, did not show up for some odd reason.




The aforementioned was a little account on how my experience was as one of the attendees. In preparation for this blog, I got the chance to speak to a few of the traditional pehelwans (local wrestlers) to gauge their views regarding this event. The main complaint that I came across was how their art form is being ignored for a more flashy and gimmicky wrestling. They worry that their style of kushti (type of wrestling) might suffer greatly.

In Japan, even though they have the second largest pro-wrestling promotion in the world where wrestlers from all over come and perform, the traditional sumo wrestling not only survives but thrives incredibly. Similarly, I have a very strong belief that pro-wrestling and the traditional pehalwani can go hand in hand in our country as well.

In the end, I must say that having witnessed all the excitement, I believe with all my heart that pro-wrestling holds a strong future in Pakistan and it can easily take over cricket as the main spectator sport. One of the main reasons why I say this is that with international cricket still not willing to return to and embrace Pakistan, pro-wrestling could really attract the entertainment thirsty crowd. Especially if a wrestling promotion decides to go all in with the weekly programming and shows based on extensive storylines. With the Pakistan Super League (PSL)  being a seasonal spectacle, who knows whether wrestling could really fill the vacuum.

Once again, I would like to thank all the wrestlers, announcers, event managers and PWE for their efforts and making such an event possible in Pakistan.
Facebook Conversations
COMMENTS (2)
Comments are moderated and generally will be posted if they are on-topic and not abusive.
For more information, please see our Comments FAQ