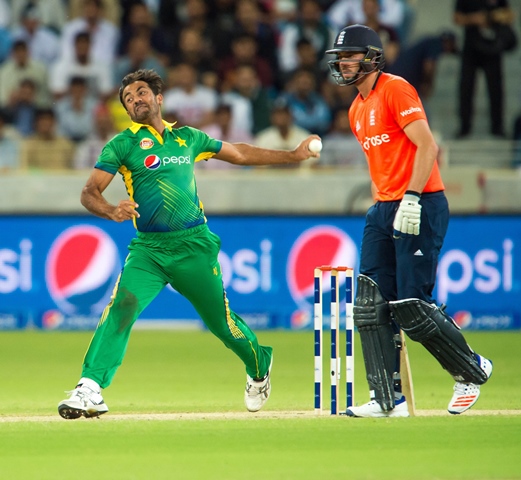 ---
KARACHI/DUBAI: Pakistan crumbled to a 14-run defeat in the opening match of the three-match T20I series against England at the Dubai International Stadium.

Panic stricken batsmen kept playing horrendous shots after the Greenshirts were set a tough 161-run target by England who won the toss.

Pakistan's top order of debutant Rafatullah Mohamand (16), Sarfraz Ahmed (1), Mohammad Hafeez (7) and Mohammad Rizwan (6) all perished to suicidal shots.

If that wasn't enough, Umar Akmal's catastrophic run out after an enterprising 32-run stand with Sohaib Maqsood triggered a sensational mini-collapse where the Greenshirts lost Umar for 19, captain Shahid Afridi for nought and Sohaib for 24.

Afridi who went wicket-less in his four over spell conceding 33 runs, was sent back on his second ball, the game proving to be an absolute nightmare for the aging all-rounder who has set his sights on bowing out of the game after next year's World Twenty20 in India.

All-rounder Anwar Ali (20) belted two sixes in one over from Stephen Parry, before being snapped by England's most successful bowler Liam Plunkett who took three wickets in his first international match on the tour.

Sohail Tanvir and Wahab Riaz delayed the inevitable with a 45-run stand. Wahab fell for 21 in the final over, but after the batting implosion from the established batters their efforts still kept Pakistan well short of the target.

Earlier, England made a superb recovery to post a score of 160.

Pacers Tanvir and Anwar got Pakistan off to a rousing start. The duo removed Jason Roy, Alex Hales and Moeen Ali inside the first four overs. England were tottering at 19 for three at this stage as a partisan Pakistan crowd at the Dubai International Stadium roared for the opening bowlers.

All three players holed out inside the thirty yard circle as they tried to clear the in-field.

Sam Billings scored a magnificent 25-ball 53 that was studded by five fours and two sixes to lead England's recovery with captain Eoin Morgan contributing an unbeaten 45 off only 38 balls.

James Vince also played his part, scoring 41 off 36 balls.

For Pakistan Tanvir was the pick of the bowlers claiming two wickets in his four overs spell. Anwar and Wahab took a wicket each.

England have now won three out of the five T20Is against Pakistan at this venue, while their overall record against their Asian rivals is an imposing eight wins against a mere three defeats in the instant format.

(Match report: Emmad Hameed from Dubai)

Shahid Afridi: I don't have any excuse. We batted very poorly. It was a good effort from the bowlers in the first six overs. Morgan played smart and mature cricket. They build partnerships and they knew they would achieve what they were planning. We got good positive things from this match for the 2015 World Twenty20. Shoaib has been asked to rest for two days.

Eoin Morgan: Tonight was a really strong performance. Putting up a total and then defending it was great from the guys. I am very proud of the guys. I have had a chance to play more and experience helps me stay calm. However, it is difficult for the new guys but they did show a lot of character.

Man of the match, Sam Billings: I loved it. Nice to make a contribution. You must back your options. You have to take the opportunity when you get.

Teams:

Pakistan: Rafatullah Mohmand, Sarfraz Ahmed, Mohammad Hafeez, Mohammad Rizwan, Sohaib Maqsood, Umar Akmal, Shahid Afridi (C), Anwar Ali, Sohail Tanvir, Wahab Riaz, Imran Khan Jr.

England: Alex Hales, Jason Roy, James Vince, Eoin Morgan (C), Sam Billings, Moeen Ali, Adil Rashid, Chris Jordan, Liam Plunkett, Stephen Parry, Reece Topley.




PAK 146 all out (20 overs)

CAUGHT BEHIND! Imran Khan Jr edges one to the keeper.




Dot ball follows. Single on the second last ball and Imran Khan Jr will get to play only a ball.

OUT! Wahab goes straight but this is not Pakistan's day. Moeen takes the catch. End of hope for Pakistan

Dot ball followed by a FOUR over mid-off's head. 16 need off 4 balls.

Topley.




PAK 141-8 (19 overs)

20 needed off the last over. Can Wahab and Sohail do it for Pakistan?

FOUR! Full-toss and edge towards third man. 21 off 7 balls.

FOUR! Wahab slices it and finds the boundary past point.

29 off 9 as Wahab receives a yorker. Dot ball.

Dot ball to start with. Single off the second ball. 29 off 10 with Wahab on strike.

Chris Jordan to bowl the penultimate over. Sohail Tanvir faces.




PAK 131-8 (18 overs)

Another wide ball. Single off the last ball.

Wide follows and a dot ball and a yorker.

SIX! Sohail Tanvir swings it over midwicket. It might not be over YET!




Dot ball and a single by Wahab.

Reece Topley is back. Wahab on strike.




PAK 121-8 (17 overs)

Pakistan need 40 off 18 balls.

Short and pacy delivery followed by a slow ball. Plunkett bowling smartly here.

FOUR! Glanced by Wahab towards fine leg.

Plunkett runs in.




PAK 114-8 (16 overs)

Good over for Pakistan. Sohail's wild swing doing the trick for Pakistan.

FOURx2! Sohail Tanvir is trying to be the saviour for Pakistan. Goes straight and then finds the midwicket fence.




Chris Jordan to bowl the 16th.




PAK 100-8 (15 overs)

OUT! Anwar Ali caught in covers. If Pakistan want hope now it can be named Wahab Riaz for the time being because he is in next.

Plunkett is brought back for the tail.




PAK 95-7 (14 overs)

SIX! Anwar Ali goes again. Same ball, same shot and same result.

SIX! Anwar Ali goes big straight over bowler's head.




Parry in for his last over.


At least this will be a quick finish! #PAKvENG #ThursdaynightDubai

— Emmad Hameed (@Emmad81) November 26, 2015


PAK 79-7 (13 overs)

Sohail Tanvir has a double century in domestic for Pakistan. Can he score 1/4th of it today for the national team?

STUMPED! Pakistan... No words for what is happening. Sohaib (24) walks out and Moeen bowls wide on leg. Billings is having a good day today. He collects and send Sohaib walking back to the pavillion.




Moeen Ali.




PAK 74-6 (12 overs)

OUT! He comes in and he walks out, he didn't try and hit it out of the park this time. Just a soft dismissal this time for Lala. Pakistan are now nearly all done and out of this one.




Its all down to the captain Shahid Afridi and Sohaib Maqsood now.

RUN OUT! And this is a rare sight when you have to decide who is short of the crease. Someone is out but who? Another mix-up by Pakistan in the running department. One way or the other they manage a disaster while running between the wickets. And Umar Akmal is the unlucky one here.




SIX! Umar Akmal gets a short ball and dispatches it over midwicket.

Stephen Parry into his third over.




PAK 68-4 (11 overs)

FOUR! Ball spun in sharply but Umar Akmal plays it late and past the short third man fielder.




Moeen Ali continues.




PAK 60-4 (10 overs)

Four runs off his over. Pakistan need a Billings innings here.

Stephen Perry in for his second over.




PAK 56-4 (9 overs)

SIX! Sohaib delivers it to the people in the stands. Over long-on. He has been itching to hit it out of the park.

Umar Akmal and Sohaib Maqsood on for Pakistan. Moeen Ali continues with his spin.




PAK 45-4 (8 overs)

BOWLED! Slowest ball of the match I guess. Rizwan was finished with with dance down the pitch and swing when the ball reached went past him and dislodged his bails.

Stephen Perry now. Left-hander.




PAK 38-3 (7 overs)

FOUR! Rizwan walks out of his crease and hits it towards extra cover.




Spin time. Moeen Ali has been brought in.




PAK 32-3 (6 overs)

FOUR! Short to Sohaib Maqsood and he pulls it towards cow corner.




OUT! Rafatullah (16) tries to pull a short delivery, edges it and is caught behind. The little cameo of the oldest T20 debutante ends.




Plunkett bowls his second.




PAK 25-2 (5 overs)

Five runs off the over.


Pakistan doesn't believe in favors! equally inept start as England! #PAKvENG

— Emmad Hameed (@Emmad81) November 26, 2015


Topley in. Muhammad Rizwan joins Rafatullah.




PAK 20-2 (4 overs)

OUT! Short and Hafeez pulls it directly into the hands of the square leg fielder.




Liam Plunkett brought on by Morgan. Rafatullah faces.




PAK 17-1 (3 overs)

FOUR! Hafeez flicks it off his pads.




Three dots bowled.

Jordan runs in for his second over. Will bowl to Hafeez.




PAK 10-1 (2 overs)

Muhammad Hafeez joins Rafatullah.

OUT! Sarfraz plays his favourite shot. He sweeps and finds the fielder near the fence.




Reece Topley will share the new ball with Jordan.




PAK 6-0 (1 over)

FOUR! Rafatullah goes for an upper cut over the slips before running down the boundary.

Chris Jordan has been given the ball. Rafatullah Mohmand (39-year-old debutante) and Sarfraz Ahmed are opening for Pakistan.




ENG 160-4 (20 overs)

Morgan missed a slow ball and RUN OUT Sam Billings.

Two runs off the fifth ball.

Wahab saves a boundary. Dives in after running after the ball from short third man. Three off it.

Up in the air and no one is under it. Single taken.

FIFTY for Sam Billings with a single.

Single off the first ball.

Sohail Tanvir to bowl the last over.




ENG 152-4 (19 overs)

Slower one and Billings get two. England get to 150 as well.

Full-toss and shorter one missed by Billings. Strong comeback from Wahab.

SIX! Wahab doesn't learn. Billings tries it again only this time he get maximum for it.




FOUR! Scooped from full towards fine leg. Billings is playing smart.

Wahab to bowl the penultimate over.




ENG 138-4 (18 overs)

A big over for England.

SIX! That was an absolute cracker. Over deep midwicket. Billings on fire.




FOUR! This time he goes straight. England needed a hero and they have got it in Sam Billings.

FOUR! Slower ball and hit powerfully towards midwicket.

Imran Khan Jr to bowl the third last over.




ENG 119-4 (17 overs)

Just six runs off the over.

DROPPED! Imran Khan Jr puts it down at short third-man. Got there with both hands but the ball hit his left hand with pressure and got grassed.

Anwar Ali is back.




ENG 113-4 (16 overs)

FOUR! Billings goes for the unguarded midwicket boundary.




FOUR! Cheeky shot from Sam Billings. Moves to the right and picks the fuller delivery over towards fine leg.

Sohail Tanvir is back.




ENG 101-4 (15 overs)

Six singles off the over. Pakistan don't mind those.

Imran Khan Jr is brought back.




ENG 95-4 (14 overs)

BOWLED! Wahab Riaz cleans up the debutante Vince. Wahab is ecstatic, Vince is devastated.




Wahab starts with four dot balls. Morgan took one of the fifth ball.

Wahab continues.




ENG 94-3 (13 overs)

Afridi goes for 33 in his four overs without any wicket.

FOUR! Vince guides a faster one past short fine leg.

SIX! Morgan steps out of the crease and goes big over long-on.




Shahid Afridi into his fourth over.




ENG 80-3 (12 overs)

Wahab makes a strong comeback. Only three off the over.

Wahab Riaz got a beating in his first over and he is now brought back to strike. Can he?




ENG 77-3 (11 overs)

FOUR! That one called for being hit. Vince chose midwicket. Full-toss treated as demanded.

FOUR! Reverse sweep from Morgan beats Sarfraz behind the wickets.




Shahid Afridi in his third over.




ENG 67-3 (10 overs)

SIX! Back of the hand slower one and Vince picks it up early. Goes big over backward square leg.




Imran Khan Jr in for his second.




ENG 56-3 (9 overs)

FOUR! Vince moves back and cracks the ball through covers.

Shahid Afridi again.




ENG 49-3 (8 overs)

FOUR! Slow and short. Morgan beats the fielder at deep square leg.




So we have Imran Khan Jr bowling now. Can England decipher him?




ENG 43-3 (7 overs)

Just three runs off his over.

Shahid Afridi comes on to bowl himself now.




ENG 40-3 (6 overs)

FOUR! Absolutely slashed over the infield towards extra cover.

FOUR! Short and Vince pulls it towards square leg. Wahab needs to leave Australia behind him.

FOUR! Short and wide. Morgan goes slashing at it and get a boundary.

Wahab Riaz is on now. Afridi attacking England with all the firepower he has.




ENG 25-3 (5 overs)

FOUR! Driven towards extra cover. Vince get his first boundary of the match.

Eoin Morgan has joined James Vince and Afridi is sticking to Anwar Ali. Third over on the trot for Anwar.




ENG 19-3 (4 overs)

OUT! Moeen Ali mistimes it to short cover. Umar Akmal is there to bag it comfortably. Pakistan on top of England.




Sohail Tanvir runs in for his second over. Moeen Ali and James Vince are the two new batsmen for England.




ENG 18-2 (3 overs)

OUT! This times Alex Hales get another leading edge but Shahid Afridi at mid-off doesn't drop it.




Anwar Ali is in for his second.




ENG 16-1 (2 overs)

OUT! Jason Roy mis-hits it to mid-on. Sohail strikes and celebrates.




DROPPED! What did Sohail Tanvir just do there? The ball took a leading edge, hit his right hand, got air-borne, Sohail had all the time in the world to catch and instead he head-butts or spears it. You don't get paid so much to drop those at least.

Sohail Tanvir shares the new ball with Anwar Ali. Starts with a wide down the leg side.




ENG 5-0 (1 over)

Five runs off the over.

Anwar Ali has the ball for the first over. Alex Hales and Jason Roy, centurions of the ODI series, are going to open the batting for England.




Eoin Morgan has won the toss and he has opted to bat first.

Afridi: Shehzad not feeling well, so Rafatullah will open. Malik is also out due to injury.

Umar Akmal and Sohaib Maqsood are included in the final eleven.


Lala doing what he does best
Practice session before first T20I #PAKvENG #DreamGreen pic.twitter.com/sHJ9wx55Hg

— Pakistan Cricket (@TheRealPCB) November 25, 2015
Quick cover drives
Match Day - First T20I #PAKvENG #DreamGreen pic.twitter.com/nDadZKz4UR

— Pakistan Cricket (@TheRealPCB) November 26, 2015
Wahab Riaz showing off his footy skills
Match Day - First T20I #PAKvENG #DreamGreen @WahabViki pic.twitter.com/XW1vnZtHjH

— Pakistan Cricket (@TheRealPCB) November 26, 2015