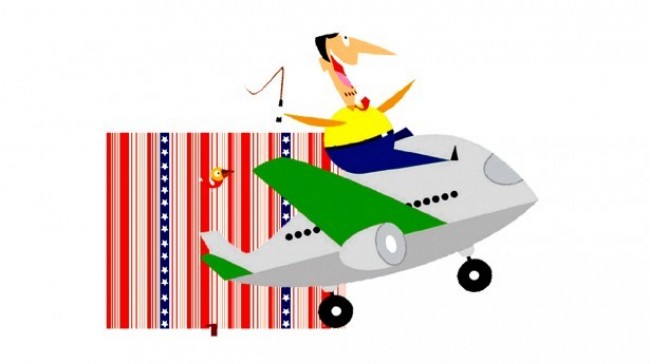 ---
We Pakistanis complain, and often, about the treatment meted out to us by security personnel at US airports. Much as we enjoy complaining as a nation, it would be far more useful to attempt to adjust oneself to the situation instead. Having travelled extensively on airplanes throughout America for the past two years, I feel confident enough to assert that I have mastered the delicate art of dealing with stringent checks and unpleasant security personnel.

For your own sake, you are advised to listen. Firstly, smile a lot. No one likes looking at a pissed-off Pakistani. It reminds everyone of Pervez Musharraf and Americans don't want to be reminded how he played them like a flute. Instead, show your bateesi like our current president. You are also advised to exchange pleasantries; this is your chance to show off your newly acquired knowledge about US sports and your local team. Secondly, dress sharp.

Wear a shalwar kameez to an airport at your own risk, no matter how dapper you think you look in your uber-desi attire. Preferably, wear a suit, especially if you are going to another big city. Everyone knows suits make men feel more confident, and swagger is much appreciated at airports. Americans tend to be a sucker for confident types. Also, do not scratch down there. If you really need a reason to refrain, consider that it will make you look ridiculous at best and suspicious at worst.

Thirdly, and I say this with a very heavy heart, do not crack jokes at any point inside the airport. Remember that Qatari diplomat caught smoking in an airplane toilet a few weeks ago, who made a joke about lighting his shoes when confronted by the flight attendant? Yeah, such flamboyance will only get you deported. Finally, and most importantly: if even despite this charm offensive, you find yourself randomly selected for extra screening, do not throw a hissy fit like some of our Fata senators did a few months ago. Instead, feel proud when asked to stand inside that machine that reveals everything to everyone.

It is important to know that the picture is being seen by every single person sitting in a different room. Enjoy the moment while it lasts; after all, this is probably the only chance you have as a desi man to get a gori girl to see you naked. If all of these tips and tricks fail to satisfy you, just man up and get a US driving license. You're probably over 21 years of age. (If you aren't, well, you're probably too young and irresponsible to be alone in the country in any case, and thus any harassment at airports is probably justified — stop getting drunk at college parties and go home to join daddy's business.) Just go give a driving test (doesn't it suck that they don't accept bribes in America for this purpose?), get an I.D. card and use that to visit airports.

Leave your green passport-to-hell at home, and pretend you're an American. So, unless you really screw up like that Afghan idiot Najibullah Zazi, chances are your air travel will be hassle-free. Bon voyage!

The writer blogs at Gulbadan.
COMMENTS (6)
Comments are moderated and generally will be posted if they are on-topic and not abusive.
For more information, please see our Comments FAQ