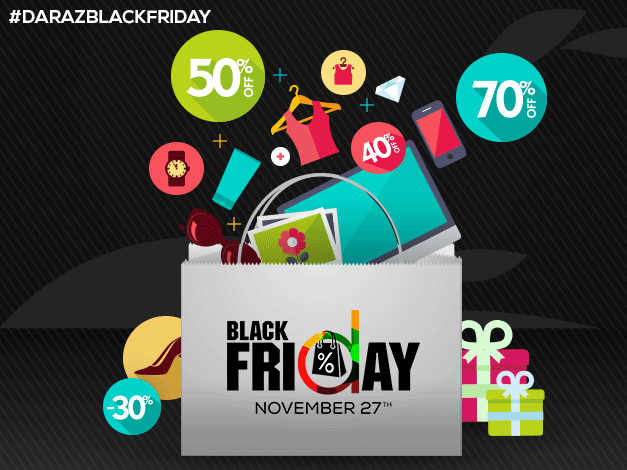 ---
Daraz.pk recently announced the launch of Black Friday, one of the biggest sales around the globe, in Pakistan. The Black Friday concept has been incredibly popular around the world and now Daraz.pk is introducing the concept in Pakistan with discounts up to 70% across categories. Shoppers seem thrilled for what appears to be the biggest sale of the year in the country, starting at 12am on November 27, at Daraz.pk.

Daraz.pk has been partnered with notable companies in the past and for Black Friday, the big partners include PTCL, Ponds, Mediatek, InnJoo and Easypay as the official payment partner, offering an additional (up to) 25 per cent discount on products to customers who pay via Easypay on Black Friday.

Co-CEO Daraz.pk, Bjarke Mikkelsen says,

"As Pakistan's largest e-commerce platform, Daraz.pk is uniquely positioned to bring Black Friday to Pakistan with the best possible shopping experience for our customers. Black Friday is the biggest shopping day around the world, and it is our responsibility that the event in Pakistan lives up to its legacy. We have moved mountains over the last three months to set the bar high for years to come, and to make sure we deliver an unparalleled experience to delight our customers."

Discounts galore:

From category discounts as high as 63 per cent on smartphones, 50 per cent on computing and 70 per cent on fashion and accessories, customers should be all set for a shopping frenzy.

Customers with a total cart value below Rs15,000 can avail an additional 20 per cent discount on their purchase. Whereas customers with a total cart value above Rs15,000 can avail an additional 10 per cent discount on their purchase. The discounts are limited to Rs10,000 per product.

Those purchasing InnJoo, Infinix or Telenor phones on Daraz Black Friday will enjoy a flat 25 per cent off on any model purchased when paying through Easypay.

That's exciting news as InnJoo will be launching three news phones Halo, Max 2 and Fire Plus besides its already available assortment on the website. Whereas Infinix will be launching Hot 2 - 1 GB version and offering a plethora of other exciting deals and freebies.

Can you imagine getting a brand new iPhone 6s at Rs62,279 anywhere else?




Easy and secure payments:

With the Easypay payment option, customers will enjoy an additional discount of (up to) 25 per cent on their favourite brands and products.

The great news is, you are not confined to any particular network. So anyone with a mobile phone, subscribed to any network provider, can enjoy this discount. This discount will be on top of the (up to) 70 per cent off on products you avail during the online sale on November 27.

While, of course, all other payment options are available for customers, from cash-on-delivery, swipe-on-delivery, online-card payment, Internet Bank Transfer (IBFT) and ATM; the process of paying via Easypay, to avail the additional discount of up to 25 per cent off, is also very simple.

Once you've placed your order, select Easypay as your payment option and then complete the payment using VISA or MasterCard through the Easypay online portal, or by making the payment at the nearest Easypaisa retail outlets or by using your Telenor/Easypaisa mobile account.

The discounted prices will be displayed in the cart and not on the product pages. The level of discounts are bifurcated depending on the total cart value.




E-commerce in Pakistan:

Daraz is the leading e-commerce platform in Pakistan, Bangladesh and Myanmar. The company started in Pakistan in 2012 as an online fashion business, but since then has expanded its business model to a general marketplace for quality brands within electronics, home appliances, fashion and many other categories. Daraz is owned by CDC Group – the UK Government's Development Finance Institution (DFI) focused on supporting and developing businesses in Africa and South Asia – as well as the Asia Pacific Internet Group (APACIG) which supports some of the leading internet companies in the region. Founded by Rocket Internet in 2014, APACIG's mission is to promote innovation and entrepreneurship throughout Asia and the Pacific and to support the development of a vibrant online culture.

Speaking on this occasion, Omar Moeen Malik, head of strategy and payments at Easypaisa said,

"We are extremely happy to partner up with the leading e-commerce player in Pakistan and to provide them with Pakistan's first comprehensive online payment solution. We are confident that customers at Daraz.pk will find Easypay payments to be convenient and secure and that they will prefer to use Easypay in the future as well."

With e-commerce growing rapidly in Pakistan, the Daraz Black Friday will be nothing short of a game-changer for the e-commerce landscape.
COMMENTS (7)
Comments are moderated and generally will be posted if they are on-topic and not abusive.
For more information, please see our Comments FAQ