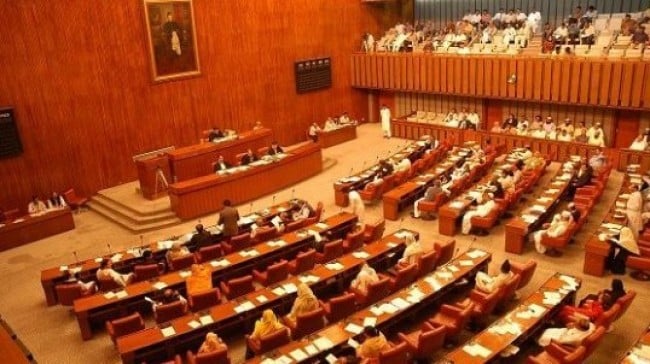 ---
ISLAMABAD:

Senate Chairman Farooq H Naek formed a committee to probe complaints by parliamentarians against the political victimization by National Accountability Bureau (NAB) on Friday.




The role and function of NAB came under discussion in the senate session today.


Minister for Law, Justice and Parliamentary Affairs Dr Babar Awan on Friday informed the Senate that a sum of Rs 302.6 million were distributed among 1777 officers of NAB as a reward money.

Responding questions in the Senate on the money recovered by NAB he informed that NAB has recovered a sum of Rs 225.30 billion during the last ten years period which were misused by the department. He said that the recoveries through bank defaults were Rs 188.24 billion which include plea bargain and the bargains during judicial proceedings.

He further added that voluntary returns include Rs 9.4 billion to NAB during the last ten years. Opposition leader Wasim Sajjad while appreciating the broad-mindedness of Law Minister said that it was a practice by NAB to pressurize victims for making plea bargains so as to get money from them.

Tahir Hussain Mashadi while demanding to put a ban on this notorious organization said that NAB seems to spread its wings even after a democratic government came into force.

Haji Ghulam Ali termed it an organization of "kidnapped for ransom" and added that President, Prime Minister, Nawaz Sharif and all the prominent parliamentarians were put into jail under NAB laws without having proper justifications.

Jehangir Baddar while backing the statement of Ghulam Ali said that NAB was being used for political victimization and it must be terminated.

Babar Awan while replying to queries said that the government believes in transparency and a new law is being enunciated which will replace the current NAB's law after being passed by both the houses of Parliament.
COMMENTS
Comments are moderated and generally will be posted if they are on-topic and not abusive.
For more information, please see our Comments FAQ