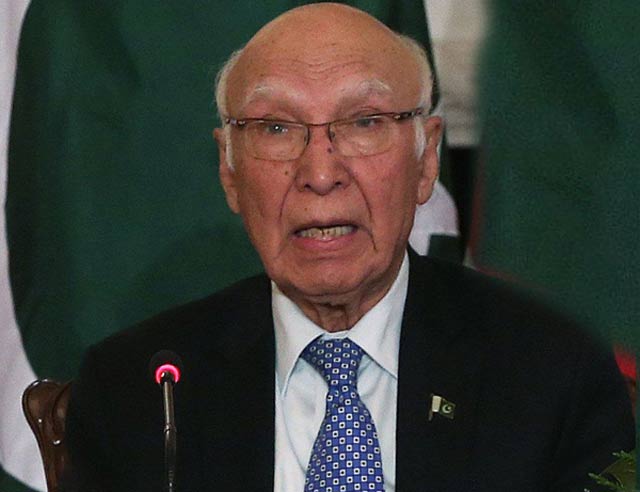 ---
ISLAMABAD:



A senior aide to the prime minister, Sartaj Aziz, has rejected media reports suggesting Islamabad has not given material evidence on India's involvement in stoking terrorism in Pakistan in the dossiers shared with the United Nations or the United States.




The dossiers have been submitted to UN Secretary General Ban Ki-moon and were also shared with US Secretary of State John Kerry during the prime minister's visit to Washington last month.

India sponsoring terror in Pakistan: Sartaj Aziz

A day earlier, news reports quoted the foreign affairs adviser as saying that the "meticulously prepared" dossiers contained "patterns and narratives" of Indian involvement. "But material evidence cannot be shared for the sake of protecting the sources," he reportedly said while testifying before the Senate Foreign Affairs Committee.




Dispelling these rumours on Friday, the prime minister's adviser on foreign policy said the dossiers shared with the UN secretariat and the US officials contained "substantial material" on Indian intervention inside Pakistani territory. "Pakistan has been careful while sharing the details as we cannot disclose our sources of information," the adviser clarified during the Question Hour of the National Assembly.

To another question, he said Pakistan and Belarus have signed a number of agreements for promotion of bilateral relations in different fields. "Both countries have established a business council, which will help bring in investment from Belarus," he added.

Will present dossier on Indian interference in Pakistan at UN: Sartaj Aziz

Sartaj also said the Pakistan Embassy in Iraq was pursuing repatriation cases of 499 nationals imprisoned in Iraq.

Halal food

A report of National Assembly Standing Committee on Science and Technology on "The Pakistan Halal Authority Bill, 2015" was also presented in the House."

The bill proposes establishing an authority to promote imports and exports, and trade and commerce with foreign countries and inter-provincial trade and commerce in Halal articles and processes.

Replying to different questions, Federal Commerce Minister Khurram Dastagir said the export of rice to Indonesia, the Philippines and Sri Lanka would start soon. The agreement with Indonesia has been finalised while with the Philippines, it is in the final stages. Sri Lanka's concern about the quality of rice has been removed and export will start soon.

Sartaj Aziz rules out cricket with India

He said the Trade Development Authority of Pakistan (TDAP) was actively supporting rice exporters and finding new markets as Pakistan produced world-class basmati rice.

The minister added an agricultural exhibition was held in Russia recently and the Russian Federation was likely to become a new market for Pakistan. Talks with officials from South Africa, Russia, France, Indonesia, Angola and Germany have been held to increase exports of rice.

He said the prime minister constituted a committee to support growers and announced Rs350 billion Kissan Package to help mitigate the sufferings of the farmers, particularly rice growers. To another question about imports, Khurram replied that imports had increased to $45.98 billion from $45.07 billion in 2013-14, showing an increase of 2.01 per cent during the outgoing fiscal.

The trade deficit during the outgoing financial year has increased from Rs19.963 billion in 2013-14 to Rs22.09 billion in 2014-15. Since Pakistan's major imports consist of petroleum, machinery and chemicals, which are essential for economic development, the nominal increase in imports has no significant adverse impact on economy, the minister claimed.

Published in The Express Tribune, November 21st, 2015.