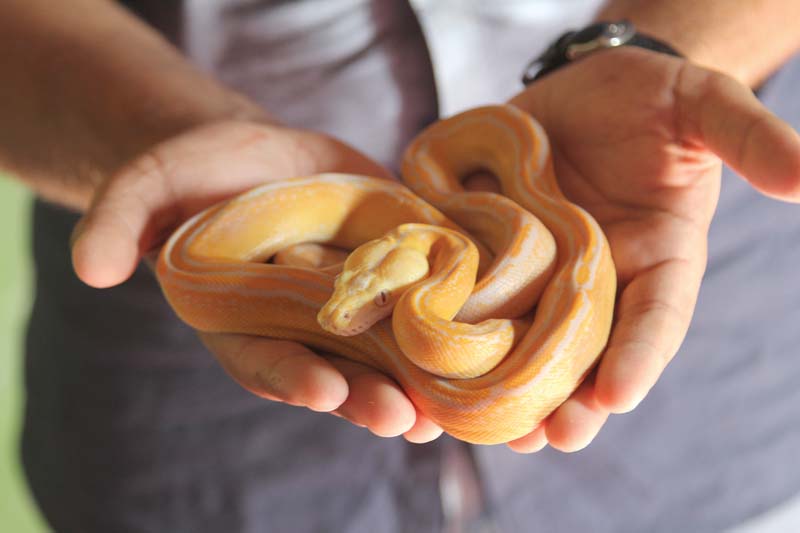 ---
KARACHI: Hassan Hussain and his brother Hamza Hussain have an unusual choice for pets they want to keep in their house. The brothers collect pythons.

Recently, the duo imported as many as 75 baby and 25 older pythons from Jay Brewer Prehistoric Pets (a reptile zoo in Fountain Valley, California) to keep as pets.

'Pet' peeves: Collector of snakes boasts of a $9,000 addition

Last year, the duo had imported 16 pythons from Oklahoma City, US. They mentioned that importing snakes had cost them between Rs1.6 to Rs1.7 million.

Standing in a small room on the roof of his house in PECHS, a 20-feet long python hanging around Hassan's neck and arms he told The Express Tribune that snakes have always fascinated him.

Eating habits

"Pythons are non-venomous and have 100 small teeth to grab its prey tightly," said Hassan. Gesturing towards the several glass cases in which different breeds of pythons were hissing, he assured that they did not harm humans.

It is very rare that pythons attack a human, Hassan claimed. It is not impossible though, he added.

A matter of hide: Shopkeeper caught selling skins of endangered animals

"Constricting snakes such as pythons strangulate their prey and then swallow it," explained Hassan. It was initially believed that constricting snakes killed its prey by suffocating them but snake researchers from Dickinson College, Pennsylvania, suggest that they cut off the blood supply of their prey.

Talking about his pet snakes, Hassan mentioned, 'They eat once in a week.'  Large pythons eat rats while the smaller ones consumed white mice, he said.

Snake-lovers

Gesturing towards the baby pythons, he opened a white box, with few small holes in it and took out not-so-tiny coiled ball python. "I have got 25 of these kinds," he said adding that they were the cutest ones.

"It remains in a ball position, you can wear it like bracelet in your hand or around your neck," he said. "Sometimes I go out wearing them on my hands." According to him Ball Pythons take three to four years to grow and don't cross more than six feet.

EU lawmakers want full animal cloning ban

The lemon yellow color albino type two super tiger reticulated python that he had imported last year, was around 8 feet then and now has grown up to 12 feet. He said that these snakes remain alive for at least 25 years and keep growing.




The baby platinum citron reticulated python was also one of the most stunning pythons there, it had psychedelic patterns over his body. "The platinum colour is mix with citron and it shines in the sun light," he said. Another golden child python according to him changes its colour in sun light to sea green and blue.

Permission issues

"We had applied to climate change ministry in Islamabad," said Hassan. On their recommendation team of Sindh Wild Life Department visited our house, he claimed. "Then they issued us a No Objection Certificate to keep pet pythons."

US requests Pakistan to lift ban on import of live animals

Meanwhile, Dr Ansar Rizvi of Karachi University's zoology department gulped when he heard of 100 pythons being kept in a house. He told The Express Tribune that a python could easily squeeze a crocodile or an alligator and they should never be kept as pets.

"In USA one of the pythons had squeezed its caretaker to death," he mentioned stressing that a wild animal remains wild. According to him a 14-feet python could easily squeeze and swallow a human. However, he insisted that snakes were not aggressive until they were very hungry or people irritated them.

"They should be kept in a box and at least two people at a time should handle them," he said. If they are in straight position they were are harmless, but once they start coiling then it can prove to be dangerous, he added.

People should never keep dangerous animals at home, especially when they are in such a huge number, said Sindh Wildlife Department's provincial conservator, Saeed Akhtar Baloch.

Published in The Express Tribune, November 20th, 2015.
COMMENTS (15)
Comments are moderated and generally will be posted if they are on-topic and not abusive.
For more information, please see our Comments FAQ