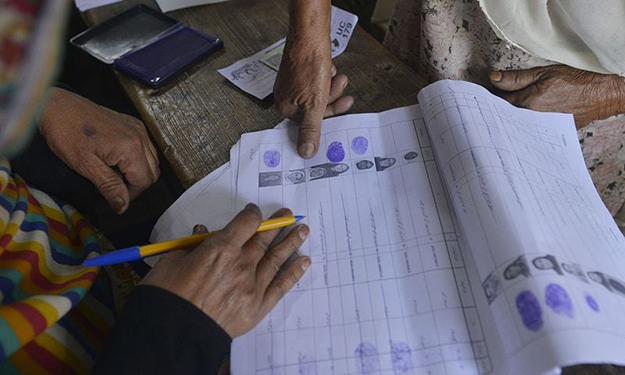 ---
JHELUM:



The Pakistan Muslim League-Nawaz (PML-N) and a few independent candidates are expected to put up a strong performance in the second phase of the local government elections in Jhelum district on Thursday (today).




A total of around 853,297 registered voters included 398,646 women are expected to participate in the democratic exercise. There are 44 union councils in the district and five municipal committees.

Residents of the district have traditionally cast their votes along tribal lines rather than election manifestos and a similar trend is expected to dominate the outcome of this election.

Around 633,153 voters are registered in the 44 union councils (UCs), including 294,534 women. Moreover, in the five municipal committees of the district, 220,244 voters are registered, including 104,107 women.

Of the total of 989 candidates who filed their papers for election to the Jhelum District Council, 193 have withdrawn their candidature.  Ten candidates have been elected unopposed.

Jhelum MC

Some 361 candidates will be contesting elections for the seats of general councillors in Jehlum Municipal Committee. The municipal area has 126,370 registered voters who will cast their vote at 84 polling stations. Of the total, 36 polling stations each have been segregated for men and women, while 13 polling stations will serve voters regardless of gender.

Dina MC

Some 72 candidates are expected to contest the election for seats in the Dina Municipal Committee. At least 34,161  registered voters in 19 wards of the municipal committee will cast their ballot.

Sohawa MC

Some 41 candidates will contest for seats in the Sohawa Municipal Committee.

In the 15 wards of the area, the total number of registered voters is 17,878, including 8,521 women.

Pind Dadan Khan MC

Meanwhile, 48 candidates will contest elections on the seats of general councillors in Pind Dadan Khan, whereas a candidate has been elected unopposed. Some 18,551 registered voters including 8,495 women will go to 17 polling stations set up in 16 wards of Pind Dadan Khan.

Khewra MC

Some 76 candidates submitted their nomination papers in Khewra Municipal Committee, 13 have withdrawn and 63 will contest today's elections.

In Khewra's 19 wards, the total number of registered voters is 23,284, including 10,749 women. Around 20 polling stations have been set up in the area to facilitate voters.

Attock

In Attock, 1,076,686 registered will take part in second phase of LG polls on Thursday, reports our correspondent Nadeem Raza Khan. Around 1,203 candidates will contest elections on 520 seats in 71 union councils. In the district, 854 polling stations have been set up. Of these, 203 are reserved for men, 204 for women, and 447 polling stations will facilitate voters of either gender. Around 104 polling stations have been declared sensitive.  Some 298 candidates will contest elections for membership in the six municipal committees in the district. At least 35 candidates have been elected unopposed.

Pindi Gheb

Hanif Bhatti reports 62 candidates will contest polls in 11 UCs. Around 145,696 registered voters will cast their ballots at 122 polling stations. In the one MC 21,996 registered voters will go to polls.

Translated by Shazia Mehboob

Published in The Express Tribune, November 19th, 2015.
COMMENTS
Comments are moderated and generally will be posted if they are on-topic and not abusive.
For more information, please see our Comments FAQ