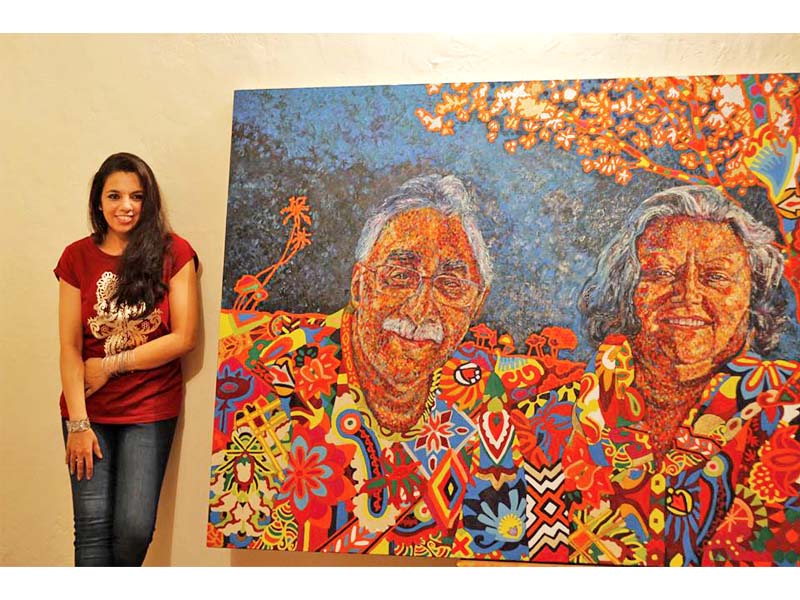 ---
SLAMABAD:



Amina Ansari is a Pakistani British artist based in Islamabad these days. A Central Saint Martins, London alumnus, she has exhibited her creations at art galleries of prestige, including the Brick Lane Gallery and even the Houses of Parliament in the British capital. So much so, two of her works were even placed at Windsor Castle as part of a collection curated to mark Queen Elizabeth's accession to throne anniversary. With a successful career and recognition on her palette, she made a decision that many in her place wouldn't have.




Amina was born and bred in the UK. As a child she was unaware of her aesthetic capabilities and it was her mother who helped her actualise her potential. At a juncture when people are leaving Pakistan looking for opportunities elsewhere, Amina's creative pursuits guided her in one direction alone. "I feel it is Pakistan that has truly inspired me. Coming to Pakistan has been the most liberating experience of my life. I am thoroughly enjoying every bit of it," she told The Express Tribune.




If that means she relates with Pakistan more than her birthplace, the answer is a straight yes. "But I also feel that I am a global citizen." Amina added Pakistan is a free environment for experimentation and learning, which is all an artist asks for.

Fine arts: Saeed Akhtar stands out for freshness of his work

She feels art is a gift bestowed upon her around which her entire being hovers. "It's a way of life for me. It gives me the chance to express... to escape."

To the question that does she not miss the comfort of her life in London, she said, "In London, everything is readily available. There are museums and art galleries at every corner of the city." Back here, there is no spoon-feeding for inspiration and no open opportunities. Inspiration is to be sought and opportunities created. "Artists here are hence more passionate than those in the laidback environment of London," she added.

Amina has various awards and prizes to her credit, but her most noticeable contribution as a painter of South Asian origin is her concentration on gender violence and social injustices. About what drives one as an artist, she said, "Every artist is not the same. Humans are not the same. We have 10 fingers in our hands and no finger is similar. What makes an artist is the message that they derive from their surroundings and transmit through their creative endeavours."

Recognising efforts: Young artists display talent at portrait competition

Oil is Amina's medium of choice when it comes to putting brush to canvas. "I like to work with oil because it gives me room to play with texture and the results can be so diverse. It just makes me more creative," she stated. Her techniques are independent, bold and unique. "My approach is such because there is no point in copying someone else." To Amina, the brushstrokes only help her pour her heart out on her portraits.




The painter indeed has come a long way and feels her work too has evolved over time. "Every succeeding canvas has given me a chance to improve, given me an insight into my work." She is open to whatever comes her way and aspires to set up an art studio one day. "I want to inspire the younger generation to follow where their hearts lead them."

Published in The Express Tribune, November 19th, 2015.

Like Life & Style on Facebook, follow @ETLifeandStyle on Twitter for the latest in fashion, gossip and entertainment.