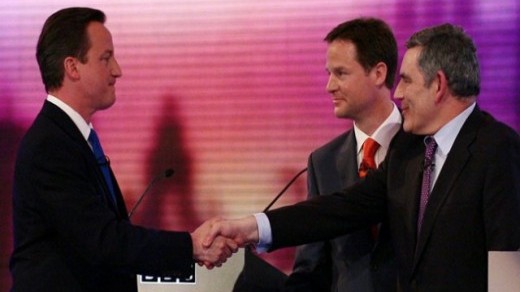 ---
LONDON: The leader of Britain's main opposition Conservatives, David Cameron, was the winner of the final leaders' TV debate ahead of next week's general election, according to instant polls.

An average of five surveys taken after the clash Thursday put Cameron on 37 percent, Liberal Democrat leader Nick Clegg second on 32 percent, and Prime Minister Gordon Brown in last place on 25.6 percent.

A survey by pollster YouGov for The Sun newspaper put Cameron on 41 percent, against 32 percent for Clegg, with Brown third on 25 percent.

The pollster quizzed 1,151 viewers.

A poll for ITV television news, conducted by ComRes, put Cameron on 35 percent; Clegg on 33 percent; and Brown on 26 percent.

ComRes also asked viewers their voting intentions, and found a draw between the Conservatives and Liberal Democrats on 36 percent. Labour trailed on 24 percent.

A survey conducted by Angus Reid showed Cameron as the winner on 36 percent, Clegg second on 30 percent and Brown trailing on 23 percent. The pollster quizzed 1,264 adults who watched the debate.

An ICM poll for the Guardian newspaper was the only one not to put Brown in last place. It gave Cameron 35 percent, Brown 29 percent, and Clegg 27 percent.

A poll for the Times newspaper, by Populus, was the only survey not to give Cameron a lead. It showed him level with Clegg on 38 percent but both men were far ahead of Brown, who scored just 25 percent.

Populus surveyed 1,929 people.

The third and final television showdown in Birmingham, central England, was focused on the economy.

The surveys indicated Brown failed in his attempt to recover from a campaign trail gaffe on Wednesday.

Failing to realise he was still wearing a microphone, while talking to his staff he labelled an elderly widow "bigoted" after she had challenged him on immigration.
COMMENTS
Comments are moderated and generally will be posted if they are on-topic and not abusive.
For more information, please see our Comments FAQ