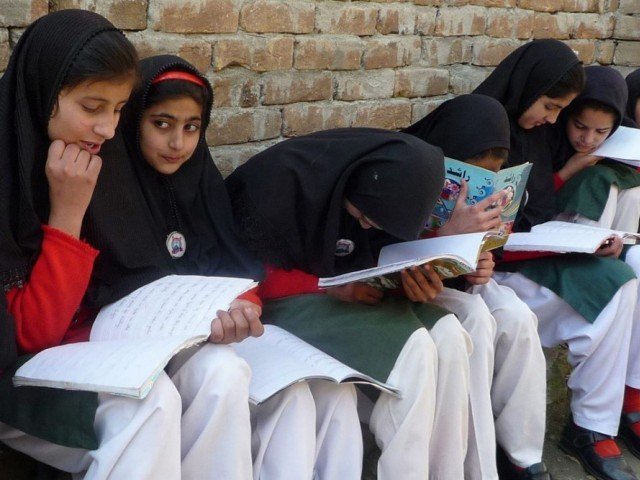 ---
ISLAMABAD: Even with significant strides at a global level towards achieving gender parity in all aspects of life, Khyber-Pakhtunkhwa still faces a number of challenges in achieving gender equality in the education sector. Although improvements have been made by the government in this regard, obstacles that lie in the path of providing education for girls across the province are tremendous.

According to a study conducted by Institute of Social and Policy Sciences (I-SAPS), at the primary level in Swat district, gender parity increased from 67% (67 girls for every 100 boy) in 2008-09 to 93% in 2013-14. However, the same could not be said for middle and higher school education where the rate only increased from 43% to 54% in those six years.

Lack of opportunities

In K-P, the number of schools decrease as education levels increase. An analysis of K-P schools census data reveals majority of schools in the district are primary schools. For students transitioning from 1,337 primary schools, there are only 130 middle and 117 high schools.

In Swat, there are only 20 schools at the higher education level. The situation was undoubtedly worse for girls – 480 primary schools but only 49 middle, 35 secondary and five higher secondary schools. Five higher secondary schools covering a geographical area of 5,337 square kilometres of Swat easily presents an overview of the opportunities available to girls to undertake higher education.

The census data also shows girls in Battagram, Chitral, Hangu, Kohistan, Tank and Torghar face even more challenges as not a single higher secondary school exists for them in these districts.

Unavailability of basic amenities

The availability of basic facilities like toilets, boundary walls and clean drinking water has a significant impact on students' willingness to stay in schools.




According to available K-P census data, 42%  girls schools in Swat are without drinking water, 15% without boundary walls, 49% without electricity and 15% without toilets.

According to I-SAPS research, of 393,273 out-of-school children between the ages of five and 16 years, 57% are female.

Focus group discussions with parents from Swat revealed co-education schools in the district do not have separate toilets for boys and girls. This has huge implications for girls and is one of the many reasons why they drop out.

Steps to take

Efforts to improve girls' access to education have been significant, at least at the primary level. However, retaining them in schools in the long run, and attaining targets of universal primary education and removing gender disparities outlined in K-P Education Sector Plan (ESP) still remain a huge challenge.

As a result, achieving inclusive quality education for all children at primary and secondary levels committed as part of the sustainable development goals (SDG) becomes highly unlikely. These will not only require more funds to build additional schools, classrooms, provide basic amenities and also ensure quality of education in schools.

Abdullah Alam is a research fellow at Institute of Social and Policy Sciences (I-SAPS) Islamabad. He tweets [email protected]_alam

Published in The Express Tribune, November 16th, 2015.
COMMENTS
Comments are moderated and generally will be posted if they are on-topic and not abusive.
For more information, please see our Comments FAQ