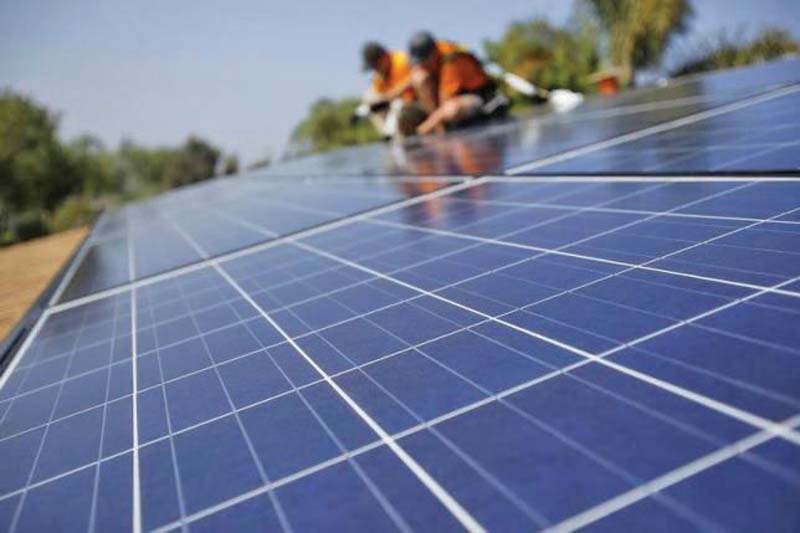 ---
ISLAMABAD: Energy sustainability through the solar resource seems to be the only option. The amount of energy the sun radiates in a day is more than the energy used by the world population in a year.

Every hour millions of kilowatts of solar energy hit the earth's surface, which, if consumed, can altogether change the life of common man. Owing to this characteristic, solar energy is considered an infinite source of renewable energy.

'Punjab's environment is conducive for solar power'

Scientists believe the sun alone will be sufficient to meet energy needs of the world, if all non-renewable resources are exhausted.

Pakistan is deficient in energy, though it has enormous coal, wind, solar and water resources. Its overall power generation capacity stands at 23,538 megawatts with a shortfall of nearly 4,000 and 9,000 megawatts in winter and peak summer seasons, respectively.

According to estimates, electricity demand will rise to 40,000MW by 2020. In such a scenario, the country will trail growing demand despite a number of ongoing projects including hydroelectric power schemes, which are likely to be completed by 2018.

In the backdrop of growing population and depleting resources, experts suggest solar energy is the permanent resource that is available for use in direct (solar radiation) and indirect (wind, biomass, hydro, ocean, etc) forms.

Indian airport becomes world's first to operate on solar power

Solar energy can be easily converted into electricity with the help of photovoltaic technology, which can be classified as active and passive. Photovoltaic panels and solar thermal collectors that harness solar energy are examples of active solar technology. Passive technology involves constructing rooms to improve air circulation and orienting space to use sunlight.

It is a proven and easy-to-use mechanism, which is being used globally for telecommunication towers, highway billboards, off-grid cottages, resorts in desert areas, water pumping for community needs and irrigation, park lighting, exterior home lighting, etc.

Not as bad

A brief look at Pakistan's resources highlights that the situation is not that dismal. Only coal reserves of about 175 billion tons in Thar can generate 100,000MW for the next 200 years. Water resources, if exploited, can generate up to 60,000MW. Had dams been built along the Indus cascade, these alone would have generated 40,000MW.

PM inaugurates 100MW solar plant in Bahawalpur

In the case of solar energy, annual radiation in most areas is about 2,000 kilowatt hours/m2, which is the highest in the world. It is generally a consensus among experts that solar power generation is the most sustainable, as there is no chance of resource exhaustion.

Estimates suggest if only 10% of the Thar desert, spread over an area of 300,000 square kilometres, is utilised to generate solar energy, the production capacity could be as high as 300,000MW. Though a 100MW solar project is being executed in Bahawalpur and other such projects are in the pipeline, the pace of development is very slow.

The delay should be investigated as some quarters blame the oil mafia for creating the hurdles.

Pakistani researchers develop solar-powered mobile phone network

The solar photovoltaic technology is a stable and state-of-the-art system and is also cheaper compared to power generation through oil or coal. Such power projects are popular in the world and many countries including the US and China are promoting the technology.

At present, Pakistan mainly consumes oil and gas-based electricity, but the progress of photovoltaic technology provides an opportunity to revamp the national energy structure.

No fuel price

Contrary to the uncertainties surrounding the supply of fossil fuels, solar energy is a resource that is permanently available virtually everywhere. The fuel price over the lifetime of the solar power plant is almost zero.

Bahawalpur solar power park project to be completed by 2016: Punjab CM

In power generation through conventional resources, fuel price volatility is a significant risk factor, with oil prices fluctuating between $50 and $100 per barrel in the last around one and a half years.

Solar energy does not require expensive raw material like oil and coal and its labour needs are significantly lower. The raw material does not need to be constantly extracted, refined and transported to the power plant.

The life expectancy of solar projects varies widely, but many panels produced today carry a 25 to 30-year warranty with life expectancy of up to 40 years.

Now is the time to switch the national focus to renewable energy resources. Otherwise, the money being paid by the consumers as well as subsidies on electricity bills will pile on the burden on the entire system.

The writer is a staff correspondent

Published in The Express Tribune, November 16th, 2015.

Like Business on Facebook, follow @TribuneBiz on Twitter to stay informed and join in the conversation.