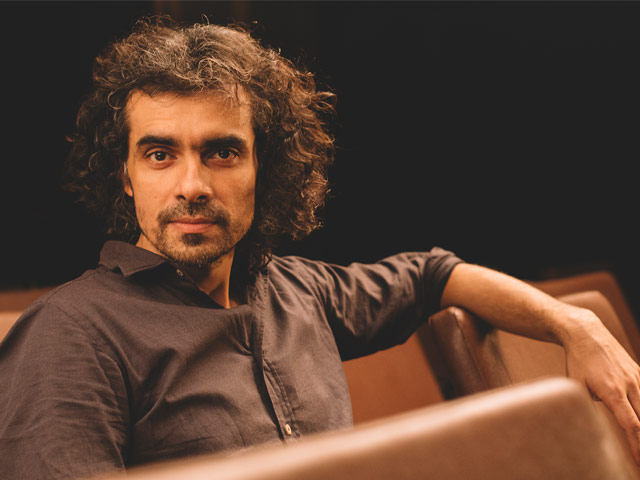 ---
LAHORE: Imtiaz Ali's presence may hint towards a very matter-of-fact air, the actor, director, screenwriter and producer conceals a world inside his chest which is starkly different from the one Bollywood standardises. With not more than 10 cinematic projects to his credit, he is no industry veteran.

Yet, every time a film conceived by Imtiaz has hit the screens, the industry has taken a turn. Be it the girl who refuses to remain shackled in family traditions or the one who speaks up against being abused as a child, his characters provide a glimpse of what goes on inside one of Bollywood's brightest minds.

Imtiaz Ali ensures his films strengthen moral values




In an exclusive conversation with The Express Tribune, the man who actor Ranbir Kapoor calls the reincarnation of Marco Polo provides an insight into a life whose swerves are punctuated by failures.

Contradictory to perhaps his most popular character, Jab We Met's Geet, the young Imtiaz was neither exuberant nor expressive. He struggled with studies and never excelled in sports; math was almost a nightmare for him. He'd prefer to stay home in the evenings and not play with others in the streets of Jamshedpur, his hometown in the Indian state of Jharkand. "I realised I was good at practically nothing," he says. Imtiaz found his sense of direction only when he failed in school and had to repeat a year.

"My father always showed me the bright side of things. His support helped me regain control of myself. I began to do well in studies and even in the playground. A time came when I stood first in my college." Imtiaz is of the view that one's notion of self changes with success and failure. "My failures made me what I am today. Back in Jamshedpur no one imagines my sort of career prospects and neither did I."

On the flipside, Imtiaz wasn't really the good-for-nothing sort in school. He was fond of scribbling a few lines of poetry here and there and one day, together with his friends, decided to get together, act and direct small skits – this is perhaps the simplest explanation for his enigmatic yet organic growth as a man of letters and the clapperboard. "We used to tell each other, ke tu esay dialogue bol, tu esay expression de. That is how it all started for me and that is how it is, unfortunately, even today," he adds.

The choice of the word 'unfortunately' prompted the follow-up question. "Because I sometimes feel had I been writing and directing for others, the journey would have been much easier and I would have ended up making more, both films and money."




Does he then have a point to prove with his discography? The names of his films almost give the answer away – from Socha Na Tha to Jab We Met, from the Rockstar taking the Highway to arriving and resting, perhaps for a brief period, at a Tamasha. "I think I am trying to get to a point where my movies are different from each other. For instance, Socha Na Tha and Jab We Met depended heavily on dialogues. That reduced gradually with Highway which was dominated by silence. I don't know if I was successful or will be successful in the future but as long as my approach every time is different, it is refreshing."

Anurag Kashyap's Black Friday featured Ali playing the role of the nervous younger brother of 1993 Mumbai bombing's prime suspect Tiger Memon, Yakub Memon. That was the first and last time we saw of him on screen. "Actually I have acted in theatre before… very serious and contemporary Indian theatre. I acted for a long time but then I discovered my love for directing and I never turned back."

Imtiaz's films bring societal taboos to the fore and feature the old world vs new world struggles, with narratives culminating in a similar fashion. For instance, Geet and Love Aaj Kal's Jay both realised their mistakes. "Yes this is true but in Rockstar, Jordan never did. I am glad you mentioned that. I don't do this deliberately. I do not intend to instill any moral standards through my films but then I can also not refute the idea that cinema is the most influence moral science textbook for the younger generation. I do pay attention to simple things… for instance my characters do not smoke because I think kids will see that and take influence," he states. The influence of realism on his work is evident. He seldom prefers sets for his films and likes to shoot on real locations. "It gives a greater sense of reality to the film. I enjoy doing that," he adds.

Highway: So much more than a love story




Does Imtiaz favour constant revisions to the script? "During filming you feel you want to reach that final emotion or a critical point of your story. These changes help with the precision."He might not be an audacious person by nature but his films speak otherwise. "I do try to take risks. In Highway for instance, I was continuously changing the script and had not finalised it till we reached the location." In a first, Imtiaz constructed a scene there and then.

His films are dominated by classical metaphors and everyday Urdu adages. The poetry and lyrics are very earthy. "Poetry is a huge support system in my life. I am very well versed in English literature and Urdu literature keeps me culturally inclined with my roots." Imtiaz grew up in a household where there might not have been an emphasis on textbooks, but books of poetry were everywhere. "My mamu instilled Ghalib and Faiz into me. Faiz has been a huge influence in my life." The influence rightly shows in his work. "Let me give you an example. Faiz sahib's poetry goes like tujh se ki hay ulfat har baar naye siray se. For Rockstar, I wrote a lyric which read: tujh se pehli baar main milta hoon har dafa." Imtiaz may have lived and breathed that milieu, he also pens what he calls meaningless lyrics. "Poets like Nazir Akbarabadi have done it. My song Matargashtiyan in Tamasha is a prime example."

To the question whether his own realities breathe life into his stories, he responds, "There is no character in my movies that I can say is like me, however there are certain instances that I relate with," he adds, quickly mentioning how Ranbir has this habit of bothering him when the latter is narrating a scene to the former. "Sir, has this happened to you? Sir, this girl's story that you are narrating, did this happen to her and you?" he laughingly quotes Ranbir.

Imtiaz is palpably the worst critic of his own work. When Jab We Met clicked with the audiences, he said he had no idea what worked. He is always quick to point out imperfections in his own films, a trait rare in the flashy world of Bollywood. "I am a little scared about not being honest about my films." Imtiaz feels that if he lies, he will start to believe in those lies and hamper his progress. "If I keep insisting that my film is flawless then how will I work on my mistakes? It happens a lot when I am talking to the media. For me, it has to be an honest conversation," he says. The director holds that the Indian film industry is incomparable when it comes to spirit. "The people in it are believers and dreamers. They welcome new ideas and talent with open arms," he maintains.




To him, film-making is an extremely personal process. "When I am deciding upon what to keep and what not to [in the film], I do it by impulse. I feel that I am connected with my audiences. The scene where the girl, in Highway, washes her face and then laughs and cries at the same time is my personal favourite. The audiences loved it as well." He says Geet telling Aditya that she knows karate is another such incident.

Imtiaz may hold that the concept of love is taboo and confusing, he still has belted out some of the finest love stories on screen and love is one of the driving forces for his characters. "Realistically, I can understand the physical attraction and desire to be with the other person but its particularities vary with each individual. Aditya loved Geet [in Jab We Met] in a way very different from that of Jay and Meera [Love Aaj Kal]," he says. "You just called Highway a love story and I agree with you. But if you see, the female lead in the film doesn't want to be what Bhaati [male lead] is. I prefer not to take refuge with the word love."

It was always a dream to work with Ranbir: Deepika

Set to hit the theatres later this month, Tamasha is nowadays the focal point of Imtiaz's creative endeavours. The film's title stems in Ghalib's famous line, hota hai shab-o-roz tamasha mere agay. "Your most personal thought is your life's biggest tamasha." The film is named so because Ranbir plays the titular character of Ved, a storyteller who ultimately performs his own plays on stage.
This is the second time that Imtiaz is collaborating with Ranbir and Deepika Padukone. "They are friends who share this love for our work with me. They are both the best actors that I have ever seen," he states. Both the stars have shared screen space before and although the audiences are familiar with their on screen chemistry, Imtiaz has different plans. "I look for individual characteristics when I cast actors. I feel Ranbir and Deepika will add value to my characters. There is no way one can tell how they will look together this time since every film has its own dynamics."




Interestingly, Tamasha also features veteran Pakistani actor Javed Sheikh. On his choice of Sheikh, Imtiaz says, "There was no one better than Javed sahib because the character originates from Lahore. There is a certain air about him that only Javed sahib can pull off." Imtiaz is all praises for Sheikh and feels that the Pakistani actor is a thorough gentleman.

The director has a strong liking for Pakistani food, music, people and languages. "I think Pakistan has a certain level of aesthetics in everything whether it is poetry, music or language." I love the kind of food you make there, he adds, and am an ardent fan of aloo gosht. He is delighted to see the Pakistani film industry evolve and says that people on either sides of the border are totally alike. "I strongly feel that we as people are united." About whether Pakistani cinema will be able to cement an identity of its own and not go astray in the shadows of Bollywood, he states, "It is happening. For instance Na Maloom Afraad has done so well. You should import films but have your own cinema too. You can tell how the industry is progressing by the number of theatres opening up."

Published in The Express Tribune, November 14th, 2015.

The writer heads the wardrobe and styling department at Express News
COMMENTS (1)
Comments are moderated and generally will be posted if they are on-topic and not abusive.
For more information, please see our Comments FAQ