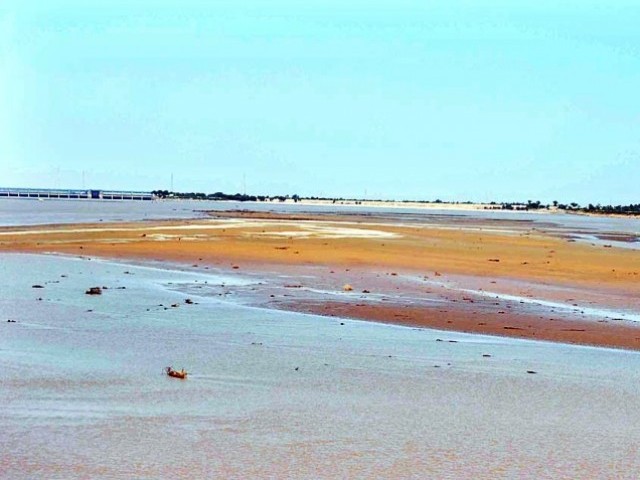 ---
LAHORE:



A WWF-P (Worldwide Fund for Nature-Pakistan) study analysing the ecosystem downstream of the Kotri Barrage by river hydrology expert Christopher J Gippel was presented on Friday.




The study looks into the decreased flow of water in River Indus and its impact on the ecosystem over time. It makes extensive use of previous research done on the issue. Gippel aims to build on the work undertaken earlier in 2005 in the form of three studies looking into the flow of water in the river for the Federal Flood Commission. He also looks at geomorphologic processes and how they impact increasing water salinity and what this entails for mangroves and communities dependent on the river.

Reviewing work other than the three studies, Gippel notes that the data employed is inconsistent and not reliable to deduce fitting conclusions regarding water flow in the area he studied.  He also points to a lack of research on other pertinent issues writing, "The literature contains conflicting information regarding delta size, delta rate of change, mangrove area, mangrove rate of change, saline intrusion extent and the connection between surface and groundwater."

The study notes that there is a need for more transparent sharing of information by all stakeholders to paint a more holistic picture of the impact of reduced flow on the ecosystem. It notes that demand for water from the river outstrips supply, meriting agreement on water sharing rules among environment protection and other uses.

Main threats to the health of the Indus Delta include reduced freshwater flow, construction of dams and various canals; encroachments, clearing mangroves for agriculture; reduced sediment loads; habitat destruction and pollution.

The study also notes that intrusion of seawater inland presents a surface water problem for people dwelling in the delta and compromises riparian plants and aquatic organisms that tend to flourish mostly in freshwater. The study concludes with recommendations regarding required environmental flows for the delta.

"Environmental flows are designed to maintain some natural flow variability along the whole length of a river so that people, animals and plants downstream continue to survive and make use of river resources," WWF-P Building Capacity on Climate Change Adaptation in Coastal Areas of Pakistan (CCAP) Senior Project Manager Ali Dehalvi said. He said the report had been formulated to provide information needed to facilitate effective management of the Indus Water Basin.

Hydrologist Ghulam Nabi said most differences in previous studies could be resolved by undertaking an expert review and commissioning specific research to address uncertainties according to need.

Published in The Express Tribune, November 14th, 2015.
COMMENTS
Comments are moderated and generally will be posted if they are on-topic and not abusive.
For more information, please see our Comments FAQ