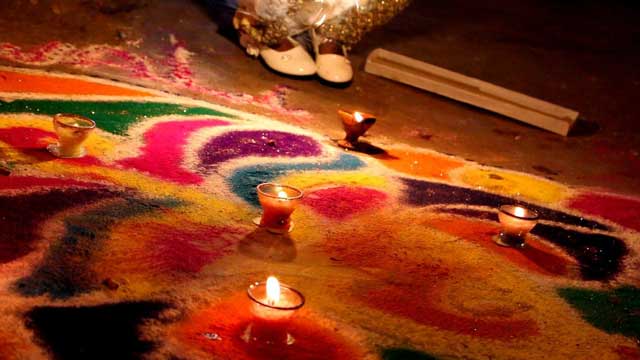 ---
KARACHI: As dusk set in in Karachi and the city readied itself to settle in after another busy Wednesday, a compound surrounding a 132-year-old Mandir in the old city area began lighting up. With the help of hundreds of candles, the Hindu community came out to celebrate the 'triumph of light over darkness' – the festival of Diwali.

Swami Narain Mandir, located near the Light House area of the metropolis, is the epitome of Hinduism's pre-partition legacy in Karachi. The compound of a few hundred houses presents an entirely different culture and atmosphere. For starters, upon entering it, one is immediately welcomed by a lingering smell of perfumed incense. The enrapturing smell – a strong symbol of Hindu spirituality – emanates from the houses of the devotees who lit the sacred incense sticks to call on and appease their deities.




Days before the night of Diwali, stalls selling festival-related products were setup outside Swami Narain temple. From replicas of Hindu deity Shiva and Krishna, to Malas – beads for prayers – and color powders meant for making Rangoli, a salient feature of Diwali, are sold at these stalls.

Festival of lights: Diwali brings citizens together

"I live inside the temple and every year I setup this stall selling incense sticks, Lakshmi pooja and other stuff. I think people who do not light 'agarbatti' during these days at their homes are not celebrating Diwali," says Raam, with a laugh.




But Raam is not your usual vendor. His aim is not to earn any profit from the sales made during Diwali but to get closer to his God by helping other devotees practice their rituals. "I am selling this stuff because I like doing so and it gives me spiritual pleasure. Every year during Diwali, I meet my old friends and relatives when they come here and buy these sacred things from my make-shift shop. I am doing this for my Lord Raam and Seeta," he says.

Another Hindu believer, Master Shamzee, who was born in 1940 and resides in the Swami Narain locality, tells old tales of the transformation of openly celebrating Diwali during the liberal days to celebrating behind closed doors during the self-styled Islamic dictatorship of Pakistani society.

"I remember the days when all denizens of this city would celebrate and observe religious festivals with each other, forgetting their differences and embracing the diversity," says Shamzee, who worked as a headmaster of a school before retiring, as he sits next to the Rangoli his daughters designed after hours of tiring handiwork.

"I would go for Koonday and Shab-e-Barat when my Muslims friends invited me. But that religious tolerance and harmony has somewhat withered away because of the brutal Zia regime. I can easily recount the days when years ago my mother would fill up a container with water and take it to the road for the Taaziyas that Shia mourners would bring on the day of Ashura. She would say loudly 'Ao, ao, mein Taaziye thanday kardun' (come, come, let me immerse these Taziyas in water), but all that is now history," a nostalgic Shamzee, revered as a guru in his area, narrates.




He goes on to add that interfaith harmony can be had only if Muslims and Hindus participate in each other festivals, and Diwali or Koonday provides the best opportunity for that.

Also present at the Diwali celebration in Swami Narain temple were members from the transgender community who had come to pay to homage Lord Rama.

"It's my third Diwali here in Karachi and I think people here are more tolerant and accepting towards our community," says Piyas, a Hindu transgender from Rahim Yar Khan.

When asked if her religion accepts her identity, she says, "Hinduism looks respectfully towards transgenders and more importantly Hindu believers not only accept us, they consider us as a blessing from God."

Piyas was accompanied by her caretaker Nasira, a Muslim transgender, who equally shares respect for Diwali every year when she comes to celebrate it at the Mandir.

Diwali celebrations to kick off amid lights and colour

Speaking to The Express Tribune about the government's steps to facilitate the Hindu community during Diwali celebration, Pakistan Hindu Council's Mangla Sharma says Diwali this year was even more joyous for the community because Prime Minister Nawaz Sharif graced the festival on his arrival to Karachi.

"Through his gesture, the prime minister has maintained that we, Hindus, are not second-degree citizen but are equal Pakistanis."

As Diwali, which also marks the beginning of a new Hindu year, came to an end, devotees before the replica of Mother Goddess Mahalakshmi prayed for a brighter, tolerant, and peaceful Pakistan.