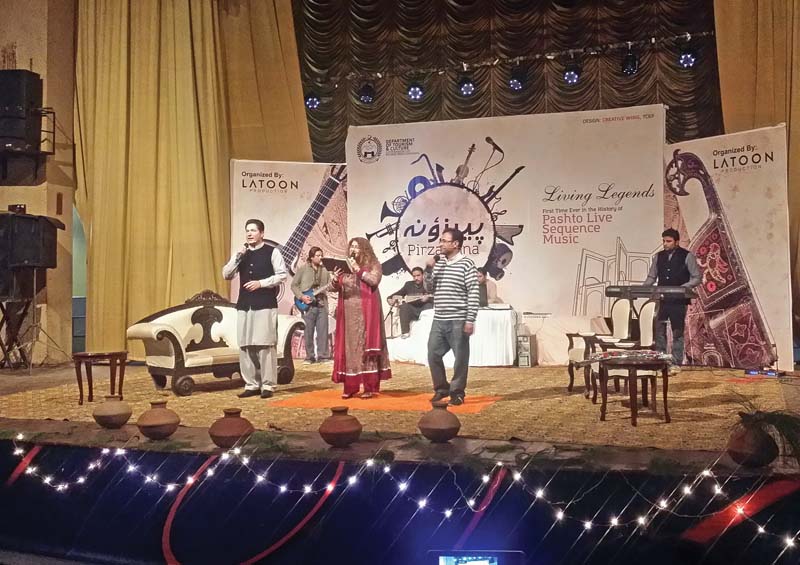 ---
PESHAWAR: Senior Pashto musicians and singers were brought to the stage at an event organised by Latoon Productions with the support of the Directorate of Culture Tuesday night. Many famous singers were also invited to participate.

Although many of the senior artists have given up on music, they arrived at the event to perform after decades to a packed hall of fans. Ahmad Gul Ustad, whose family has been associated with music for the last several generations, said, "Having learned from Ahmad Khan, who started out in 1960 and earned a lot of respect that is not available for him today, said you [Gul Ustad] have to earn your name in Pashto music." Gul Ustad composed a number of classic songs, including Guloona Rawra da Bazaara.

Blast from the past

Gul Mina, another folk singer, earned a name in the field in performing Charbeta, Tapa and Badala genre of Pashto music. She was on stage after 10 years. As Pashto music has significantly changed, she found it difficult to perform in this new environment.




Gul Sanam, popular for his song Alama Sur Angar de da Khkulo Sara Meena, also took part in the musical show where he performed after 16 years of hibernation.

"If conditions in K-P improve, I would like to return to the music industry,"  he added.

Many new singers also attended the musical event including Laila Khan, Shan Khan Yousafzai and Fawad Khan. However, they failed to catch the audience's attention as people were more interested in listening to old-timers and their ever-green songs. Famous singer Mahjabeen Qazalbash was also at the event, however, Almas Khalil was the artist that much of the audience waited for till the end of the event.

Khalil is one of the senior most singers, who became very famous in the industry. He also stirred much controversy with his songs for movies. However, his popularity grew with each hit number, regardless of the court case on his song.

"Music is still in its early stages within K-P," said Bakhtiar Khattak – a Pashto singer who also played a role in producing the show. Khattak said, "Today's musicians have to learn from their senior artists on how to produce quality Pashto music."

Published in The Express Tribune, November 12th, 2015.

 
COMMENTS
Comments are moderated and generally will be posted if they are on-topic and not abusive.
For more information, please see our Comments FAQ