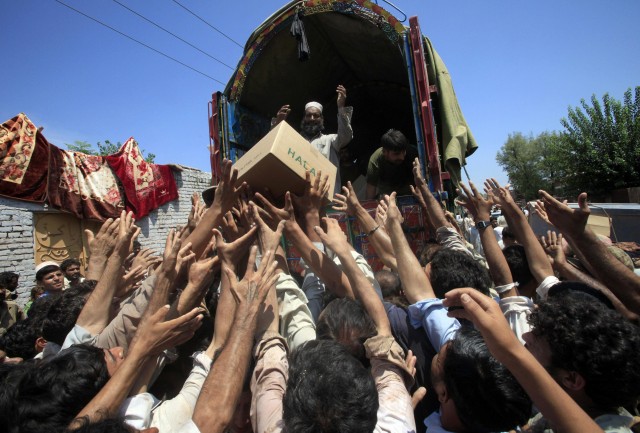 ---
MINGORA/ UPPER DIR/ TIMERGARA:



Residents of upper Swat are outraged over what they believe is playing favourites in the earthquake surveys. Locals have said government surveys missed out real earthquake victims and only listed people with political affiliations.




People of Oshu, Matiltan, Uthror, Gabral, Kalam and Pashmal all shared similar views and slammed the provincial government's survey. They have demanded the federal and provincial governments conduct a proper post-earthquake survey and provide emergency relief in the harsh winter.

Rasheed Iqbal, a resident of Oshu, told The Express Tribune over the phone that activists of Pakistan Tehreek-e-Insaf were given preference over earthquake victims. He claimed more than 30% of the houses in the area were affected. "This is not fair in any way," he said.

Fazal Wahab Bhutto from Gabral said most residents were spending their days and nights in the biting cold amid rainfall and snow. He said affected people were in great suffering, while the data collected by the PDMA only included PTI and Pakistan Muslim League-Nawaz activists.

Bhutto said most houses were partially destroyed by the earthquake and the snowfall and rain made them impossible to inhabit or repair. He said the government promised assistance, but only the army provided them with a tent and a weak food package.

Fazal Subhan, a resident of Kalam, explained a proper survey had not been conducted by the government and it was PML-N and PTI activists who conducted this exercise. He echoed the views of people in other areas; most of whom said only those affiliated with these parties were included in the lists of victims. He said the real victims were too busy rebuilding shattered lives and paid little attention to the survey.




Swat Deputy Commissioner Mehmood Aslam Wazir said most of the food packages had been dispatched to the quake-hit areas, but blocked roads were creating hurdles and the edibles were delivered late. He assured further assistance would be extended to the victims. He said a strict accountability system had been established to avoid corruption and that he would personally visit quake-hit areas once the roads were opened by security forces.

Mirror image

A similar situation has been complained about in Upper Dir as victims of the quake accused authorities of favouritism when distributing relief funds. They said Malakand Division had been sidelined, adding little had been done by the government in the two weeks since the disaster.

They said officials were only providing relief and compensation to workers of political parties or those maintaining personal relations with the authorities. Residents of Surbat village said their names had been registered among those whose houses were destroyed, but they were yet to receive a single penny.

They added Chief Minister Pervez Khattak visited Upper Dir and promised to provide relief and compensation to the victims within four days. "We have not been provided anything even after 10 days," said another affected person.

They asked the government to expedite the damage assessment survey to provide compensation to the victims so they can get back on their feet. Around 22 people died in the October 26 disaster and hundreds were rendered homeless in Dir.

Some relief

Over 13,850 earthquake victims in Malakand Division were facilitated through relief packages by Helping Hand Pakistan on Tuesday.

The director of the organisation's emergency response programme, Farooq Ahmed, briefed the media. He said Helping Hand also set up an office in Timergara and sent teams to Lower Dir, Upper Dir, Swat, Chitral, Shangla and Bajaur Agency.

Published in The Express Tribune, November 11th, 2015.