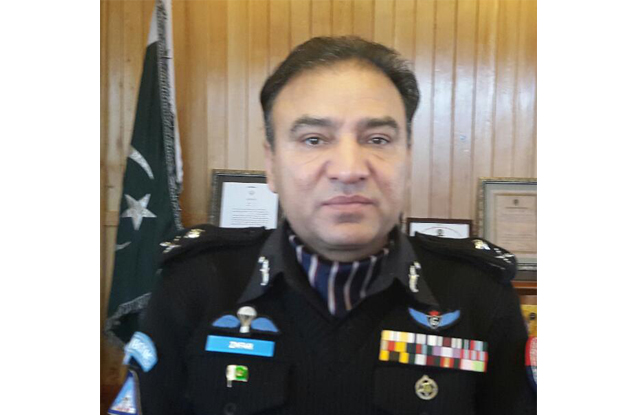 ---
GILGIT:



Police launched a door-to-door search operation in Darel and Tangir valleys to rescue two Special Communication Organisation (SCO) officials who were abducted by armed men some days ago.




Engineer Essa and technician Amjad Hussain of SCO were busy repairing a fault at a tower on Tuesday when at least 10 armed men arrived at the spot and kidnapped them. The assailants did not take the watchman who had accompanied SCO officials and tied him to the tower. The watchman managed to free himself and rushed to the police station to report the incident.

Speculation

The kidnapping occurred a few days after police arrested suspected terrorist Farmanullah who was allegedly involved in a series of high profile cases, including ransacking a police check post in Ghizer and murdering several passengers on Karakoram Highway.




Inspector General of Police Zafar Iqbal Awan, who had gone to Chilas to supervise the rescue operation, said the kidnapping could be an attempt to obtain the release of terrorists set to be tried in military courts of the region.

"This is a terrorist activity which can easily be linked to those who are adamant on setting militants free," the IGP told The Express Tribune. "However, we are after them and will arrest them soon," he assured.

Geared up

A senior police official Abdul Rahim said, "Both Darel and Tangir valleys are cordoned off and a massive search operation is under way." He added 30 suspects were arrested and all arms in their possession had been confiscated. "They are being interrogated," Rahim added.

According to a district administration official, the door-to-door operation is being conducted by more than 2,000 policemen.

Diamer Deputy Commissioner Usman Ahmad said a grand jirga from Darel and Tangir valleys was summoned to Chilas town to convey a strong message for the rescue of the abducted officials. "The SCO is managed by the army to provide communication facilities in G-B and its civilian employees must be returned soon," Ahmad said. He added the grand jirga constituted a 10-member committee to help rescue the officials.

"The jirga members went to the mountain peaks in order to gather information from shepherds that might lead to the kidnappers," Ahmad said.

Questioning aptitude

The members of the jirga pointed at the ineptitude of police officials in arresting the terrorists and rescuing civilians.

Maulana Abdul Haleem, a cleric who heads the jirga from Darel, said, "It is the responsibility of the police force to provide security and safety to people but they have failed miserably."

Speaking at the meeting convened by the district administration on Friday, Haleem said despite hundreds of security officials being present, nothing had been done. "We have been cooperating with the government and will continue to do so but when they blame locals for terrorist activities, it is not justified at all," he added.

Published in The Express Tribune, November 8th, 2015.
COMMENTS
Comments are moderated and generally will be posted if they are on-topic and not abusive.
For more information, please see our Comments FAQ