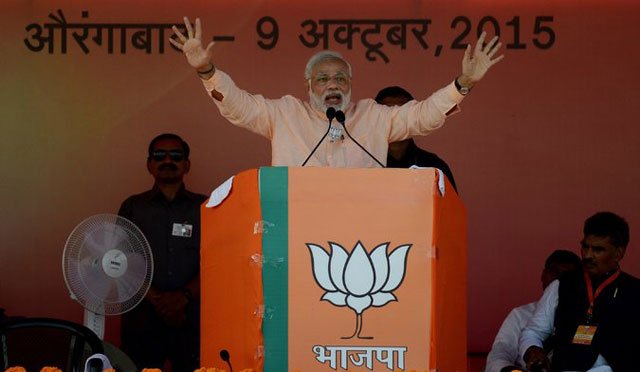 ---
Modi has responded in a surprising and controversial way — by questioning the Hindu bona fides of Kumar and  Yadav. He has accused the two men of plotting to reserve for Muslims and other minority groups government job openings that otherwise would have been reserved for mostly Hindu castes.

He has also accused the men of being insufficiently protective and reverent of cows, a holy symbol for Hindus. This week, just before the final round of voting, his party ran ads in several Bihar newspapers that depicted a woman lovingly embracing a milk-white cow under a headline that accused Kumar of remaining silent while "your allies kept insulting the holy cow of every Indian."

The battle for Bihar, as it is called by India's news organizations, has thus evolved into a deeply symbolic clash between the immovable wall of caste politics and the unstoppable appeal of "mother cow." The result has been a campaign of vicious insults, with Modi all but accusing his opponents of defiling Hinduism and siding with Islamic terrorists even as his opponents accuse Modi of the ultimate civic sin: recklessly pitting Hindu against Muslim to win an election.

Election results — which will determine control of Bihar's legislative assembly and ultimately who will become the state's chief minister — are scheduled to be announced on Sunday, after a month of voting. Exit polls have given wildly conflicting accounts of who will win.

But a victory for Modi would almost certainly strengthen his hand in the coming winter session of Parliament. It would also extend the Bharatiya Janata Party 's political dominance deep into the east India, where the party has sometimes struggled.

Modi continues rock-star US tour with Facebook town hall

A loss, however, would represent a significant political setback for Modi, largely because he deliberately framed the election as a referendum on his performance as prime minister. It was his photograph that dominated his party's campaign billboards in Bihar, and in speeches he and his surrogates often emphasized that he planned to do for Bihar what he had done for India as a whole.

"He has made it a prestige issue,"  Kumar said in an interview.

With more than 100 million people, Bihar is the most densely populated state in India. It is also one of the poorest states, with little in the way of foreign investment or manufacturing. Millions of Biharis live in mud huts with thatched roofs, sharing communal wells, cooking over fires and defecating in sugar cane fields or rice paddies. Many hamlets have yet to see a paved road or a power line, let alone a cellphone tower.

Many parts of the state have more in common with a feudal agrarian society than with the modernizing digitized "aspirational India" so often celebrated by Modi.

The size of this gap was evident in a field in the Sitamarhi district north of Patna, where hundreds of people recently gathered under a full moon for a festival celebrating the Hindu monkey god. Laxmi Devi, 50, widowed three years ago and raising six children in a one-room mud hut with no electricity or plumbing, pointed to her callused and dusty bare feet and explained that she was too poor even to buy flip-flops. She had to borrow money to buy her children small cups of ice cream at the festival for a few pennies each.

Thank you, Mr Modi

Devi checked off the kind of help she could use from Bihar's government: cheaper lentils, onions and potatoes, medicine, "a proper home," the chance to take a bath without having to beg neighbors for use of their well. "First you need to fill your stomach," she said. "For two months, I haven't been able to take my medicine. I've been sick. What will I do with a laptop?"

In the closing weeks of the campaign, top Bharatiya Janata Party officials have made a concerted effort to win over voters like Devi by making stark appeals to Hindu nationalism. At a campaign rally not far from the Nepalese border, for example, Sushil Modi, considered the leading contender to be chief minister of Bihar if the Bharatiya Janata Party wins, made this promise: "We will ensure the strictest punishment for those who slaughter cows — 10 years' rigorous prison term."

An hour later, at another rally, Modi (no relation to the prime minister) invoked the threat from Pakistan, which is widely loathed in India. "Today if Pakistan fires a bullet, then a reply to that bullet is given by a bomb," he said. "If one of our soldiers is killed, then we kill five soldiers of Pakistan. This is Narendra Modi."

Kumar, who is Bihar's current chief minister, took a different approach at his rallies, dwelling instead on more mundane achievements: the roads his administration has built, the bicycles it has distributed to schoolchildren, the new wells it has dug. He took obvious delight in portraying Modi as the kind of politician who prefers the company of famous corporate executives, and at every opportunity, he framed the election as a simple choice between a Bihari or "bahri" — outsider.

Modi — still going strong

"So if it has to be a Bihari, then that Bihari is standing before you," he told several thousand cheering people at a rally in Siwan, a town northwest of Patna. "So bid them farewell, all the outsiders."

The elitist outsider label has clearly gotten under the skin of  Modi, who often reminds crowds at campaign events that he is a "poor boy, born to a poor mother selling tea." At one of his final rallies, Mr. Modi chastised  Kumar for "harping" on "Bihari or bahri" and then tried to turn the tables by raising one of the most common laments in Bihar.

"Are the youth of the state migrating or not?" Modi asked. "Does he not have to leave for an education? Does he have to go out for a job or not? Leaving their elderly parents? Their parents? Their farms? Have to put up with the insults in the other place? Who brought this about? Who pushed the youth out? Who forced my Bihari youth to become bahri?"

This article originally appeared on the New York Times, a partner of The Express Tribune.
COMMENTS (2)
Comments are moderated and generally will be posted if they are on-topic and not abusive.
For more information, please see our Comments FAQ