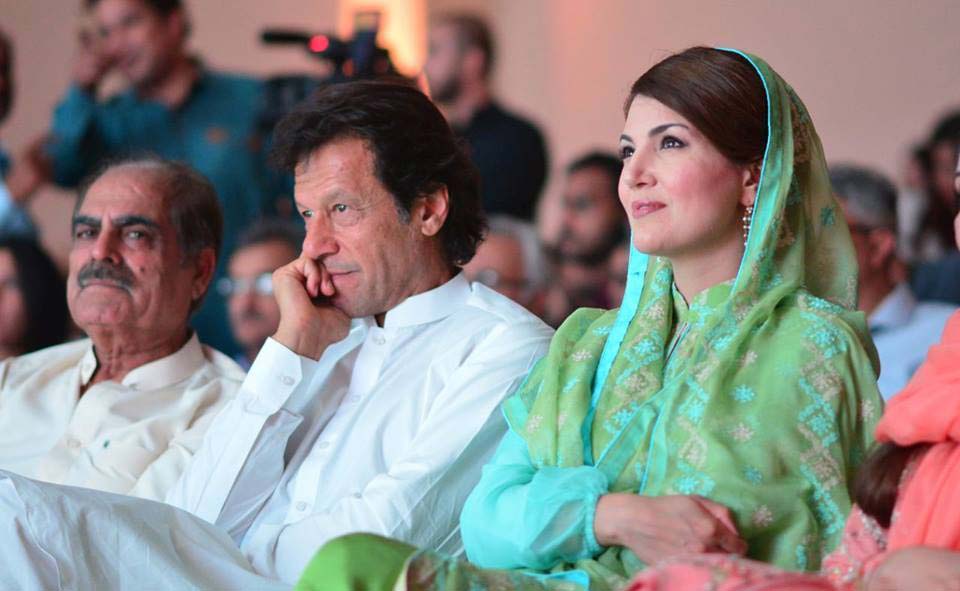 ---
During the 2014 dharna — alif-lailaesque in its longevity — in Islamabad, he announced his marriage plan from atop that container, the memory of which would remain etched in the history of strange political dynamics of Pakistan. There was thunderous applause, accompanied by foot-tapping beat of some I-love-Imran-Khan anthem played by the irrepressible DJ Butt. When he tweeted about the news of his marriage being "greatly exaggerated", there was a bored groan from his many detractors, and an audible sigh of disappointment from his larger number of supporters. When he married in January 2015, sporting a gold sherwani, Pakistan congratulated him and his bride, wishing them a happy marital life. And when the news of his divorce broke, while there was pandemonium in the media — no one makes a bigger headline than him in the almost humdrum political landscape of Pakistan — people in general were dismayed to hear the news of the breakdown of the most talked-about marriage of the year. The decade. Such is the power of the man known as Imran Khan.

Imran, Reham announce divorce after 10 months of marriage

Marriages break, and there is nothing unusual about that despite the predictable sadness that accompanies the end of a relationship sanctioned by a social, legal and religious code. Marriages break when love ends, and life happens, as often the struggle to amalgamate the two results in the defeat of the former. Marriages end because two people decide not to live with one another. There is nothing happy, nothing glorious about the end of a relationship, even when the break-up is not acrimonious. There is not much that differentiates the break-up of a normal couple and that of one of Pakistan's most talked-about couples: in both two people are in pain, burdened with the grief of broken trust, trying to come to terms with the end of a dream. It is the voyeurism of the media, the curious questioning of the public, the booing of detractors, the unsympathetic tsk-ing of the so-called well-wishers, the snide murmurs of friends, and the stony silence of near ones that make an ordinary break-up a larger-than-life, sordid affair. The very public price you pay for living your life in the glare of many eyes, many cameras.

Reham Khan and Imran Khan made a beautiful couple, and there was something heartwarming to see the newly-weds starting a new life quietly amidst the blare of over-the-top media attention. Reham, her head covered, stood next to her husband, beaming proud, and confident. Reham and Imran did what prominent public figures do worldwide: appeared for joint interviews, posed for photo-shoots, adorned magazine covers, and tweeted pictures of their public events. Just as there is ooh-aah-ing over glamorous pictures of Princess Kate and Prince William, awww-ing over family portraits of Sophie and Justin Trudeau, Reham and Imran became the couple that represented a new page in Pakistani politics: a wife is an equal. That a wife is not merely the silent presence behind a successful man as she strides with him in his mission of bringing change.

Reports of Reham hitting Imran are absolute lies: PTI

Rare it is for a man to be labelled 'very ambitious' in a derogatory manner. Rare is the masculine quality of being 'outspoken' negatively adjectivised. Rare is to see a man's political ambitions termed overreaching and arrogant. For Reham, the very qualities for which a man is patted heartily on the back became the scarlet letters to demonise her with. A political wife is a stay-at-home hostess, not her husband's companion at his political rallies. Reham broke the stereotype, and that startled, baffled and annoyed many.

Reham's pictures, interviews and appearances with her husband made her a subject of public discussions, raising some very simple questions to me: how does someone's visible presence allow you to become a voyeur, a judge of someone's personal life? How do someone's public statements sanction you to ascribe meanings to personal stuff you have not heard yourself? What endows you the right to state with confidence on record what happened inside the four walls of someone's privacy? Who are you to shred a marriage to pieces simply because the couple happens to be public figures?

The price of fame

A normal level of curiosity is expected. Questioning of certain public acts is also within the right of the media and the public. Assumptions and theories float, hypotheses are formed on flimsy material, and legitimate questions are lost in the din of media-sensationalism of facts. All part of being a public figure. Then starts the virtual, on-air lynching. The very thin line blurring the code of decency, of comments convoluting into outright slander, vicious theorising and gratuitous tamasha-watching. The turning of someone's private life into breaking news; two-men talk shows of tawdry dirt-slinging; on-air formation of unsubstantiated reasons behind the break-up.

And you watch. In dismay, in grief, in horror. It is not your life, but it is the life of a man and a woman who are paying the ultimate price of being in a very high-profile marriage. The price of being not like a stereotypical political couple. The price of being different. The price of being Reham and Imran Khan.

Published in The Express Tribune, November 6th, 2015.

Like Opinion & Editorial on Facebook, follow @ETOpEd on Twitter to receive all updates on all our daily pieces.
COMMENTS (14)
Comments are moderated and generally will be posted if they are on-topic and not abusive.
For more information, please see our Comments FAQ