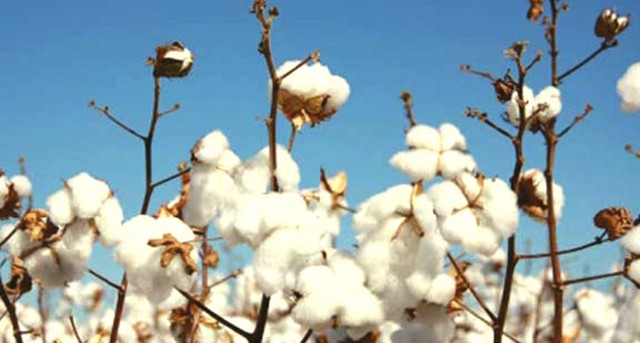 ---
KARACHI: April was once the busiest time of the year for cotton farmers in Sindh. But this year is different.

They are sowing just five per cent of available land because of a severe water shortage. "Agriculture is my bread and butter," says Mahmood Nawaz Shah, the general secretary of the Sindh Abadgar Board. "But the fields are barren and smaller growers will be affected more than the big ones." He says he is worried that the levels of water coming in from the east through India and the west through Afghanistan and China do not trickle down to Sindh where it is required.

But Indus River System Authority member Shafqat Mehmood adamantly denies that there is any shortage at all. "Compare the water levels of the Guddu barrage this year and last year," he challenges. When asked about low levels of water at Sukkur and Kotri barrages, he says that they are not his problem. Once water has crossed Sindh's border, he claims Irsa's responibility has been fulfilled. Guddu barrage is the north most barrage in Sindh. It is the first to receive water from the Mangla and Tarbela dams.

However, sowing season begins in the south irrigated by Kotri barrage where water levels are now a dismal 3,000 cusecs instead of 12,300 cusecs. Growers admit that irrigation systems need to be improved so that water from the Guddu barrage can reach the rest of Sindh in time for early sowing season. However until systems are in place they claim that the Rohri and Nara canal areas where planting first begins, have suffered what they claim is a 70 per cent water shortage.

According to growers, cotton needs only 32 inches of water. Despite this relatively low requirement, farmers and growers have been forced to lower their sowing area every year. Agriculture expert Syed Nadeem Shah of Matiari says only 200,000 acres of land were sown in Thatta and Badin, a mere five per cent of what is usually planted. Farmers in Sanghar, a district that produced the highest yield last year, have reduced planting to 20 per cent of the available land.

With less yields there is a sense of impending disaster among Sindh's agricultural community. Nadeem Shah says that those people moving to uban areas do not just include those escaping war, but those who are escaping the barren fields of Sindh as well. With less cotton being grown, he is worried how the industry will be affected. "Cotton accounts for 60 per cent of gross export receipts," he says. "If strict management and special measures are not taken then we the growers will bear the brunt of mismanagement and the country on the whole will suffer." Pakistan produces nine per cent of the world's cotton.

But according to Ayub Usman, a Faisalabad-based cotton dealer, if the water shortage in Sindh hurts yields by more than 10 per cent then rates are likely to be impacted. "Local prices are so high, it is no longer viable for other countries to import cotton from Pakistan. West African countries offer much better rates." That is still further off than Islamabad.