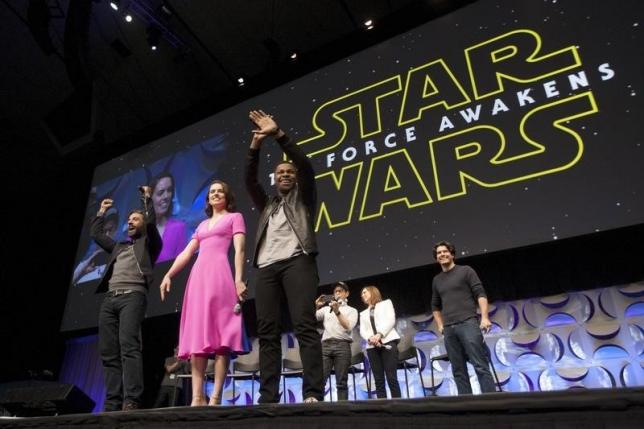 ---
CHICAGO: A terminally ill Star Wars fan is hoping producers will grant his dying wish of an early screening of the latest installment of the sci-fi blockbuster.

An online campaign to support his quest drew the attention of Mark Hamill -- the actor who plays the legendary Luke Skywalker -- who retweeted two Twitter posts hoping to bring the "Force for Daniel."

John Boyega, who plays the lead character Finn in the upcoming "The Force Awakens", also retweeted a Tweet about the campaign.


A dying man's wish to see #StarWars The Force Awakens
Help spread the word : #ForceForDanielhttps://t.co/0tA3ET3DdH pic.twitter.com/zbWM7VhvGK

— Nerd Fu (@TheNerdFu) October 30, 2015


'Star Wars: The Force Awakens' breaks presale records

Daniel Fleetwood, 32, has been a fan since he was eight or nine years old. He is dying of a rare form of connective tissue cancer.

His doctors told him in July that he only had a couple of months left to live, but he says his desire to see "The Force Awakens" -- set for wide release on December 18 -- is helping him to hold on.

"I just love Star Wars," he told KPRC-TV in Houston, Texas.  "With everything I got, I love Star Wars."

Fleetwood is spending his last days at his Texas home in hospice care with his wife, Ashley, who is grateful for his love of the movie.

Poster release, 'sneak peek' for new Star Wars movie

"It's a commitment and he still has that commitment, that drive, and that love and I think that it's a beautiful thing," she said. "Even if it's just a movie. That's magic for a lot of people."

Unfortunately, they don't think he will be able to last another six weeks.

"Judging by how progressive the disease has gotten in the past two months, I really don't think that I'll be able to make it," he said as he rocked back and forth, wearing a shirt declaring "Vader Don't Care."

"Please do what you can. Help me."

There is a precedent for his request: "The Force Awakens" director J.J. Abrams granted a similar wish to a Star Trek fan, Daniel Craft, who died shortly after watching a rough cut of "Star Trek Into Darkness" in 2013.
COMMENTS
Comments are moderated and generally will be posted if they are on-topic and not abusive.
For more information, please see our Comments FAQ