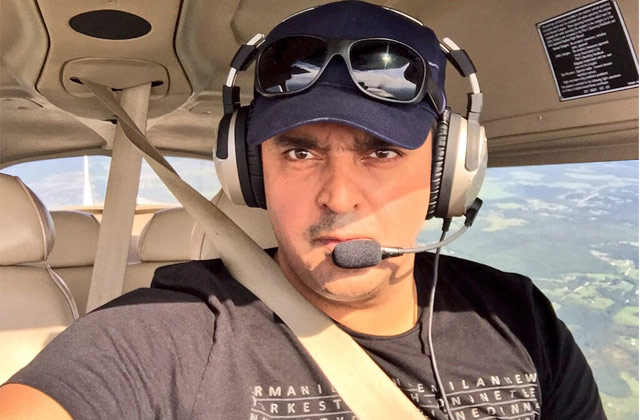 ---
KARACHI: They say dreams are made during childhood, and it looks like Fakhr-e-Alam is all set to fulfil his childhood dreams. Stepping into new territory, Fakhr is ready to take the yoke and fly high. Speaking exclusively with The Express Tribune, the Pakistani actor divulges into his love for aircraft and his latest venture to journey across the globe.

It all started at a young age when Fakhr-e-Alam would accompany his father to the 23rd March Parades held at the Rawalpindi Race Course grounds. It was these annual trips where his love for fighter jets culminated into a lifelong affair with aircraft.

Fakhre Alam addresses the 'Phantom' menace




While Fakhr had made a conscious decision to pursue a career in aviation, fate had something else in store for him and he ended up becoming Pakistan's most sought after media personnel. Despite flourishing in his line of work, his passion for flying never died.

It resurfaced a few years later when he was helping the armed forces in their relief efforts for the 2005 earthquake victims. Fast forward to present day, and the actor aims to circumnavigate the globe in a small turbo prop airplane with the least amount of flight experience.

Tennis players trade polos for stilettos, designer dresses and make up

Titled Mission Parwaaz, the television host spoke of his motivation behind the journey: "Unlike other countries, Pakistan does not have its name in the general aviation history," a fact Fakhr soon hopes to rectify. "This is my tribute to the brave soldiers and the resilient nation of Pakistan."




Expected to begin on February 25, Fakhr's journey across the globe will see him set a world record as he hopes to become the first individual to travel around the world with less than 100 hours of flying experience to his name.

"I would be the first person to achieve this feat as previously, pilots have attempted such a record with at least 250 hours of flying time; a fact which has been confirmed by the Fédération Aéronautique Internationale (FAI) in Switzerland," he said.

Fakhr's journey, which is slated to start from Orlando, Florida in the US, will span across 14 countries, and 23 cities; including Iceland, Greenland, China, Singapore, Pakistan, Australia, and Canada to name a few. The journey will see the actor clock close to 30,000 nautical miles with flying time slated to be between 300 to 400 hours depending on the flying conditions.

4 Bollywood actresses who claim they're not feminists

"Should the flying conditions be ideal, the plane would travel at around 140 knots but turbulent weather and air space availability may force me to bring the speed down to 100 knots," he explained.

With a little over four months till Fakhr sets off on this ambitious journey, he has already started preparations for the solo flight -- one of which is the requirement to lose weight. "I have to lose around 45 pounds (20.4 kg) in order to accommodate more fuel in the auxiliary tanks," he added.




A control tower will be set up in Florida with Fakhr expected to be in communication with them throughout the entirety of his trip. Representatives of the World Air Sports Federation (FAI) are also going to check and verify that he is travelling alone at multiple pit stops throughout his journey.

The nature of the journey and Fakhr's lack of experience have caused the cost of the journey to skyrocket to approximately $1.4 million. While it is a sizeable amount, he has already managed to compensate for these expenses by selling sponsorship rights ($900,000) and sponsors ($500,000) to multiple corporations.

Prior to Fakhr, almost 200 people have attempted similar flights around the globe.