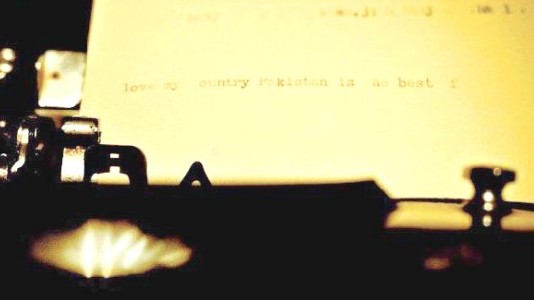 ---
KARACHI: It has been the universal desire that we meet, wrote Mr Jinnah to Mr Gandhi in August 1944, adding, "Bury the past".

Talks between these two leaders commenced on Sept 9 and lasted for 18 days. This marked, in some ways, the final cleft. Newspaper articles and 3-D photographs of their meetings and excerpts of their correspondence are part of a 21-set interactive 'Birth of Pakistan' exhibition by the Citizens Archive of Pakistan (CAP) that opened at the Mohatta Palace museum in Clifton on March 23, marking the country's Republic Day.

The exhibition is one of many community outreach projects at the heart of CAP but it is its first interactive one and is designed specifically for children.

They can get into a model train compartment curated by Khayal Khana and watch through the window the fields passing by and hear the sounds of their fellow passengers discussing their fears while crossing over into a new Pakistan.

Once they arrive, they can stop at the immigration booth and receive their very own copy of Pakistan's first passport, which is filled with information about the design and its history. They can explore the refugee tents that spread out near Frere Hall or shuffle tiles on a large puzzle to create images with the text of speeches by key Muslim League leaders.

The more industrious can add to the stitches in a giant stretched All Pakistan Women's Association (APWA) canvas or leave notes to Mr Jinnah on typewriters. "We have typewriters as Mr Jinnah said that the two things that supported him the most during the partition were his sister and his typewriter," said Sanam Maher, who is the director of CAP's oral history project. "Children write to Mr Jinnah about how proud they are to be Pakistani and hope that Pakistan does well.

They wonder how it would be like if Mr Jinnah were still alive." Schools register their students by calling CAP and a guided, interactive tour is arranged for them. CAP holds two sessions every day, accommodating 100 children in each tour session.

About 2,700 school children have registered so far. Apart from the regular exhibition tours, the Birth of Pakistan holds a special event every Saturday. They had a story-telling session "Kahani Corner" (see 'Once upon a time we left class' in The Express Tribune, April 18) in which children are able to explore the history and identity of Pakistan through stories, poetry and music.

One of the other Saturday events is "Letters to the Past" in which children actually write about how they think Pakistan was during the pre- and post-partition days. The exhibition is not only for children. For the older visitor, there is space to share their memory of how they first received the news that Mr Jinnah was dead.

There are photographs of Sindh during the 1940s, souvenirs of balls at the Beach Luxury Hotel, playing- cards packs in matchboxes designed at the time, making it perfect for grandparents to accompany their grandchildren and take them through history by holding their hand. After the guided tours, visitors can take a stroll in the lawns of the Mohatta Palace.

The exhibition is open till June 23.
COMMENTS
Comments are moderated and generally will be posted if they are on-topic and not abusive.
For more information, please see our Comments FAQ