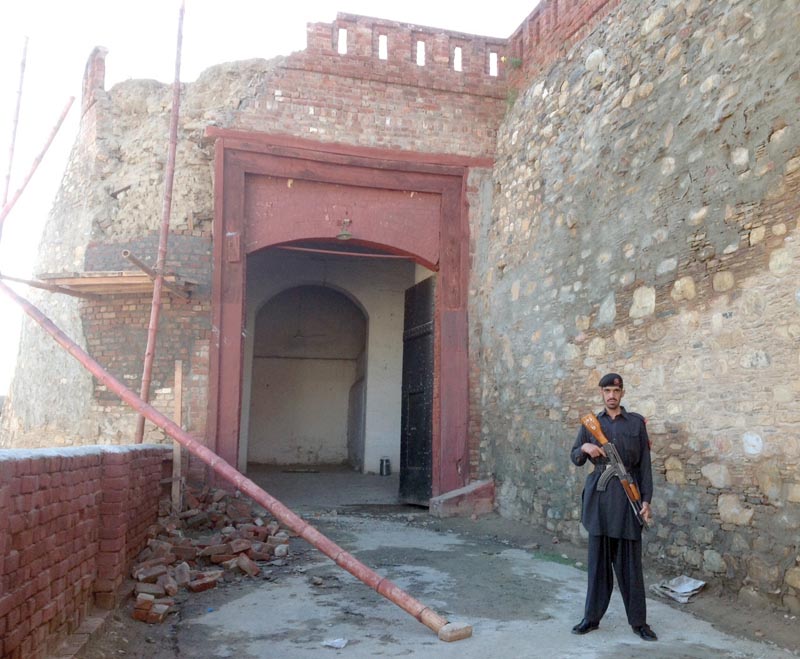 ---
SHABQADAR: With court martialed gates and a bed once occupied by Winston Churchill, Shabqadar Fort is a magnificent building with a fascinating history.

However, the earthquake on Monday damaged the 178-year-old structure. Made on the orders of Sikh ruler Rangeet Singh for the protection of Peshawar against Mohmand lashkars' attacks, the fort is located in Shabqadar, 25 kilometres north of the provincial capital.

Made of mud and stone and designed by Sikh architect Tota Ram in 1837, it is currently under the Frontier Constabulary's use and about 1,800 personnel of the force are trained here.

Even the great Winston Churchill stayed at this fort while he was in service and part of an expedition in the North-West Frontier of India.

Court martialing a gate

Two gates of the fort were court martialed for 100 years after they failed to contain an attack by the Pukhtun lashkar of Mohmand tribes. They incurred the wrath of the fort's Sikh occupants.

They were clearly upset the gates failed to hold the enemy back and decided to vent their anger at the structures. Even though the period is now over, the gates remain in chains to this day.





The court martialed gates of the fort. PHOTOS: EXPRESS




Muhammad Ramzan, who was standing at the gate, tells The Express Tribune when the earth shook under his feet, his first instinct was to run further way from the wall. It proved to be a wise move as the wall crumbled at two places.

Shereenullah says he was also on duty when the ground swayed like a boat rolling in the deep. He adds he witnessed two sections of the wall collapsing.

The FC district officer and fort in charge says although some repairs were made to the fort in the past, this would be the first time the wall has been damaged in at least four places.

The district officer says two portions were damaged inside and as many outside. He reveals he had ordered repairs and workers are fixing broken walls. He reveals the fort also sustained damage over a century ago when it was attacked in 1897.

Not worthy of protection?

With its fascinating history and splendid architecture, the fort has still not been declared a heritage site. In fact, neither has Balahissar Fort in the provincial capital despite the fact that it is one of the most historic sites there. While Shabqadar Fort is under the Frontier Constabulary's control, Balahissaar Fort is occupied by the Frontier Corps.

Published in The Express Tribune, October 28th, 2015.