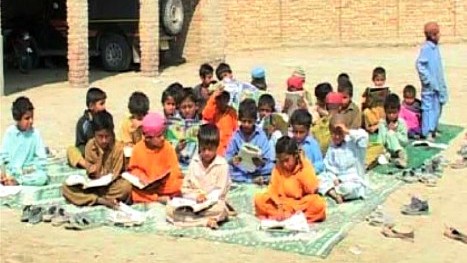 ---
SUKKUR: Around 150 students walk 10 kilometres to a school without classrooms that has been educating the children of Syed Kamil Shah village for the past 27 years.

This open-air school was established in 1983 near Kandhkot but its building has yet to be constructed. Some students sit on wooden benches while others sit on the ground as two teachers continue to work despite the difficulties. Several officers from the education department have visited the school many times but to no avail, said Bashir Ahmad Channa, a teacher.

"They [officials ] write down all the paperwork for the building but no one has given it to us yet," complained Channa, who is nevertheless proud that all the children in the village are getting educated in this school. Residents of the village have also submitted several applications to various officials but they have yet to receive any response. "We are trying our best to get the building started, but the government has not done anything as yet," one of the residents told Express News.

The ADO of Kandhkot, Shabbir Ahmad Khoso, informed Express News that he received an application from one of the school teachers in 2008 after which the education department was contacted. "We sent a recommendation to the EDO education who told us to take it to EDO works and we do not know what happened after that," said Khoso, adding that he is hopeful that the result will be on merit. This village has been plagued with tribal clashes and political tugs of war, which seems to be the main reason why the school never got a building.

The major political figures belonging to this area are Sardar Salim Jan Mazari, of the Pakistan Muslim League, and federal minister for industries Mir Hazar Khan Bijarani, of the Pakistan Peoples Party Parliamentarians. Bijarani also served as the education minister. The school is currently operating from the grounds of the shrine for Syed Rahman Shah. Initially, there was a makeshift canopy that provided shelter to the students in the extreme climates of Sindh but it blew away two years ago.

Nonetheless, the people of the village continue to fight hard to escape illiteracy by sending their children to a school that does not even have drinking water.
COMMENTS (1)
Comments are moderated and generally will be posted if they are on-topic and not abusive.
For more information, please see our Comments FAQ