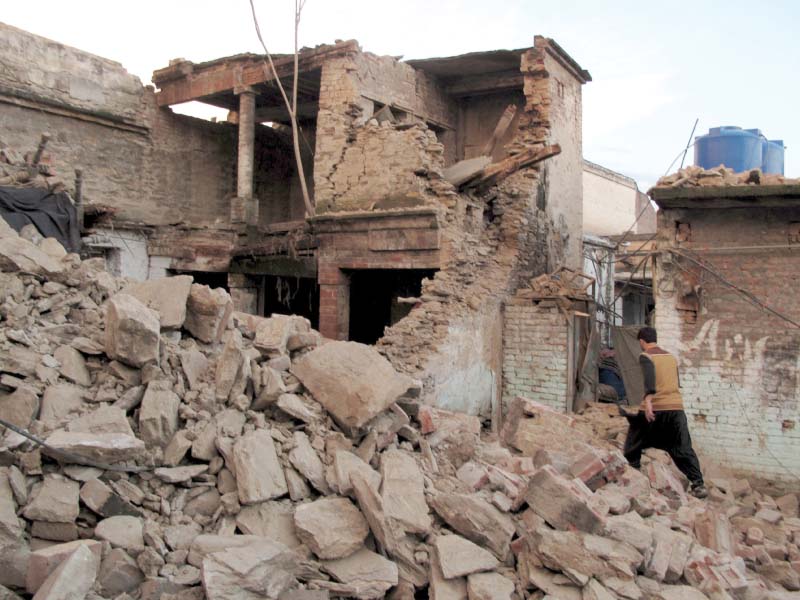 ---
SHABQADAR/ DG KHAN/ MUZAFFARABAD/ GILGIT/ NORTH WAZIRISTAN/ BAHAWALPUR/ MANSEHRA/ MULTAN/ SWAT/ QUETTA/ SARGODHA/ PESHAWAR/ LAHORE/ KARACHI/ UPPER DIR/ BHAKKAR/ SHANGLA/ LOWER DIR/ BAJAUR:



October is turning out to be the cruellest month in Pakistan. A decade ago, a 7.6 magnitude earthquake centred in Azad Kashmir killed more than 75,000 people and displaced some 3.5 million more. On Monday, Pakistan relived the horror when a major earthquake centred in the Hindu Kush – the 800km mountain range that stretches between central Afghanistan and northern Pakistan – killed more than 200 people in the two countries and injured hundreds of others, sending shockwaves as far as New Delhi.




The media reported the quake's magnitude to be 8.1, terming it the biggest earthquake the country has ever experienced. However, the US Geological Survey put the magnitude at 7.5. It said the quake's epicentre was near Jurm in north-east Afghanistan, 250 kilometres from the capital Kabul, and at a depth of 213.5 km.

Over 200 killed in Pakistan as 7.5-magnitude earthquake strikes

The extent of human and property loss caused by the calamity is still being estimated as reports continue to pour in from different parts of the region. In Pakistan, the Khyber-Pakhtunkhwa province was hit the hardest, as were the parts of the tribal areas along the Durand Line. At least 215 fatalities have been counted so far while the number of injured stands at over 1,200. Up to 162 deaths have been reported from Khyber-Pakhtunkhwa alone.

Officials say it is near impossible to accurately assess the number of casualties at the moment, as most hospitals are swamped with injured victims.

Rescue teams and the state apparatus were still trying to come to terms with the extent of the catastrophe.

Here's what you should do during an earthquake

Provincial Disaster Management Authority (PDMA) Director General Amer Afaq said their official tally showed 162 deaths and more than 1,000 injured, but the figures were increasing with time. "We fear the toll will rise as we start to gain access to the unreachable areas."

Senior K-P minister Inayatullah Khan said there were at least 127 deaths in Malakand division alone, with his home constituency severely affected. "Some areas of Upper Swat, Shangla and Buner are still cut off." The minister added that there were reports of an entire village in Shangla being flattened, with 42 deaths confirmed by the district administration. The village was later identified as Nasrat Khel. "We can't jump to conclusions, but the damage is extensive."

In Chitral, at least 23 people were reported dead and more than 83 others injured. In July and August, the district witnessed one of the worst floods recorded in recent years. The adjacent districts of Upper and Lower Dir were also severely affected, with 39 deaths in the twin districts. At least 13 deaths were reported from Swat. However, the casualty figures have been received only from the more accessible areas. The situation in the remaining parts remains unknown.

Earthquake a 'warning from Allah': seminaries body

Initial reports from Hazara division claimed that 25 people were killed and more than 300 others injured. "These are only initial estimates," said a police official. "The area is mostly inaccessible." The provincial government has sought the military's help, according to a spokesman. He said helicopters would be able to reach the inaccessible areas once the weather clears on Tuesday.

In the tribal areas, 27 people were killed in Bajaur Agency. Most of them suffocated to death when they found themselves under mounds of earth. "These were mostly mud houses on mountaintops close to the border," a political officer from the agency said. Three people were killed in North Waziristan and one death was reported in Khyber Agency. The injuries ran into hundreds, with people mostly rushing their families to Peshawar.

In Gilgit-Baltistan, at least eight people were killed and 20 others injured. More than 60 houses were also damaged by landslides in Phandar Valley of Ghizer district.

'I felt like this was the end'

Experts in the meantime warned of aftershocks, while terming the quake the worst seismic activity in the country in a decade.  Prof SM Ali, former director of the Earthquake Engineering Centre at the University of Peshawar, said: "The intensity of the earthquake is not a surprise." He said that considering the drift in the continental plates, the area is in constant motion. "The only way we can keep safe is by following building codes."

Quake-related casualties were also reported in other parts of the country. In Azad Kashmir, two people, including a teenage girl, were killed and seven others injured.

Six people were also killed in different parts of Punjab: a five-year-old girl was killed and a man severely injured in Dera Ghazi Khan; a seven-year-old girl was killed and 21 people, including seven children, were injured in Multan; four people were killed and many others injured in Sargodha; and five people were injured in Bhakkar.

Twitter reports on #earthquake

Moreover, slight aftershocks were felt in Karachi, Hyderabad and several other areas of Sindh, mainly Jacobabad, Kashmore, Shikarpur, Larkana and Dadu.

A resident of Shah Faisal Colony in Karachi said: "The tremors were very light, lasting for less than 15 seconds, I believe." Another resident of the same locality said the aftereffects died down as quickly as they started.

In Balochistan, minor tremors were felt in Quetta, Sibi, Bolan, Mastung, Khuzdar, Kalat, Pishin and Ziarat. No loss of lives or properties was reported. Panic also gripped Lahore and Bahawalpur, but no loss of lives or properties resulted.



Published in The Express Tribune, October 27th, 2015.