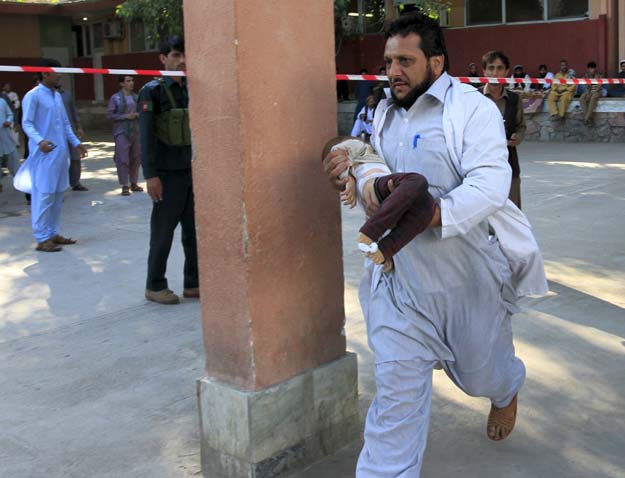 ---
As a 7.5 magnitude earthquake struck parts of Pakistan and Afghanistan, fear and panic gripped residents.

Over a hundred people were feared dead and the toll was expected to rise as most areas remained inaccessible and phone and electricity lines were disrupted.

Hundreds feared dead as 7.5-magnitutude earthquake strikes Pakistan, Afghanistan

Here are some eyewitness accounts:

 "I felt like this was the end"

The Express Tribune Peshawar correspondent Amina Khan recalled she was working at the news desk with her colleagues when she first felt the tremors.

"I quickly looked back at my colleague and he signaled me to stand and stay calm. Our office is on the first storey of the building and I could feel the floor swinging—not swaying but swinging. My colleague walked through the door, asking me to follow him."

As she rushed to the door, others scrambled their way out of the exit door.

Twitter reports on #earthquake

"I followed them onto the staircase; I just couldn't fathom what was happening. The whole building felt like it was swaying and I felt like this was the end," she said.

"The office, the stairs were shaking. I just stopped in the middle of the stairs, thinking this was the point the building would fall down around me; I could hear the door downstairs banging and making a racket. I froze in fear but people were screaming in Pashto "bahar uzayi" (go outside)."

"So, I made my way outside to the street. There were so many people, you could hear some chanting some whispering Ya Allah Khair. I walked through them and started weeping because it was the strongest earthquake that I felt outside and I wasn't even home but amongst so many people. I didn't have my phone on me and was just drowning in mixed emotions."

But amongst the fear, something made Amina feel even weaker… "I felt even more of a coward when I saw that our cameraman was on top of our building still capturing people."

Here's what you should do during an earthquake

"We were very scared"

"We were very scared ... We saw people leaving buildings, and we were remembering our God," Pakistani journalist Zubair Khan said by telephone from the Swat Valley northwest of the capital, Islamabad. "I was in my car, and when I stopped my car, the car itself was shaking as if someone was pushing it back and forth."

Peshawar rumbles, emergency in hospitals

Here is a sound byte from our Peshawar correspondent Umer Farooq who was present at the Lady Reading Hospital as a sea of injured were brought in.




COMMENTS (1)
Comments are moderated and generally will be posted if they are on-topic and not abusive.
For more information, please see our Comments FAQ