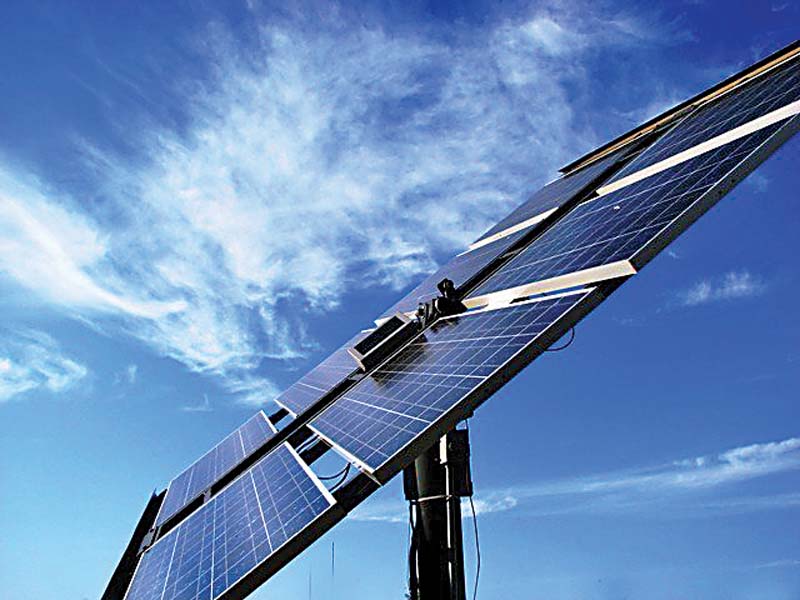 ---
ISLAMABAD:



Consistency in policy implementation is one of the major incentives investors look for in any sector.




At present, foreign and local investors have started voicing their discontent over the government and power regulator's change of heart over solar power projects.

As government looks to decrease the tariff, investors do not sound too keen on pumping in money anymore.

Nepra clears power tariff cut of Rs2.8

During a hearing conducted by the National Electric Power Regulator Authority (Nepra), the discussion saw investors criticising the government for looking to push the tariff down.

Investors not only felt embarrassed, but threatened to move their investment to other countries. They feel that Nepra discriminates when it comes to the private sector setting up solar energy projects.

Government and private sector

Pakistani government has time and again expressed its desire to raise the share of renewable energy in from the current level of 5% to 25%.

However, it has taken steps in quite the opposite direction. In April 2015, in one of its meetings, the Cabinet Committee on Energy decided to slap a ban on new solar and wind energy projects, calling them unfeasible as they are more expensive compared to conventional ones.

Following that decision, solar energy projects were halted. The Alternate Energy Development Board (AEDB) was working on 29 projects of 709.6 MW capacities but issuance of tariff to these projects was stopped.

Investors warn of packing bags as NEPRA looks to decrease tariff

Despite the government later reversing its decision; the situation for investors remained the same. Even investors who submitted documents to Nepra to avail the existing tariff of 14.15 cents per unit were left hanging. The power regulator was tactfully delaying the decisions of issuing the tariff to push them into next year's tariff of 9.25 cents per unit, investors say.

Nepra and the public sector

Nepra's dubious relation with several public sector entities also raises questions regarding government's actual intention, for instance the case of Quaid-e-Azam Solar Park.

The power regulator allowed it to operate without giving a tariff. Once the plant successfully completed operation for four months, the regulator intervened and issued a tariff – revised substantially downwards – that goes live from January 2016. This action left several foreign investors astounded who saw Pakistan as a country where no private sector commercial project was on ground. It appeared that the government wanted to create a monopoly.

For United States-based firm StormHarbour Partners LP, Pakistan exhibits a case of reverse wind tariff, compared to its regional peers. For instance, in India, solar projects of 4 gigawatt (GW) are currently in operation. Compared to this, Pakistani is still in its infancy where solar industry, to date, does not have a single private sector project that has achieved financial close.

Wind versus solar

Nepra has established precedence in the case of wind, where the relative scene of the Pakistani wind power industry was recognised during tariff determination. Indian wind project costs $1 million compared to Nepra's tariff determination assumption of $2.1 million.

Globally, wind tariffs are typically 30-50% lower than solar tariffs, given the current wind tariff of $0.1045/kwh, this would argue for a solar tariff in the $0.1359/kwh to $0.1568/kw range.

Further, it says that India's $100 billion push into solar energy ever the next decade will be driven by foreign players , given the heighten interest foreign investors have due to the government's ambition of adding  175GW by 2022.

Indian government expects a total investment of $160 billion in the country's renewable energy over the next five years. The government has already signed agreements with the US trade and development agency and the US export and import bank for a total debt funding of $3 billion. This is the way foreign investors are looking at the market. Why should they invest in Pakistan where policy is constantly changing?

According to an analysis, solar tariff in India was 12 cents per unit, China 15 cents, Kenya 12 cents, Thailand 16 cents, Egypt 14.34 cents and Turkey 13.3 cents. However, Nepra proposes a new tariff at 9.25 cents per unit in a country where risks run high.

People who need justification for the solar tariff only need to look at Karachi's poor who experience the torment of hot waves without electricity, said Zonergy China Vice President Qui Changbin.

Are there lobbies to stop solar plants?

Petroleum Minister Shahid Khaqan Abbasi has publicly admitted that oil mafia tried to bribe him to stop work on LNG imports. At present, the government seems focusing more on LNG-based power plants. If the oil mafia is trying to stop LNG imports, then who is creating hurdles for solar energy projects?

Musharaff's government capped prices for local gas exploration after discovering large reserves in 1999. Then we heard that several companies left the country and local gas production drops to 3.8 billion cubic feet per day.

Investment of billions at stake as tariff cut likely

Canadian exploration company Niko Resources left Pakistan and shifted its operation to India after getting fed up with government hurdles. The day may not be far when foreign investors move to India due to unstable polices.

The writer is a staff correspondent

Published in The Express Tribune, October 26th, 2015.

Like Business on Facebook, follow @TribuneBiz on Twitter to stay informed and join in the conversation.