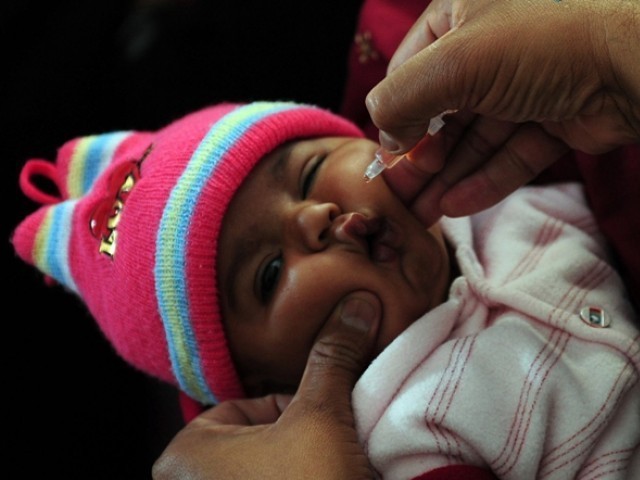 ---
In 1998, when the Global Polio Eradication Initiative was launched, 200,000 out of an estimated 350,000 cases were occurring in India. What followed over the next 13 years was one of the largest polio eradication efforts the world will ever see. 

India faced daunting challenges as wide-spread as nomadic groups, as clustered as the claustrophobic informal settlements in Mumbai and as new as 27 million babies born each year. But one of the most formidable foes was the door slammed in the face of a polio vaccinator.

India investigates suspected polio in two toddlers

Disarming the resistance

UNICEF Underserved Strategy Coordinator Nizamuddin Ahmed told The Express Tribune over the telephone from India, 70% of all cases were coming from Uttar Pradesh or UP from 2002 till 2010.

India's triumph over polio, a book produced by UNICEF in 2014, says in western UP, "rumours swirled about the oral polio vaccine, that it was 'haram', that it sterilised boys and other theories that generated distrust." Ahmed pointed out, "When they mapped out how many families were resisting; were these communities throwing cases every year[…]Muslim areas were mostly (falling) in these categories."

It turned out one of the key reasons was the perception of a forbidden element in the vaccine. "We started roping in key religious leaders but we first needed an answer to their queries – not just theology but a technical answer, coming from someone they trusted." According to Ahmed, they mapped out smaller madrassas around 2005 when, "resistance was at its peak".

The polio eradication team reached out to Aligarh Muslims University (AMU) which "came out with a declaration through one of their medical colleges that the vaccine was tested by AMU and it contained nothing that was against Islamic principles."

Minus Pakistan: South Asian countries, others declared polio-free

Ahmed added, "It was a shot in the arm; when we would discuss the matter with key religious leaders, they needed a technical response, not just theology."

A midcourse correction

The underserved strategy initiative in UP realised the true stakeholders needed to become just that – owners of their own polio programme. Reaching out initially was not easy. "We moved ahead in a very strategic way, as a UN entity we were viewed with suspicion so we stayed in the background. For example, when we were in Bareilly, we reached out to Jamia Milia Islamia[..] so we could ask them to get in touch with local clerics on our behalf," said Ahmed.

The team started involving people at the local level. Clerics and local influencers were made part of administrative meetings and vaccination teams; "one person from each bylane would be part of the vaccination team visiting the area." Vaccinators might be outsiders but they went with a local influencer. "In UP we work through social mobilisation."

Ahmad added, "Now more than religious 700 institutions are on board[…], now we have 30,000 local influencers who are all volunteers. We don't pay them but help them build their recognition." And in return, the polio mobilisers are not seen as service providers but important people of the community.

Uttar Pradesh samples spark polio concerns in India

With two million households and five million children, UP was initially part of the 107 blocks from which 80% of the cases were coming from in 2009. But UP's programme was such a success that it was duplicated (with modifications) in Bihar, then Maharashtra. "We have supported seven to eight states, our modalities changed according to community."

Reaching the unreachable

Pakistan's challenge in part lies in inaccessible or migrant communities – the movement from north west to south or the children in areas with militancy or military operations. India did not face as lethal a threat as the latter but it has large swathes of the population which have no postcode.

"Most of the high-risk groups weren't Muslims; they were the nomads, construction workers, kiln workers and people living in temporary settlements. We approached areas which others didn't pay attention to; earlier the government did not know about groups of families which would sporadically move – they were no one's children."

The team then created a new cohort of workers – informers. "They would tell us if let's say 30 families were moving from UP to Delhi."

Polio eradication: Pakistan welcomes Iran's offer of free vaccines

Migrant populations needed the kind of persistence that does not rest. Brick kiln workers worked from January to June and that's when polio teams went to vaccinate children "but we would still go to the area in the time in between to do validation."

Ahmad said the government was initially sceptical but over the last two years, they have started giving more funds towards microplans like these. The upside was not just eradicating polio but bringing a neglected population into the fold; as Ahmed said now the government of India is more aware of the needs of this undocumented population.

Political will

Ahmed gave Rotary in India credit for bridging the gap in politics and political will. "They play a very strong role. Starting from Ambanis or Tatas, their advocacy reached the president, prime minister and party leaders."

The divisiveness of inter-party politics was left at the door and political leaders were met as part of the communities. "If people in mohallahs spoke politics, we would never. We would say it's your community, your work and it's beyond politics."

World Polio Day 2015: How far is Pakistan from going polio free?

In 2005, there was a 17% gap in OPV intake between Muslim and non-Muslim groups – 17% were taking 10 or more doses in the latter. At least 200,000 children were not taking any vaccine at the time.

In 2010, when UP reported its last case, the gap of 17% went away.

When polio is eradicated, what do you do?

"Eradication means no circulation. India has no virus but viruses don't need a passport, it could just be imported from Pakistan or Afghanistan. In 2009, cases in Ethiopia were from India." Ahmed, who is responsible for cross-border vaccination now, shared how they dealt with a porous border, between Nepal and UP.

"We have six districts bordering Nepal, 30 porous points, all manned with two vaccinators 365 days 24/7. All children coming in are vaccinated if they don't have ink on the finger and nail demonstrating they were vaccinated recently."

Lessons for Pakistan

Ahmed, who been in touch with polio centres in Karachi and Islamabad, understands the security-compromised area Pakistan deals with. However, he thinks certain lessons can be customised. Some of these practices are in place in Pakistan, albeit in various forms.

India under risk of importing polio from Pakistan, Afghanistan: Indian health minister

• Resistance doesn't always have a single solution. With a travel advisory in place for Hajj pilgrims going from India in 2005, the teams in UP saw an opportunity. They gave them vaccination services at their doorstep. Upon the pilgrims return, they organised welcoming events. Hajjis have an elevated status, said Ahmed.  The team built the argument "if the vaccine was un-Islamic, why would Saudi Arabia let pilgrims perform Hajj with the vaccine in their gut?" Ahmed said, "We asked them to share the experience with their communities."

• Understanding the importance of mosques. After mapping mosques in the state, polio stakeholders realised Muslim men might not give anything as much weight as what is said in a khutba. When women would tell vaccinators 'the father has said no', polio teams started approaching imams before the drive to request them to talk about vaccinating children. "When an Imam is saying something, everyone listens and it has an impact on the man."

• Women in the community. UP has 5,000 female community mobilisers. At one point women there were scared to leave their houses. Today they are the most respected members of their community, thanks to repetitive capacity building, said Ahmed. "We went out with them, gave them confidence, showed them how to record data or counter resistance."

• The unity of children. When campaigns in India take place on Sunday, polio teams place booths in villages and communities. The underserved strategy team started employing young team leaders, the 'Bulawa Toli'. Children would be given whistles and visors as small incentives to go running through the lanes to call other children.

Vaccinators. The true strength of an eradication initiative is the backbone workers who go on the frontlines to vaccinate. In 2005 India had similar problems of non-payment of workers. Their response was to ramp up accountability through stricter monitoring and involvement of all tiers of governance. "We would make checklists of who wasn't paid by whom and then we would submit it to the state. Every month before the round, we would review monitoring data – informing authorities of which units had not been paid."

• Monitoring. All of India's success stems from one point. Monitoring. Each strategy employed in each population, each community or state mobilised, every penny spent, every vaccine utilised was monitored. More data meant more intelligent follow ups, meant more accountability.

Published in The Express Tribune, October 24th, 2015.
COMMENTS (11)
Comments are moderated and generally will be posted if they are on-topic and not abusive.
For more information, please see our Comments FAQ