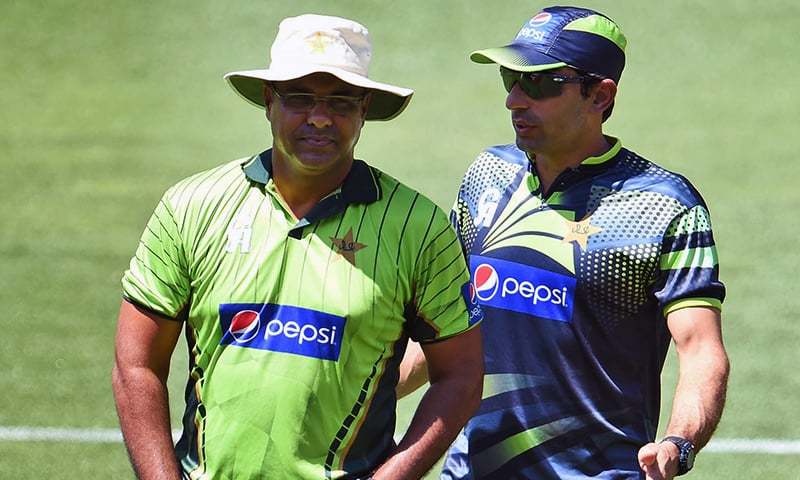 ---
DUBAI: Pakistan's head coach Waqar Younis praised Misbah-ul-Haq who struck a brilliant hundred in the second Test against England in Dubai on Thursday, saying age is no barrier for him.

The 41-year-old Pakistan Test captain smashed 102 not out to lift his team to 282-4 at the close on the opening day to build a strong platform after winning the toss and opting to bat.

Captain Misbah equals Inzamam's ton record, Pakistan end day one on 282-4

Misbah became the 13th oldest batsman to score a hundred over the age of 40 and the oldestof the players currently playing at international level.

Asked was Misbah growing in stature with age, Waqar replied: "That's what we have been saying for the last three years now.

"I guess it's his determination, he wants to carry on playing and I don't think age is a barrier so if you are fit and still manage the modern ways of cricket, then why not?"

Misbah expresses concern over Pakistan's participation in World Twenty20

Waqar, who played alongside Misbah between 2001 and 2004, praised the hundred as special.

"I think the knock he played today was a very good knock and it was a captain's knock and whenever wickets fell he was the most responsible," said Waqar.

Misbah anchored the innings with a 93-run partnership for the fourth wicket with Younis Khan (56) and had another unbroken fifth wicket stand of 104 with Asad Shafiq who was still at the crease on 46.

On 87, Misbah smashed two consecutive sixes off spinner Moeen Ali and then reverse-swept him for two to complete his ninth Test hundred -- a style which Waqar said was not new.

"I think Misbah has done a few times," said Waqar of Misbah's last minute aggression. "I don't really know but that is the way he plays. I think he believes in that that when you are nearer to an interval or close to end of the game people bring the fielders in and he is comfortable hitting over the top."

Yasir's return will boost our spin bowling: Misbahul Haq

Waqar said Misbah wants to go out on a high note.

"He has said before this series," said Waqar of Misbah hinting retirement at the end of this series.

"You never know that, this might be his last series so he wants to make the most of it, we don't know what he wants to do but, of course, the way he is batting Pakistan need him."

He added: "I think we had a good day although we had hiccups early on but it was good the way Misbah handeld things. He accelerated the innings when needed and when it was needed to control he did that."

The first match of the three-Test series ended in a draw in Abu Dhabi last week.
COMMENTS
Comments are moderated and generally will be posted if they are on-topic and not abusive.
For more information, please see our Comments FAQ