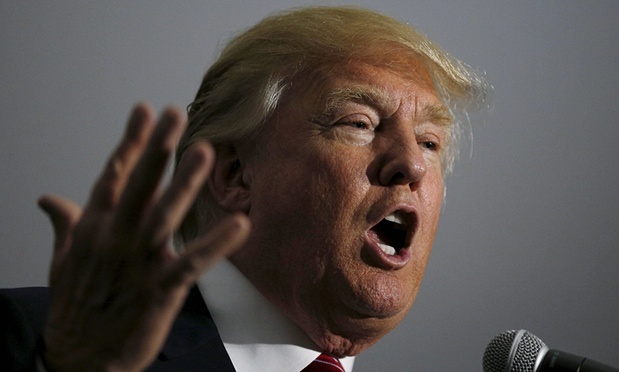 ---
WASHINGTON: US Republican presidential candidate Donald Trump said on Wednesday he would consider closing some mosques within the United States in order to fight the Islamic State (IS).

Responding to a question whether he would follow new British proposals for countering extremism that include revoking passports of people who travel to fight with IS and shuttering mosques that support extremism, Trump responded, "I would do that, absolutely, I think it's great."

Muslims condemn Britain's plans to combat extremism

"If you go out, you go fight for IS, you can't come back. Why can't you do it? You can do it here," Trump's said during an interview on Fox Business, according to the Washington Post.

When asked, "Can you close a mosque? I mean, we do have religious freedom." Trump said, "Well I don't know, I mean, I haven't heard about the closing of the mosque. It depends, if the mosque is, you know, loaded for bear, I don't know. You're going to have to certainly look at it."

"But I can tell you one thing," Trump said. "If somebody goes over and they want to fight for IS, they wouldn't be coming back."

Obama denouces 'inflammatory' Trump immigration policies

However, Republican Representative Peter King who has had a congressional hearing on "The Extent of Radicalisation in the American Muslim Community" that has received campaign contributions from Trump in the past, spoke against the Republican frontrunner's idea of shutting down mosques.

"Donald Trump is talking before he knows what he's talking about," King said. "I have been critical of people in the Muslim community, but the fact is you can't be shutting down mosques."

King suggested that instead, the US should have surveillance of mosques to find out "if there's activity in that mosque, where there's weapons or if there's actual conspiracy going on. Then yes you can take action. But to be casually, the way Donald Trump seems to be talking about shutting down mosques? No."

"We do have freedom of religion," King added. "And my position is not against the Muslims, it's against the radicals in the Muslim community."

Trump considers getting 'rid of' Muslims when president

Islam in the US has become a widely discussed issue among Republican candidates. Republican contender Ben Carson expressed his opinion in September on how he does not believe the country should elect a Muslim president because Islam is inconsistent with the Constitution.

A Pew Research survey last year found in comparison to other religious groups, Republicans and Republican leaners view Muslims much more negatively. The one per cent Muslim population of the country is also viewed most negatively of all religions in the eyes of the general public.

White House hopeful Carson under fire for Muslim comments

Last month, in a shocking statement, Trump said he would consider one man's request that America "get rid of" Muslims.

At a town hall meeting in New Hampshire in Septmeber, a man asked Trump, "We have training camps growing where they want to kill us. That's my question, when can we get rid of them?"

"We're going to be looking at a lot of different things.  A lot of people are saying that, and a lot of people are saying that bad things are happening out there. We're going to be looking at that and plenty of other things," Trump responded.

Trump had also agreed with the man when he had stated that Muslims were a problem in the US and that President Barack Obama was himself a Muslim and 'not even American'.

This article originally appeared on The Washington Post.
COMMENTS (17)
Comments are moderated and generally will be posted if they are on-topic and not abusive.
For more information, please see our Comments FAQ