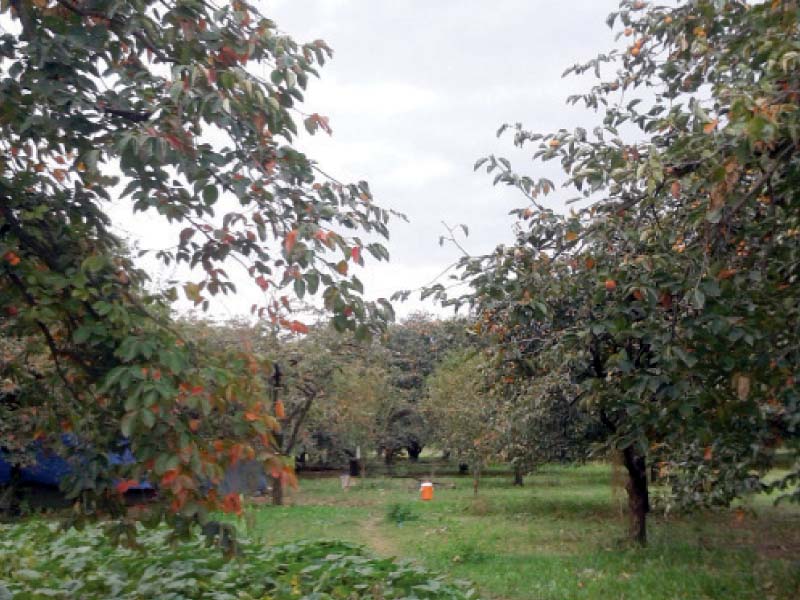 ---
MINGORA:



If there is a fruit that is helping farmers amidst global warming and uncertain climatic changes in northern areas of Pakistan—especially in Swat—it is definitely the persimmon. Colloquially known as Sur Amluk or Japani phaal (Japanese fruit), a decade ago persimmons were considered to be fall fruits, however, it is now available towards the end of summer in markets across Pakistan. Therefore, persimmons have become a source of great income for farmers who own approximately 5,000 such orchards in Swat and Shangla.




Old vs the new

"Gone are the days of Swat's golden apples which require great labour and care," said Ghulam Abbas, the owner of a two-acre orchard in Matta in Swat. He added he switched to modern farming specifically to grow out his orchards after completing his studies in botany from University of Agriculture Peshawar in 2002.

Abbas explained nearly a decade and half ago people in northern Pakistan hardly knew about persimmons; now the orchards can be seen everywhere. According to the botanist, "It is a gift of global warming because the region was not suitable for growing this fruit before." He said in Pakistan mostly the Fuyu variety of persimmons is grown, which takes less time and money to grow for a higher profit.

"Fuyu persimmons are round in shape and have a wider base," he explained adding the season starts from October and lasts till mid-November, after which this fruit is only available in cold storages in big cities.

Money-making fruit

Sarenzeb Khan, an orchard owner in Shamozai village, told The Express Tribune he sold peach and apricot orchards before the trees bore fruit. Yet he holds on to the persimmon orchard which has 170 fruit-bearing trees. Sarenzeb estimated he earns Rs350,000 per season.

"I have hired five labourers in my orchards who pack 400 to 450 cartons of fruit on a daily basis, which are exported to Lahore and Karachi," he said. Fazal Amin, who supervises an orchard in Odigram, said he lives in Swat for the entire summer and returns to his hometown Rustam in Mardan after the persimmon season is over.

Amin said, "Every labourer is paid Rs400 per day for picking and plucking fruit, while I get paid Rs500 per day for supervising the labourers." He explained labourers are divided into three teams; the first team plucks fruit from trees, the second packs fruit into cartons, while the third gathers leftover fruit and sells the bruised pieces at local markets.

Halilullah Khan, a resident of Nowshera, came to Swat to work at the orchards in Balogram. He said the fruit is sold for Rs30 per kilogramme (kg) at the orchard, Rs50 per kg in local markets and Rs70-80 per kg in the cities depending on the quality and ripeness.

Progress prospects

Haji Mushfiq, an agriculturist and owner of three orchards in Barikot, said the quantity and quality of persimmons produced in Swat meet the international requirements of food quality control. However, government negligence has prevented locals from cashing in on persimmon export opportunities.

The fruit is only sent to Afghanistan and that too through smuggling routes. He said, "There is only one cold storage in the area which restricts preserving fruit from going bad, thus restricting revenue for the local farmers."

Haji requested the government to provide them with a solar drying system, which will permit shifting fruit to the market earlier. He added persimmons are the last fruit of the year and most farmers have invested all their livelihood in these orchards, therefore facilities should be provided to ensure maximum profit – one of which would be a way to store the fruit so its sales can be dragged till December for more revenue.

Nazir Ahmad, another agriculturist from Mingora, added farmers are grateful to climatic changes in the region which have prolonged the lifetime of fruits within the area. Ahmad described the order of harvest, "First it is peaches, then plums, followed by apricots, then apples and persimmons." He added earlier farmers had to miss one or two fruits each harvest season. However, now farmers with bigger orchards can easily earn capital from all the fruits.

Published in The Express Tribune, October 21st, 2015.