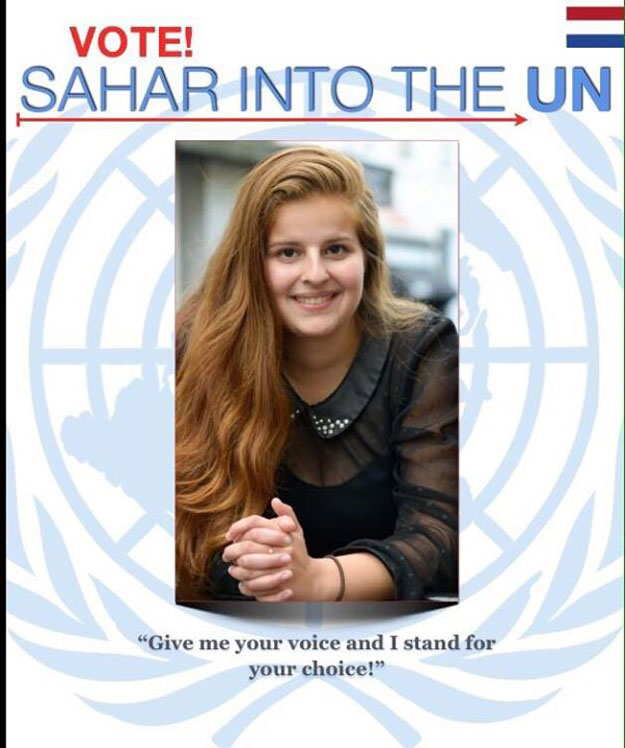 ---
Pakistani-Dutch Sahar Afzal has been nominated as the Youth Representative to the United Nations (UN) General Assembly.

"My moment is now. I believe in a safe future for everyone. A future where you can be who you want to be and become who you want to become. Everyone has the right to equal opportunity," Sahar Afzal, who is also a Anne Frank Ambassador, said.

T2F nominated for Dutch human rights award

Explaining why people should vote for her, Afzal said, "My double ethnicity - Dutch and Pakistani - gives me a unique view on the world. I feel called to represent my "best of both worlds" perpective at the United Nations."




"All opinions are valuable and deserve to be heard. The universal message of Anne Frank must be heard worldwide. I want to represent the strength and creativity of youth at the UN. To bring closer a safe future for everyone," she continued.

Making Pakistan proud: Student duo shines at CERN

She further said that she stood for freedom, equal rights and democracy. "As the Anne Frank ambassador I have a mission: to bring to the spotlight the story of Anne Frank and her ideals. I proclaim the importance of freedom, equal rights and democracy."




"I aim to make the youth more aware of their own identity. Also learning to accept and value each other's' differences. I do this through educational art and cultural projects that inspire and connect with the youth's experiences of the world," she added.

Afzal appealed to everyone to vote for her, saying, "Help me to address the General Assembly of the United Nations next year."

To vote for Sarah Afzal, visit this link. Click on "Sarah Afzal", fill in your email address and them hit "stem". After that, go to your own inbox and make sure you click on the link to confirm your vote.
COMMENTS (3)
Comments are moderated and generally will be posted if they are on-topic and not abusive.
For more information, please see our Comments FAQ