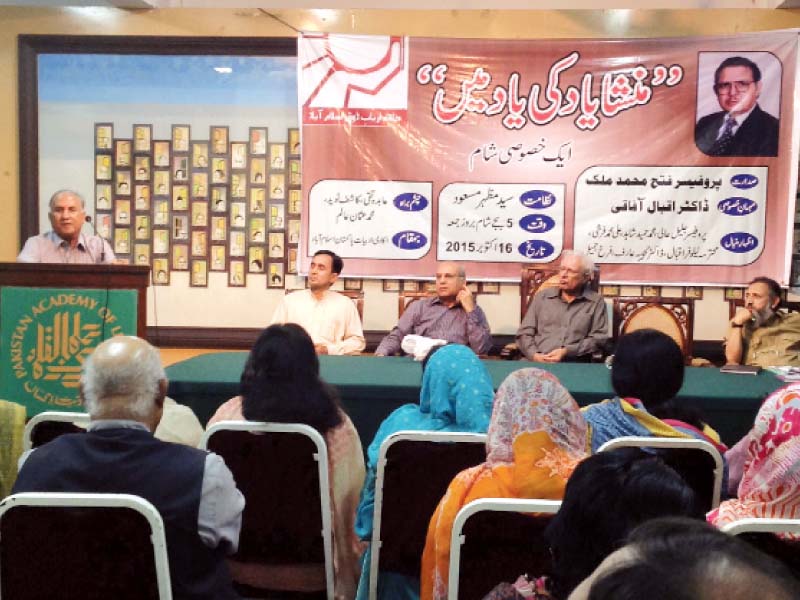 ---
ISLAMABAD:



A writer's literary prowess can be gauged, among other qualities, from the degree to which he represents the consciousness of the age he writes in. Such an assessment would undoubtedly rate Mansha Yaad among the leading writers of the past half a century. He helps his readers understand life throughout the decades. Life in the Punjab province (that he hailed from) especially carries a constant presence even in his writings in Urdu.




A select group of literature enthusiasts gathered at a session at the Academy of Letters here on Friday to remember the late literary giant. The session was organised by Halqa-e-Arbab-e-Zauq, a literary forum, in memory of the distinguished short-story writer Mansha Yaad. Four years since his death, he lives on through a huge body of his work.

A bulk of Yaad's short stories, and the novel "Tanvaan Tanvaan Taara", are a beautiful portrayal of the land of Punjab. Some of his other work is about such characters, who moved to urban areas but found themselves caught in the middle of a constant tug towards their past, and a simultaneous desire to embrace the future.

At the beginning, proceedings of the session were marred by constant glitches in the sound system, a consistent chatter at the back of the hall, and power failure for a good part when even the chair, Prof Fateh Muhammad Malik, found it hard to make himself audible to audience.

Anyone who has read Yaad would have expected a huge turn out and better speeches. Almost all, except for Prof Malik and Dr Iqbal Afaqi, who spoke extempore and sounded fresh, read out from papers apparently written years ago.

It felt as if their understanding of the legendary story-teller has not experienced any change, inadvertently leaving an impression on the audience that Yaad's stories lacked relevance to contemporary times.

Anyone who got introduced to Yaad through the session was very likely to be dissuaded from reading him as the comments mostly revolved around him being a good human being to few others that projected him as nothing more than just another writer.

The monotonous backdrop of the hall that adorns mini-portraits of literary figures on a wooden panel supporting dull colours tinged with a heavy yellow, that has been there for the past many years, did not particularly go with a cool October evening either, adding to the palpable discomfort among the audience who were constantly seen moving in and out of the hall.

An audience member commented that some of the critics seemed more interested in self-projection than talking about Yaad's work.

Mazhar Masood, who conducted the session, while referring to Yaad's contribution in establishing Halqa-e-Arbab-Zauq said, he turned Islamabad from a "city of stones and streams into a city of literature."

Prof Malik who presided over the session said Mansha Yaad, while moving from realism to symbolism to post-modernism in terms of themes and technique of story-telling never neglected the 'story' itself.

Dr Afaqi said "story is about communication. And it has a beginning and an end. Mansha Yaad exactly knew where a story starts and where it ends."

He ended his brief comment referring to a short- story "Khala ander Khala" where a dove leaves the city of Islamabad where crows have grown in numbers, implicitly referring to Yaad's departure from this world where 'crows' had made his existence impossible.

Writer Nelofer Iqbal said "he kept the Halqa active with a religious zeal. His commitment was phenomenal."

The take away from the session was the unmistakable irony that there was hardly any one who could tell the story of someone who so effectively told 'our' story.

Published in The Express Tribune, October 18th, 2015.