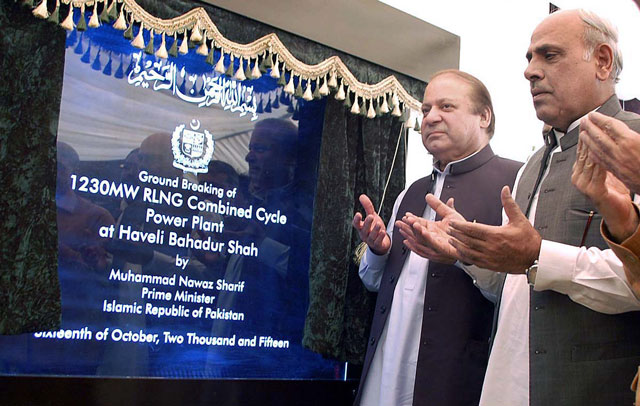 ---
Prime Minister Nawaz Sharif claimed on Friday that work on China-Pakistan Economic Corridor (CPEC) project is being carried out swiftly and it will soon be completed.

"Although it took almost two years to sort it out but now CPEC is fast progressing," PM Nawaz said while addressing a gathering in Haveli Bahadur Shah near Jhang. The premier's statement came after a ground-breaking ceremony of a 1,230MW gas power project.

Read: Days of leg-pulling in politics over, says PM Nawaz

The prime minister informed the participants of the gathering that the LNG power project is one of the three power projects which will be completed by 2017 and will save Rs37 billion in the next thirty years.

"Transparency is the hallmark of our government's projects and we are spending public money with utmost honesty," Nawaz said, claiming that the three projects will save around Rs570 billion in total.

While PM Nawaz hailed the Islamabad High Court's decision to set aside the Election Commission of Pakistan's earlier order to stop parts of the National Kissan Relief Package, he also announced reduction in the price of fertilisers such as DAP, Nitro-phos and Urea to aide farmers.

Read: IHC nullifies ECP decision to suspend Kissan Package

"Now that the IHC's verdict has been announced we will not waste any more time in providing relief to our farmers," he said, announcing Rs500, Rs218 and Rs150 price cut on DAP, Nitro-phos and Urea respectively.

The premier went on to say that the government is working on a number of projects in the country, including wind, gas and water-based projects.

"Load shedding is the main reason of most of our country's problems and we are working to address this issue with utmost sincerity," he said. However, Nawaz lamented that some people are still criticising the government's efforts.

Regarding Karachi, the prime minister claimed that peace and prosperity has returned to the city, adding that trade activities and industries are now thriving.

Read: Nawaz asks Ahsan Iqbal to continue good work

Further, PM Nawaz hailed the efforts of Punjab Chief Minister Shahbaz Sharif and other ministers, saying they have worked tirelessly on the development projects.
COMMENTS (2)
Comments are moderated and generally will be posted if they are on-topic and not abusive.
For more information, please see our Comments FAQ