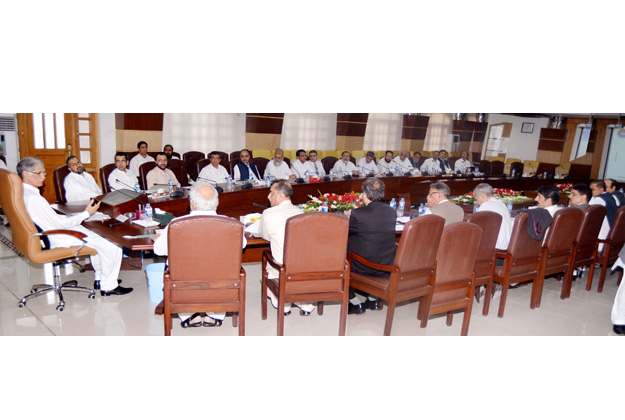 ---
PESHAWAR: An increase of 11% has been recorded in K-P's Annual Development Programme (ADP) spending, stated a handout from the Chief Minister's Secretariat. It also stated its expenditure of 90% was the highest of the four provinces over the last five years.

This was revealed at a meeting at the new cabinet room of the Civil Secretariat.

Chief Minister Pervez Khattak chaired the meeting which extensively reviewed the 2014-15 ADP and the first quarter of the current year. Participants were told factors such as regular periodic reviews of the status of schemes by the CM and chief secretary, fast tracking Provincial Development Working Party (PDWP) meetings, regular internal reviews by the Planning & Development (P&D) department and decentralisation of re-appropriation powers allowed record spending of the ADP 2014-15.

Highlighting the provincial government's development performance in the previous year, P&D Secretary Zarfar Ali Shah revealed a formal economic growth strategy was approved and implemented by his department which also raised foreign assistance of Rs40 billion. It managed to get additional financing of another $154 million over the next five years from the Multi Donor Trust Fund (MDTF).

Meanwhile, the chief minister's dialogues with development partners also helped achieve certain targets.

Food subsidies

The secretary said a special initiative was taken by the chief minister to provide flour and cooking oil to 743,201 poor families of the province at subsidised rates. He added the Right to Information and Right to Services commissions had also been operationalised, while public-private partnership nodes were established in 13 departments to give them autonomy.

For the ongoing fiscal year, Rs142 billion was allocated for the ADP out of which Rs42 billion (30%) will be distributed to local government departments. The statement added 164 new ADP schemes had been approved out of 204 projects that were considered.

The chief minister approved the constitution of the Provincial Finance Commission (PFC).

Published in The Express Tribune, October 16th, 2015.
COMMENTS (1)
Comments are moderated and generally will be posted if they are on-topic and not abusive.
For more information, please see our Comments FAQ