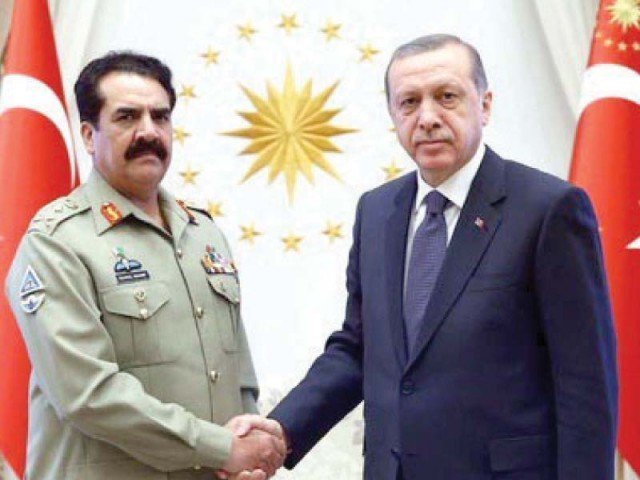 ---
ISLAMABAD:



Turkey seeks Pakistan's cooperation in the former's decisive operation against the Kurdish guerrilla group PKK and the Islamic State, in a development that will test Islamabad's diplomatic skills to deal with the delicate situation, The Express Tribune has learned.




The request for Pakistan's support came from the Turkish leadership during talks with Chief of Army Staff Gen Raheel Sharif, who wrapped up his three-day visit to Turkey's capital Ankara on Wednesday.

Sources familiar with the discussions between Gen Raheel and Turkey's top civil and military authorities disclosed that Ankara was looking towards Islamabad for greater anti-terror cooperation as Turkey faced its current challenges.

However, specific details regarding the nature of help Turkey seeks from Pakistan have not been made available.

Turkey is increasingly concerned over threats to its territorial integrity after the United States started withdrawing the Patriot missile systems along its border with Syria this month.

Ankara is not happy with the US move, as Turkey needs the missile system in the backdrop of the current unrest in Syria. Sources said the US move could be the reason why Turkey was now looking towards Pakistan for crucial support.

So far it is unclear how far Islamabad is willing to support Ankara in Turkey's fight against Kurdish rebels and IS (also known by its Arabic acronym Da'ish), although the army chief has extended 'total support' to the Turkish leadership in tackling their current security challenges.

A source said Pakistan could extend material support as well as share its expertise in dealing with insurgency
and terrorism.

On the last day of his visit, Gen Raheel visited the war academy in Turkey and exchanged views with the participants on Pakistan's successful experience in fighting terrorism, said the chief military spokesman.

Lt Gen Asim Bajwa said the army chief also met the Turkish foreign minister to discuss the regional security situation.

Gen Raheel travelled to Turkey at a time when the country is engaged in two separate battles with the PKK and Da'ish.

In the recent weeks Turkey has stepped up its campaign against the Kurdistan Workers' Party (commonly known as PPK) and the IS.

The PKK, mainly based in northern Iraq and southern Turkey, has been engaged in a bloody insurgency for more than 30 years and demanding self-determination for the Kurds.

This July the three-year ceasefire between Turkey and the PKK ended after the Turkish forces targeted the rebels' hideouts in northern Iraq to wipe out the group.

Published in The Express Tribune, October 15th, 2015.