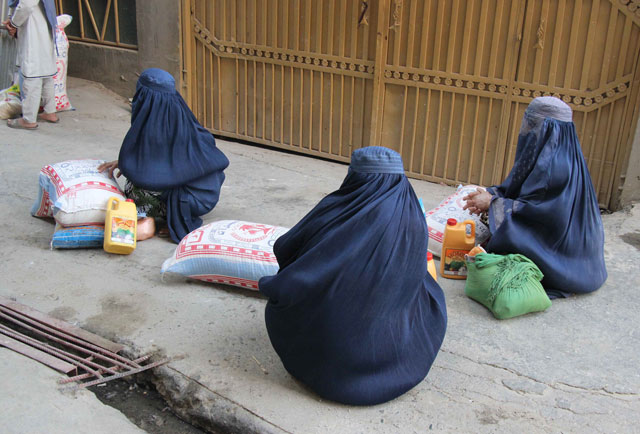 ---
KUNDUZ, AFGHANISTAN: Traumatised residents returning to Kunduz on Wednesday were facing major food shortages after the Taliban beat a tactical retreat, leaving much of the city in ruins as fears of a comeback by the militants loomed large.

Electricity and running water were partially restored, according to locals and officials, while some shops had re-opened for business two weeks after the provincial capital fell to a lightning Taliban assault in their biggest military victory since 2001.

But the scars of street battles remained clearly evident in bullet-riddled and shelled buildings, with the insurgents claiming their retreat was tactical and they still had the ability to retake the city.

"Security forces are asking people to come back, but the people are still afraid, they are scared that the situation might change again," said resident Ajmal Kakar.

Read: Counter-offensive: Afghan forces battle to regain control of Kunduz

"Only a small number of people who did not have a place to stay outside the city have returned to their homes," he added.

Amruddin Wali, the deputy head of the provincial council, was slightly more optimistic.

"Life has returned to normal. Shops are open, people are back to business," he said, though he conceded: "People are still afraid the fighting might resume."

Large crowds meanwhile gathered in the city's main square, scene of some of the worst fighting between government troops and the Taliban just days earlier, where they waited for basic food items after supplies were disrupted by the fighting.

Read: Pakistan Army rejects reports of involvement in Kunduz attack

"There is no rush, the Taliban are gone, they are not coming back, wait for your turns!" an officer overseeing the handouts shouted.

A stream of pick-up trucks carrying supplies rumbled into the city throughout the day, while troops were seen removing the white-and-black flags planted by the Taliban.

The insurgents had burned down government buildings, gunned down opponents and freed hundreds of prisoners during their three-day occupation.

They also stand accused of human rights violations, including mass murder and rape, according to Amnesty International.

Naveed, a 23-year-old student who gave only his first name, said he and his family had locked themselves indoors for the first three days of the Taliban's occupation at the end of last month, before escaping in their car.

"We were trapped in the city, but I ventured out once and saw Taliban fighters. They were young fighters, who spoke Farsi and Pashto but did not have turbans. They were asking for people who were working for the government to surrender."

The fall of Kunduz on September 28 was a stinging blow to Western-trained Afghan forces, who have largely been fighting on their own since the end of NATO's combat mission in December.

As the insurgency spreads, concerns are mounting that the city's seizure was merely the opening gambit in a new, bolder strategy to tighten the Taliban's grip across Afghanistan.

Officials in southern Helmand province Wednesday said 19 border policemen were killed the night before after Taliban fighters overran their posts in Nawzad district, which the government recently recaptured.

"They killed 15 police and captured four others whom they later executed," a senior official who declined to be named told AFP. His account was confirmed by a second official.

Around 2,000 Taliban insurgents meanwhile threatened to storm Ghazni on Monday, triggering fierce clashes near the outskirts of the southeastern city.

And last week the militants attempted to overrun Maimana, the capital of northern Faryab province.

But Afghanistan's deputy army chief General Murad Ali Murad said Wednesday his forces had pushed back the Taliban in Kunduz province and were poised to regain full control of the region.

"We will follow the Taliban into the end of Kunduz," he said.

The NATO coalition said Tuesday that US and Afghan forces carried out one of their largest joint operations in southern Kandahar province, dismantling a major al Qaeda sanctuary in the Taliban's historic heartland.

The news came after a series of setbacks, including a US air strike on October 3 on a hospital in Kunduz run by Doctors Without Borders (MSF) that killed at least 14 staff and 10 patients, with nine others still unaccounted for.

MSF said Wednesday that an international fact-finding commission it had called on to probe the strike had sent letters to the US and Afghan governments seeking their agreement for it to launch an investigation.
COMMENTS
Comments are moderated and generally will be posted if they are on-topic and not abusive.
For more information, please see our Comments FAQ