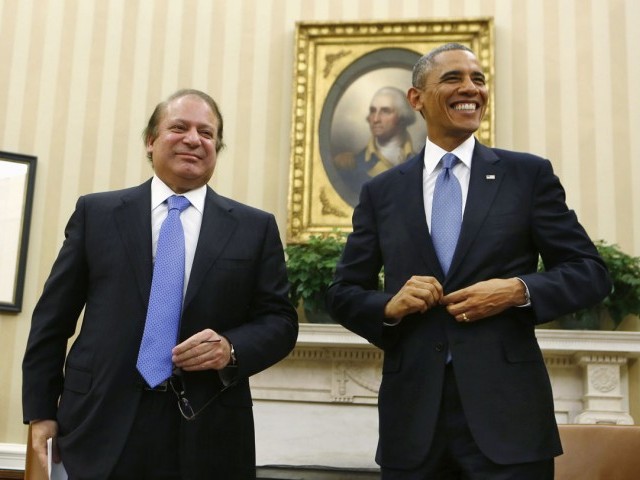 ---
ISLAMABAD:



Prime Minister Nawaz Sharif will discuss the persisting diplomatic deadlock between Pakistan and India with US President Barack Obama when the two leaders meet later this month.




Speaking to reporters at an event in the federal capital on Monday, Sartaj Aziz, the prime minister's adviser on foreign affairs and national security, said that hostilities between the two hyphenated but hostile neighbours were a threat to world peace.

In his speech at the annual UN General Assembly session in New York late last month, Premier Nawaz had spelled out a four-point peace roadmap with India. However, Indian External Affairs Minister Sushma Swaraj was quick to rebuff the peace plan saying that "talks and terror cannot go together".

Read: Obama, Nawaz agree to meet

There were also reports that backchannel efforts between the two sides on the sidelines of the UN General Assembly to have some sort of bilateral meeting also failed as they disagreed on the modalities of such an interaction.

Aziz confirmed that Premier Nawaz during his meeting with President Obama on October 22 would raise the issue of the stalled peace process with India.

Roller coaster relations between Pakistan and India are at the lowest ebb. Peace prospects between the two neighbours had suffered a setback after the last-minute cancellation of a meeting between their national security advisers scheduled for late August. The two nations also had acrimonious exchanges at the UN General Assembly session.

Pakistan handed over three dossiers to UN Secretary General Ban Ki-moon, detailing evidence of India's involvement in fuelling terrorism in the country. Islamabad accuses New Delhi and its top intelligence agency, RAW, of bankrolling and supporting terrorists in Balochistan, Karachi and northwestern tribal regions.

Aziz said Pakistan would also share the dossiers with other friendly countries. He, however, dismissed allegations that Pakistan was supporting any state or non-state actors to launch attack against India. The prime minister has categorically said that Pakistan wanted to have peaceful ties with all its neighbours, including India. Aziz said Pakistan was ready for dialogue with India but without attaching any preconditions to it.

Growing anti-Pakistan rhetoric in India has already forced the cancellation of a concert in Mumbai by Ghazal maestro Ghulam Ali. Far-right Indian extremist group Shev Sena has warned of disrupting functions of all Pakistani personalities visiting India.

Read: US expresses disappointment over cancellation of Pakistan, India peace talks

On Monday, the group's activists threw black ink on an Indian organiser for hosting the launch of Pakistan's former foreign minister Khurshid Mahmud Kasuri's book in Mumbai. Hours later, the Foreign Office voiced serious concerns over the attempts by the Hindu group to disrupt such events.

"We have noted with concern the attempts to disrupt functions organised in respect of prominent Pakistani personalities on visit to India," it said in a statement. "There is a need to ensure that such incidents do not reoccur."


Published in The Express Tribune, October 13th, 2015.