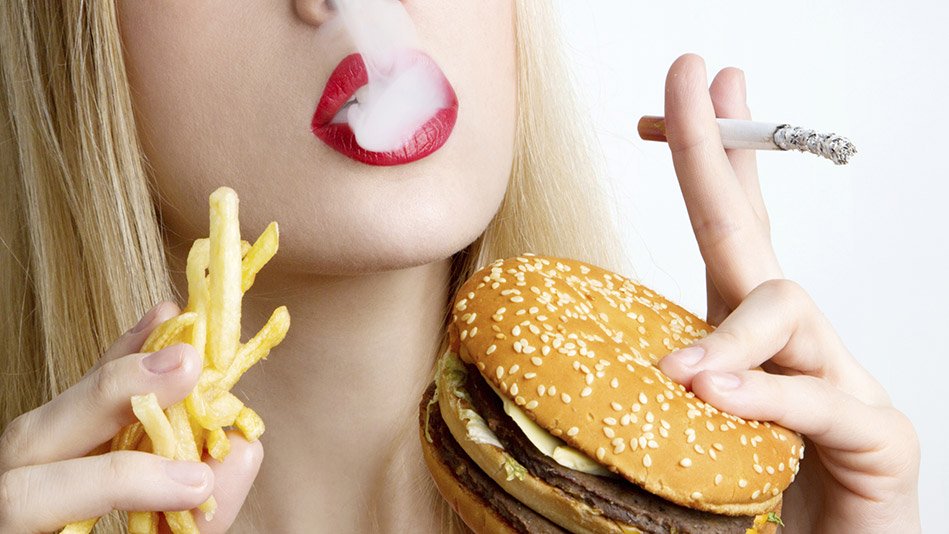 ---
KARACHI: Smoking is bad for health -- yes, we all already know that. But are you aware that some of our daily habits are equally harmful?

Research indicates that these habits pose the same threat to our health as cigarette smoke does by either exposing us to the same contaminants or by leading to diseases caused by it.

Here are six habits you need to quit for a healthier lifestyle, as compiled from Rodale Wellness and Bustle:

1. Sitting all day

Sitting for lengthy periods of time causes many health problems, whether you are sitting at your desk at work, on your couch in front of the TV or in your car.




According to research by Alberta Health Services–Cancer Care in Canada, inactivity is associated with almost 160,000 cases of breast, colon, prostate, and lung cancer every year – this is around two-thirds as many cases as caused by smoking.

In addition to cancer, you are also at risk of heart disease, diabetes, depression, and even premature death – even if you exercise regularly! Try to avoid sitting for prolonged periods and take frequent breaks at work.

2. Eating too much meat and cheese

You might think eating a lot of meat is good for you as it contains protein, but animal proteins are rich in IGF-1, a growth hormone that can stimulate growth of cancer cells.




The University of Southern California recently published a study that found that middle-aged people consuming high-animal-protein diets were four times more likely to die of cancer than people consuming low-protein diets – a death risk similar to that posed by smoking.

The solution is to switch some animal proteins with vegetable proteins as the study also found that plant-based proteins did not cause the same increase in cancer rates even though the protein levels were equivalent. However, once you cross the age of 65, the production of IGF-1 in your body slows down so animal protein isn't as harmful then.

3. Cooking with natural gas




Almost all kitchens in Pakistan are equipped with a gas stove, which means every time you cook, you get a dose of carbon monoxide, nitrogen dioxide and formaldehyde – the same contaminants present in secondhand cigarette smoke. Use a vent hood to reduce the pollution levels if you can't discontinue using a gas stove.

4. Cooking with the wrong oil

Just replacing your gas stove won't immunise you to air pollution caused by cooking.




Studies show that high-heat cooking with soybean oil (usually called vegetable oil) releases particulate matter, aldehydes, and polycyclic aromatic hydrocarbons – all found in cigarette smoke. Use the type of oil that suits your needs, like olive oil for low-heat cooking and avocado oil for high-heat cooking.

5. Drinking fizzy drinks




We all know that soft drinks cause us harm, depriving us of calcium, but we continue consuming them anyway. However, that's not the only thing they do. Studies show that they can also cause heart diseases, diabetes, mental illnesses, liver problems, high blood pressure, and high cholesterol – even if you are not overweight.

6. Not getting enough sleep

Sleep deprivation not only makes you cranky and inefficient, it also hampers your body productivity in a multitude of other ways.




Lack of sleep can trigger high blood pressure, heart attacks, strokes and obesity; and even fragmented sleep can accelerate the growth of tumours. A study suggests that getting less than six or seven hours of sleep led to mortality rates equivalent to those in cigarette smokers.

So, if you think you're in the clear just because you don't smoke, think again. And if you smoke along with following these habits, you need to make some changes!