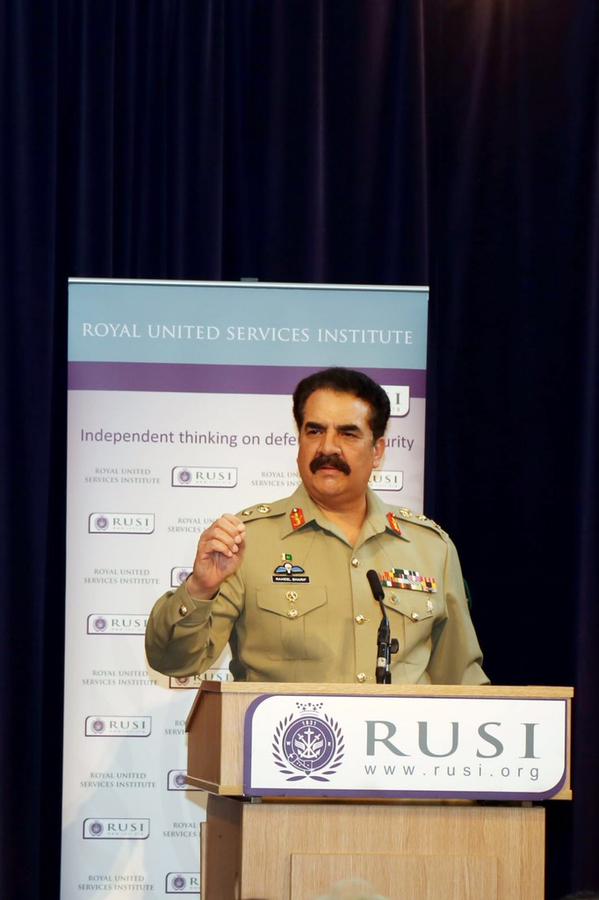 ---
LONDON: Army chief General Raheel Sharif has said Pakistan would not allow "even a shadow" of Islamic State and termed the group a greater threat than al Qaeda.

"As far as IS is concerned, in Pakistan, even a shadow of IS would not be allowed," Sharif said in an address to The Royal United Services Institute for Defence and Security Studies in London on Friday.

In May, the Islamic State militant group claimed the killings of at least 43 members of the Shia Ismailis n Karachi.

Leaflets backing IS extremists have been seen recently in parts of the country and pro-IS slogans have appeared on walls in several cities.

Read: Won't allow proxies to operate on our soil

"There are people in Islamabad who want to show their allegiance to IS. So it's a very dangerous phenomenon," General Raheel said.

The COAS said dealing with the extremist group was set to become an ever greater challenge than the al Qaeda network behind 9/11 attacks in the United States.

"I feel the future challenge is IS. It's a bigger name. Al Qaeda was a name but IS is now a bigger name," he said.

The army chief emphasised the reconciliation between Afghan Taliban and the Afghan government. He expressed his fear the Taliban could seek an alliance with IS unless they were brought back to the negotiating table.

"This reconciliation in Afghanistan is very important. If we do not do it in the proper manner and the Afghan Taliban splinter, they would go for a bigger name and that is IS," General Raheel said.

Army chief returns from UK

Meanwhile, the COAS returned to the country on Saturday after a three-day visit of the UK, the ISPR said.
COMMENTS (24)
Comments are moderated and generally will be posted if they are on-topic and not abusive.
For more information, please see our Comments FAQ