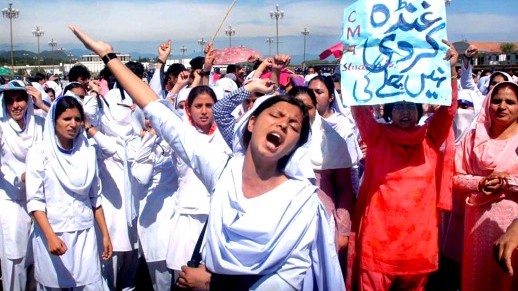 ---
ISLAMABAD: Two female nurses from the Pakistan Institute of Medical Sciences (Pims) suffered minor injuries after they were hit by the executive director's car during a protest on Wednesday.

Margalla Police registered an FIR against Dr Ghazala Mehmood, ED Pims. According to the police, a group of female nurses were gathered at the Pims entrance on Wednesday morning for a protest. It is not clear why they were protesting as their demands for an increase in salaries during an earlier protest had already been met, said Bilqees Phras, principal of the nursing school at PIMS. When the nurses gathered at the entrance gate and saw Dr Mehmood's car approaching, they tried to block it.

Two nurses got hit in the process. Police said the car was driven by Dr Mehmood's driver. "The nurses punched and kicked my car," said Dr Mehmood, while talking to The Express Tribune. The ED resigned on Wednesday night, citing the nurses "uncooperative behaviour" as the reason. "The nurses did not want me as the ED, which is why I have resigned," she said. The nurses became incensed and went up to D-Chowk in front of the Parliament House to stage another protest. They demanded that Dr Mehmood be arrested and a medical examination of the injured nurses be carried out at Poly Clinic hospital instead of Pims.

After the police agreed and the magistrate gave permission for the medical exam at Poly Clinic, they abandoned the protest and dispersed peacefully. Police said the FIR against Dr Mehmood was registered under Sections 279 and 327 (E) for causing injuries. However, Dr Mehmood was not arrested and police maintained that the arrest will be made after the nurses' medical report is received on Wednesday. On Tuesday, more than 200 female students of the nursing school had staged a demonstration at Pims, demanding an increase in their monthly stipend from Rs2700 to Rs6060, equivalent to the one implemented in Punjab.

They also complained that they had not been paid a monthly stipend for the past two months. They dispersed later after the Pims administration assured them that both their demands would be met. Phras said she was surprised to see them protest again on Wednesday morning. "It concerns me that the students of the nursing school were protesting after all their demands had been met yesterday," she said. Because of the nurses' strike, a number of patients faced problems in the emergency ward, Phras added.